The WPP stable is really feeling the heat
WPP AUNZ Ltd, is one of the largest marketing companies in Australasia, covering every angle including advertising, media investment management, data investment management, public relations and public affairs, branding and identity, healthcare communications, digital technology and e-commerce marketing, shopper marketing, content production and specialist communications.
WPP AUNZ owns 80 "diverse" businesses with well recognised brands including Ogilvy, Y&R, J Walter Thompson, Hill & Knowlton and Mediacom.
WPP PLC, which has its own problems, owns 61.5 per cent of the Australia/New Zealand enterprise. WPP PLC's sales declined 1.5 per cent in the September 2018 quarter and their share price has declined more than 50 per cent from GBP19 to GBP9 over the past twenty months.
After earning $83.6m before significant items, or 9.8 cents per share (on 851m shares on issue), in the year to December 2017, WPP AUNZ has just announced a 12 to 15 per cent cut in its forecast earnings (on a 1%-2% decline in revenue) for the year to December 2018 to around 8.5 cents per share.  This excludes the potential impact of any restructure costs, non-cash impairment charges and amortisation of goodwill.
So, what has caused the forecast earnings decline?
A varied performance across the operating segment with "some 60 per cent of the reported decline against 2017 attributed to just two businesses."  The turnaround and restructure of these businesses is well advanced. "Our digital, PR and media businesses are strong and are all experiencing growth in the year."
The market environment has been challenging, particularly in retail and consumer facing sectors.  As a result, certain WPP AUNZ agencies have seen a reduction in client marketing spend and new business ambitions have not been achieved.
"The landscape of our industry is changing rapidly, and we are evolving our service offering and capabilities to be an invaluable partner to our clients."  The Google and Facebook effect are gaining traction!
CEO of 12 years, Mike Connaghan, has resigned with effect from 31 December 2018.
The graph below illustrates the relative share price movements of both companies over the past two years: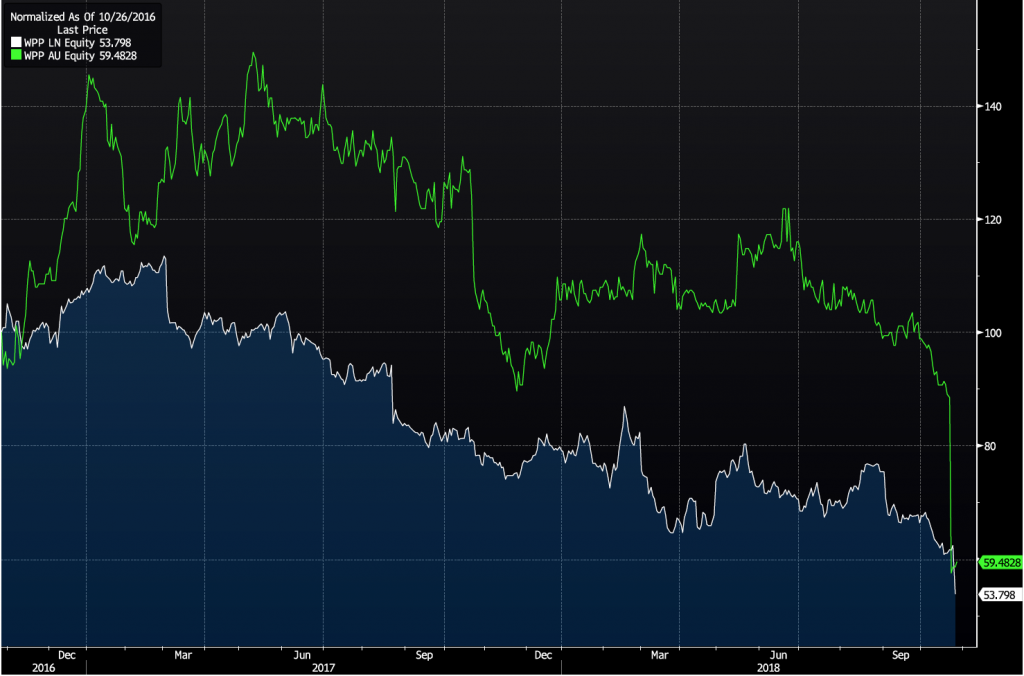 Source: Bloomberg
Like its parent, WPP AUNZ's share price has suffered severely and is now selling at $0.51, or 6X prospective earnings (excluding significant items).  If the parent wasn't so distracted with its own challenges, we suspect it would consider taking the opportunity of making a takeover bid for the 38.5 per cent shareholding it currently doesn't own.