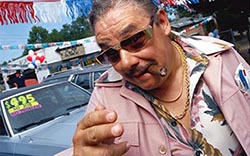 The real Sydney auction clearance rate was 49.9% not 83.7%
There's a very genteel debate going on over at Fairfax – and for once it's not about what to do with the legacy business.
This time it's about the relevance of those house auction clearance rates you see being reported and used to reflect the hype (or otherwise) in the property market at the weekend. And what else do we find? Well surprise, surprise, we discover real estate agents are salesmen not actuaries.
I make this last point because a very close friend was recently invited to inspect a rural property south of Sydney. The agent had told him it would be in the $3–$4 million price range. He visited the holding, spending most of the day away from his family – we had a great time; his family were at my house – and took photos from every corner of the farm. On the way back he thought he'd chat to the competing agent across the road and find out what he could about the property. That agent told him the vendor wouldn't part with the property for less than $7 million! Furious he found the phone number of the owner and asked for the "skinny". The vendor told him that he wouldn't sell the property for less than $5 million. Back at my place he called the agent to ask why he wasted his time. The agent said he give the owner a call and clarify the matter.
Back to our econometricians-at-ten-paces scenario and the issue appears to be between AFR contributor and credit strategist at Aquasia, Mark Bayley, and Dr Andrew Wilson from Australian Property Monitors.
The widely reported auction clearance rate in Sydney for Saturday November 9 was 83.7 per cent.
Mark Bayley reports that this number bears no resemblance to reality.
According to the various reports, there were 784, 1036, or 789 auctions on November 9. Toby Johnstone at the SMH reported 784, Larry Schlesinger at the AFR reported there were 1036 and Andrew Wilson from APM reported 789.
So clearly there's an issue.
Now, according to APM, 471 auctions (448 + 23 withdrawn) were actually reported. Therefore, as Mark Bayley correctly observes, 318 (789-471) auctions went missing.
But here's the heart of the matter: of the 471 auctions that were reported, 394 sold, producing an auction clearance rate of 83.7 per cent.
So the papers shout from the rooftops:
"Sydney records a citywide clearance rate of 83.7 per cent despite highest auction numbers to date." – Toby Johnstone, SMH
"The sizzling 83.7 per cent result was the highest recorded over the last month." – Andrew Wilson, APM
The issue is that 83.7 per cent is the number produced immediately after the auction weekend using the number of auctions reported at that time. In the following days, more and more (of the missing) auctions are reported and, as you would expect, the number of clearances drops.
According to Mark Bayley, the clearance rates are calculated and reported without waiting for all the results to come in.
That's like saying I caught the most fish in a fishing competition and being awarded first prize before the rest of the field came back to have their catch counted. The result is irrelevant and meaningless. But it seems the industry cannot get their head around this – and of course it's not in their interests to ensure you are properly informed.
Never ask a barber whether you need a haircut.
According to Mark Bayley: "If there were 100 scheduled auctions, only 40 were actually sold and 50 auctions were reported, what do you think the auction clearance rate would be? 40 per cent (40/100), right? Wrong! The reported auction clearance rate in this example would actually be 80 per cent (40/50). Crazy? I think so, and my guess is that so would most of the general public.
"By my calculations, using APM's data, the real clearance rate for Saturday 9 November was a meagre 49.9 per cent (394/789)."
In reporting these adjustments however, Mark Bayley unwittingly stirred the hornet's nest and uncovered the rather loose and fancy-free relationship real estate agents have with facts.
Cameron Kusher, a senior analyst at RP Data wrote; "…even though they're indicative of just a portion of the market, they are still a key metric for how things are going on the ground."
"Andrew Wilson, senior economist of the Fairfax-owned Australian Property Monitors, said it was natural that revised auction rates provided in the days after the weekend came down from Saturday evening figures."
If it's 'natural' that the clearance rate drops as more data is reported how about waiting until an accurate result is available?
Of course the accurate data is delayed. Why? Because real estate agents are in control of reporting them. Much as it is in the interest of banks to withhold passing on an interest rate cut to their borrowing customers, it's in the agent's interest to lean towards releasing data that creates an impression of insatiable demand.
And the race to sell papers on a Monday morning (to all those people dying to see what the clearance rate was at the weekend) ensures that there's no time for accuracy.
In time, more auction results are reported, but the picture painted is not one of booming clearance rates. Those homes passed-in or those in receipt of only vendor bids tend not to be reported early. The official data is affected neither by the houses that get put up for sale after an unsuccessful auction, nor by those that simply fail to sell and are put up for rent.
Of course, if you want to be panicked into buying, the real number that matters is the price a house sold for compared to its previous sale, or, if it was more recent, the sale result of a similar property nearby.
If you aren't interested in being panicked, then stick to the value investing methodology espoused here and you will give residential and commercial real estate a very wide berth at the moment.
Whatever you do, don't be panicked into buying because of high reported clearance rates. It seems statistically significant…that these numbers are meaningless.