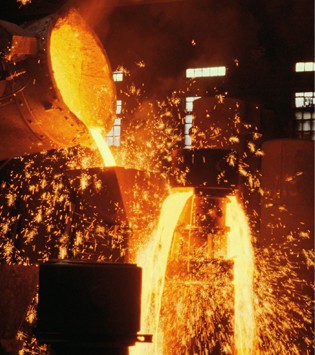 Takeover bids distract from questions over steelmakers viability
The $0.75 bid for Arrium Limited (ARI), formerly One Steel, by a Korean Consortium including their largest steelmaker, Posco, values the company at $1.0 billion. Including the $2.2 billion of debt, Arrium has an Enterprise Value of $3.2 billion. Forecasts for the year to June 2013, has Revenue of $8.7 billion, Net Profit of $210m and an after tax return on equity of 4.6%. The Arrium share price has declined from more than $7.00 in mid-2008. A number of brokers are now valuing the Company north of $1.00 per share.
This bid is also raising the question as to whether BlueScope Steel (BSL) will propose a merger with Arrium. "Mergeco" would have $17 billion of annualised revenue.
BlueScope has also seen its share price smashed, down from $8.00 in mid-2008 to the current $0.43 per share. Its market capitalisation is $1.44 billion, and with a forecast net debt of $380 million, BlueScope's Enterprise value is $1.82 billion. BlueScope has recorded an extraordinarily disappointing four year period to June 2012, with after tax losses aggregating to $2.5 billion while the tripling of their shares on issue to 3329 million shares has been associated with an additional $2.7 billion of capital put into the company.
Arrium and BlueScope were downgraded to below "investment grade" by the Skaffold screening process in 2005 and 2008, respectively.