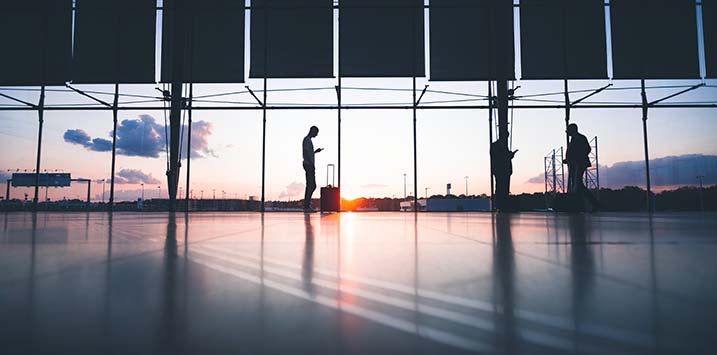 Sydney Airport is still in a holding pattern
Sydney Airport Holdings (ASX:SYD) has just provided a trading update for September.  Given Australia's closed borders, the historically low passengers numbers were hardly surprising.
Data for September 2020 shows the following falls in passenger traffic:
Total traffic down 96.4 per cent on the prior corresponding period (PCP)
Total traffic down 66.3 per cent on the prior year-to-date (YTD)
International passenger traffic down 97.5 per cent on the PCP
International passenger traffic down 70.7 per cent on the prior YTD
Domestic passenger traffic down 95.7 per cent on the PCP
Domestic passenger traffic down 68.9 per cent on the prior YTD.
Looking at the source of incoming passengers shows the following falls in passenger traffic:
China down 93.0 per cent on the PCP and -76.9 per cent YTD
US down 98.4% on the PCP and -66.7 per cent YTD
NZ down 98.3% on the PCP and -71.8 per cent YTD
UK down 97.5% on the PCP and -59.5 per cent YTD
India down 91.9% on the PCP and -65.0 per cent YTD.
Since the September month end, South Australia and the Northern Territory have opened their borders to NSW travellers. Meanwhile quarantine-free travel to NSW and the NT exists for NZ residents (a requirement to quarantine upon return to NZ remains).  So things are improving domestically.
But, overseas, the picture has not improved. Wales is about to head into a hard lockdown, the US state of Indiana keeps breaking its daily infection record amid a surge of cases in the US Midwest. In the Slovak Republic protests against restrictions are gaining momentum and becoming violent despite their health system being perilously close to collapse. Meanwhile France's COVID-19 cases are hitting records as are Italy's and the Netherlands.' Ireland is facing stricter lockdowns, the UK has added more than 100,000 cases in less than a week and the US has added the most cases since the end of the July.
In the absence of a vaccine, it will be some time before Australia welcomes international travellers from these regions.
The Montgomery Funds owns shares in Sydney Airport. This article was prepared 22 October with the information we have today, and our view may change. It does not constitute formal advice or professional investment advice. If you wish to trade Sydney Airport you should seek financial advice.