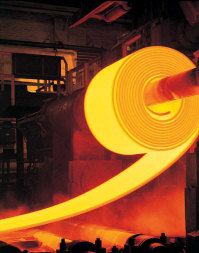 Steel production confirms slowing industrial output
Data released yesterday from "worldsteel" on global iron and steel production confirmed slowing output. Global steel production for August 2012 was down 1% year on year. Steel production from the European Union for August was down 15% year on year, taking annual output to 144 million tonnes, or 9.6% of the 1.5 billion tonnes per annum of global production. Chinese steel production has slipped in recent months from an annualised 750 million tonnes to 700 million tonnes, or 47% of global production.
For 2013, Australia's Bureau of Resources and Energy have recently cut their iron-ore forecast to US$101/ tonne, while many brokers are still assuming a price of at least US130/tonne. We continue to watch the steel numbers closely.