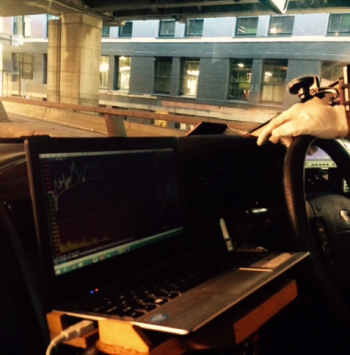 Shanghai Stock Exchange in Ultimo
Many have recently seen the picture of the Chinese fruiterer trading the equity market at his ramshackle cart. Last week I had my own experience of a Chinese immigrant taxi driver who was ferrying me from the city back to Ultimo.
This enterprising driver had cobbled together a home made plywood plateau from which to secure his laptop. On the laptop was a live price feed of the Shanghai Stock Exchange Composite Index. He told me that he "supplemented his weekly income by trading the Shanghai". When I asked him how he was doing this week he replied "ah, heavy losses. Very bad time. Look here" at which point he used one hand to keep hold of the steering wheel, while the other darted across to the lap top where he ran a series of technical indicators, such as the 30, 60 ands 90 day moving averages. He continued, "when the 30 day MA falls below the 90 day MA, then that is bad for market". He told me he traded within a three day window so that he didn't have to settle on any trades.
Undoubtedly the extreme volatility in the Chinese stock market has made and lost many people money. I suspect many more retail investors losing money than making money. However, even after various attempts from the Chinese government to prop up the value of shares listed on the exchange, today we learn of a wave of Chinese companies halting trading in their shares. 1,249 companies have halted trading on mainland Chinese exchanges, locking up $2.2 trillion of shares, or about 33 per cent of China's market capitalisation. Whether it is leverage gained through never settling a trade or accessing the estimated $339 billion of margin finance cited from Chinese brokers, or even the rapidly growing Peer-to-Peer lending facilities, there seems to be a mountain of debt fuelling an insatiable desire to get rich quick in the stock market.
I can't help but think that one of the best investments that my taxi driver and so many other first time investors in China could make is to learn the lessons of a value investor such as Ben Graham.
Scott Phillips is the Head of Distribution of Montgomery Investment Management. To invest with Montgomery, find out more.