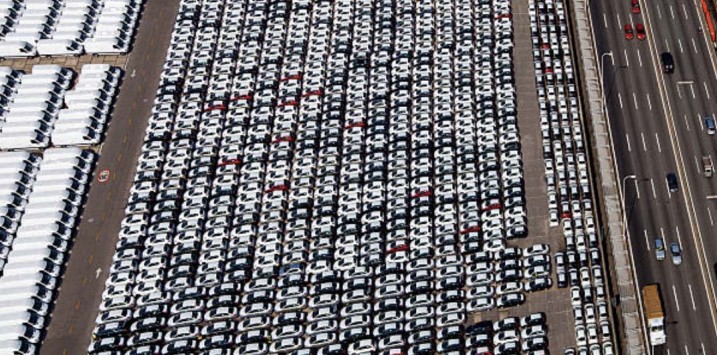 Why Smart Group keeps outperforming Eclipx
The contrasting fortunes of fleet management businesses, Smart Group and Eclipx, highlight yet again the importance of making good corporate acquisitions.
The major players in the Australian fleet management sector comprising McMillan Shakespeare (ASX: MMS), Smart Group (ASX: SIQ), SG Fleet (ASX: SGF) and Eclipx (ASX: ECX) certainly have contrasting trajectories. On May 9, Smart Group had their AGM and on Monday the Eclipx CEO, Doc Klotz, resigned effective immediately.
First to Smart Group. The highly regarded Michael Carapiet is the Chairman, and in his address the company recorded improved 2018 results (normalised Net Profit after Tax up 22 per cent to $78 million on an 18 per cent boost in Revenue to $242 million; earnings per share (EPS) of 59.5 cents; dividend per share (DPS) of 40.5 cents) which was attributable to "innovation, customer service and integration of our previous acquisitions.
"Due to our diversification, we can now offer a broad range of products and services which we anticipate will improve their experience and deepen our relations with them." Smart Group services 343,000 salary packaging customers (+6 per cent), has 62,500 novated leases under management (+4 per cent) and 695 full-time equivalent staff (-4 per cent).
Smart Group has a good track record of acquisitions and Fleet West, purchased in January 2018, added 2,800 to the fleet vehicle under management, or 12 per cent of the total 22,900. In early May 2019, Smart Group paid $9.1 million for the two small acquisitions and these are expected to deliver $0.7 million of EBITDA in 2019 (for eight months), inclusive of $0.7 million of integration costs. In 2020, they are expected to deliver $3.0 million of EBITDA.
By contrast
Eclipx have reshuffled the management deck chairs. Garry McLennan, CFO for the past five years, has recently resigned and CEO Doc Klotz is being replaced by UBS Australia banker Julian Russell. Total statutory remuneration for McLennan and Klotz over the two years to 30 September 2018 was $6.8 million. Meanwhile, Bevan Guest was promoted from MD, Fleet Australia to the newly created position of Chief Commercial Officer.
When it announces its interim results for the six months to March 2019 on 24 May, Eclipx is expected to recognise an impairment charge of between $110 million and $130 million. This relates to the underperformance of Grays and Right2Drive and is subject to audit. In 2016 and 2017 Eclipx spent a combined $246 million acquiring these two businesses. Both businesses are now being prepared for sale and the company also intends selling its Australian Commercial Equipment Financing business. Julian Russell, who has been an adviser to the company since 2014, said "the divestment of non-core businesses… will result in a resized cost base to reflect a simpler business model."
The graph below shows the relative share price performance of Smart Group and Eclipx over the past three years.
With a current market capitalisation of $307 million (320 million shares x $0.92), Eclipx may represent good value if their core businesses of "Australian Commercial" and "New Zealand Commercial" remain intact, as they historically have had an ability to earn a normalised $50 million of profit or 15.5 cents per share.
Smart Group and Eclipx share price  16 May 2016 – 13 May 2019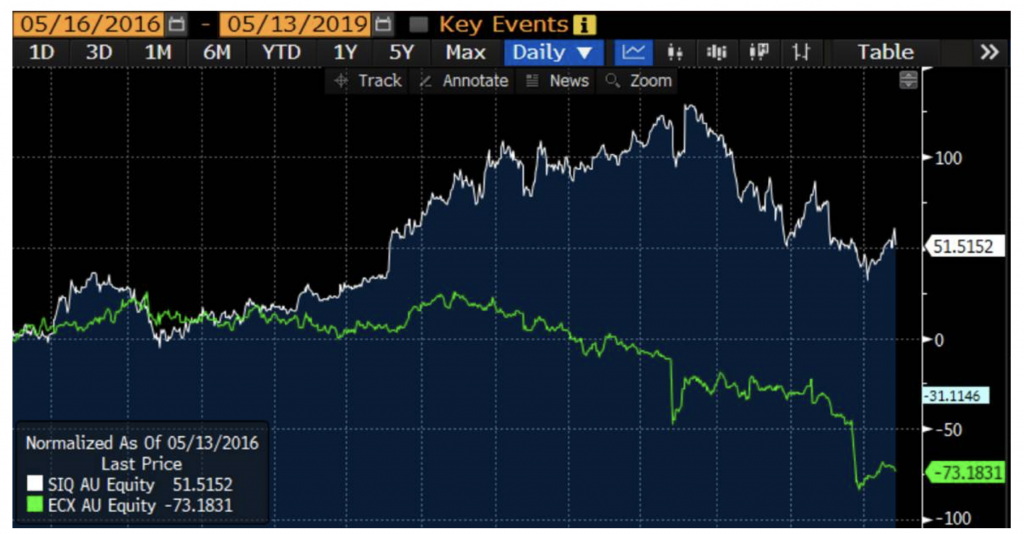 Source: Bloomberg
You can read part 1 of this blog here.