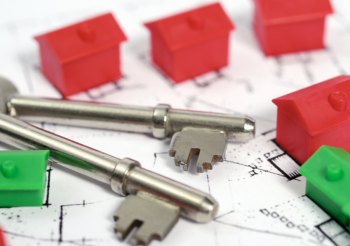 Property can only produce modest returns
As mortgage interest rates in Australia have declined from more than 18 per cent in the late 1980s to just on 4 per cent today, house prices have become more expensive relative to incomes.
The apartment oversupply — combined with failed settlements — convinces me that it will be developers trying to move unsold stock to meet their own debt obligations that will cause lower apartment prices.
And while reports of mothballed development applications have hit the headlines, it seems construction is continuing almost unabated.
According to my friends at investment bank UBS, Australia's residential crane count has surged 165 per cent since September 2014 to a record high 525 units, with the biggest lift occurring in Sydney. That's a more than doubling of the number of cranes operating in the residential sector in just 21 months.
Dwellings under construction as a share of GDP at over 3.5 per cent is now at all-time highs and more than double the percentage observed in 2000. Moreover, most of the dwellings are multi-story apartments, rising from a total of $5 billion in 2001 to $40bn today. And if you don't believe that is sufficient to cause a foreseeable oversupply, consider that commencement data suggests completions will continue on a near vertical growth path for at least another six months.
The simple rule to remember when investing is the higher the price you pay, the lower your return. If interest rates stay where they are, it means the high prices paid will ensure the best return that can be expected is the income produced by the asset with little or no capital gain.
If interest rates rise, you shouldn't be surprised to see asset values and prices drop, and perhaps even sharply. What goes for property and its ability to produce income also goes for shares or any other asset. Think about this carefully: an asset, any asset, is only worth the present value of the cash flows that can be extracted over its life. To arrive at the present value, one must discount the future cash flows back to today.
This is because $100 received in 10 years time is not worth $100 today; it is worth something less. How much less depends on the discount rate one applies to the future $100 to arrive at today's value. The higher the interest rate, the lower the present value.
For example $100, to be received in 10 years time, discounted to today using a 2 per cent rate, is worth $82. When the rate increases to 10 per cent, that same $100 in 10 years is only worth $38.55. So there is an irrefutable mathematic reason for the inverse relationship that exists between asset values (all assets) and interest rates. As interest rates go up, the value of an asset goes down. And it doesn't matter whether that asset is farmland, a business, shares, bonds or a commercial property. Interest rates act like gravity on the value of assets. The higher the interest rate the stronger the gravitational effect. This can be observed in financial markets over a long period of time.
Between 1960 and 1981, interest rates in the US surged, and along with the equity market risk premium, rates rose from about 5 per cent to 18 per cent. Over that 20 year period, the S&P 500 index returned 3.6 per cent per annum. That's 20 years of low returns. Then, between 1981 and 2000, interest rates plunged, sending the combined US bond rate and implied equity risk premium back down to 8 per cent. In that 20-year period, the S&P 500 returned almost 15 per cent per annum. Twenty years of extraordinary returns. Since 2000 the combined rate has been flat and, perhaps surprisingly, the S&P 500 has returned just 2.5 per cent per annum. Another 16 years of low returns.
But I am not sharing this with you because I want to point out that it doesn't matter whether the economists who predict rising rates, or those that predict low flat rates, are right — both scenarios will produce low returns for investors.
I am sharing this with you because it seems the same "good-times-are-over'' relationship can be observed between property prices as measured by house-price-to-income ratios and mortgage interest rates.
To put it simply, every way you look at it you have to expect low returns.
Roger Montgomery is the founder and Chief Investment Officer of Montgomery Investment Management. To invest with Montgomery, find out more.