Not so High at JB Hi-Fi?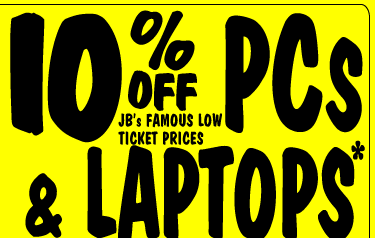 You will have noticed that since November 16 every post here at the Blog has been a cautionary one.  You have not seen me post a 'here's possible good value' story.  There is a little method in that, even though we might be unduly conservative.  But here goes again…
Many of you have heard me discuss JB Hi-Fi and its preferred status among retailers – I believe if JBH is doing it tough everyone else is doing it even tougher.  But we sold JBH from our holdings at $15.50 recently and I thought the story of why (ahead of a downgrade as it turns out) would be a good insight into the way we think.  Hopefully other investors can gain some insight into the process and fill in the 1) 'bright prospects' part of the equation that also requires 2) extraordinary businesses and 3) discounts to intrinsic value.
Starting way back in February 2010 we commented on the impending retirement of JBH's Richard Uechtritz (now looking as well-timed as other prominent CEO departures, such as the Moss departure from Macquarie and I am sure you can list a few more – go right ahead) and the maturing outlook for the business itself.
"If JB Hi-Fi could re-employ all of its profits at the returns of about 45% it is generating now, its value would be over $38. That's a pipe dream. The company is generating cash faster than it can ask its employees and contractors and landlords to employ the funds to open new stores. And because the profits also produce taxes and associated franking credits that have no value for the company, shareholders are being handed back the funds, which is a disappointment. However, as chairman Patrick Elliott implied when I spoke with him on radio this week, this is a function of growth and the limited size of the Australian population.
It happens eventually to all retailers and it will happen to JB Hi-Fi in the next five to seven years. The best you can hope for is that once the stores have saturated the market, directors stick to their knitting, and the company continues to generate high returns but pays out all of those earnings out as a dividend (becoming like a bond) rather than make some grand attempt to buy something offshore or diversify too far away from their core expertise (often at the behest of some institutional shareholder) and blow up the returns.
The result of not employing as much retained earnings at 45% is that the intrinsic value declines. It is still going up but not as much."
In August here at the blog we wrote:
"The big story however is that Terry Smart will need to start looking beyond this organic growth to other strategies if JB Hi-Fi is to avoid developing the profile of another mature Australian retail business like Harvey Norman."
and
"JB Hi-Fi needs to establish new and emerging business models to try and counter the shift away from physical music unit sales."
and
"Having said that, the current sales environment is probably not representative of the future. Share market investors generally use the rear view mirror when assessing the future. I have previously discussed the "economics of enough", which David Bussau from Opportunity International introduced me to many years ago. As it applies to consumers generally, they will get sick of trying to keep up with the latest technology, be happy with their TVs and replace everything less often – opting instead to 'experience' travel, food, adventure and other cultures. That of course doesn't mean JB can't grow its share-of-wallet. In the face of declining retail sales volume growth over the last five to ten years and deflation, JB is proving it is already the market leader."
and
"JB Hi-Fi's quality score dropped from A1 to A3 and interestingly, this was only partly due to the increase in debt. (We really need to know whether it was just timing issues and new stores that contributed to the jump in inventory)."
In addition to these comments I wrote more recently:
"The release of the iPhone 4S seemed to underwhelm technology reviewers when launched and a portion of the population do take their purchasing cues from such quarters.
The 4S is apparently an evolution in the iPhone series, rather than a revolution, and as such, fewer users of the most recent release – the iPhone 4 – will upgrade. Instead, it is likely that they will wait until the iPhone 5 is released next year (owners of the previous model the iPhone 3GS, however, should be coming off their two-year contracts about now and are expected to upgrade). We'll come back to that shortly.
The iPhone doesn't contribute anything like a majority profit to JB Hi-Fi's bottom line. This is because margins on Apple products are slim. But the iPhone does generate foot traffic and phone upgraders also buy protective covers and other accessories on which JB Hi-Fi makes much more significant margins.
So why do we care so much about the iPhone?
It's because when JB Hi-Fi announced its full-year results the company forecast more than $3 billion in sales and management cited growth from computing, telco, and accessories. They said:
"While we anticipate the market to remain challenging, our diversified product portfolio, particularly the categories of computers, telco and accessories, from which we expect strong growth, will assist JB Hi-Fi in delivering another year of solid sales and earnings in FY12. Assuming trading conditions are comparable with FY11, we expect sales in FY12 to be circa $3.2b, an 8% increase on prior year."
It's the lower "telco and accessories" sales that are expected to stem from the iPhone 4S underwhelming so-called early adopters and its most ardent fans that may put pressure on that sales forecast."
Indeed the only thing that was going for JB Hi-Fi was its discount to intrinsic value.  Many investors believe that a stock I mention is below intrinsic value is a "darling' of mine.  It isn't.   A company must meet all of our criteria and it will only be held for as long as it does.  Those of you using Skaffold will however have seen JBH was trading only at a discount to one of the intrinsic value estimates – the intrinsic value based on analyst forecasts – but not the more conservative Skaffold Line valuation estimate of $13.16. See Figure 1.
Figure 1.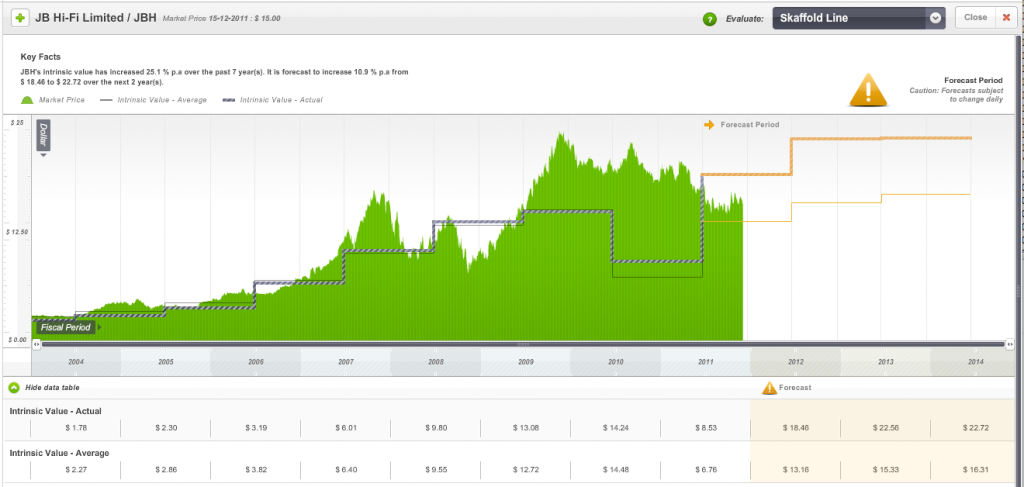 Both valuations are now likely to decline further in coming days -even the more conservative $13.16 valuation SKaffold has been displaying – and the downgrade may also be reflected in pressure on the company's cash flow which Skaffold members would have already seen in the 2011 results and which prompted some of the above comments.  (See Figure 2. and note the negative funding gap line (international patents pending))
Figure 2. Showing declining operation cash flow and a growing Funding Gap (patents pending).

JB Hi-Fi was 5 per cent of our portfolio however we sold all of our position at $15.50 recently.  Our reasoning was simple;  Given present circumstances and expectations for retailing (having spoken to many retailers recently) many retailers JB Hi-Fi would have to revise their earlier outlook statements and this would produce lower future valuations.  At the same time analyst forecasts are typically optimistic in the first half of the financial year (this year being no exception to that rule) and we should therefore be demanding much larger discounts and JBH was not offering that margin of safety.  We also commented to our peers in conversations over the phone and in person that the delfation story – as explained by Gerry Harvey who noted selling plasma TVs for $399 this year means he has to sell three times the volume as last year to make the same money – would put pressure on profits because people already had enough plasma TVs.  Finally we also believed that ANZ's profit growth being dominated by bad debt provisioning writedowns meant that credit growth was non-existant.  When you take away growth in credit card purchases – thats got to hurt discretionary retailers.
On November 7 we wrote to our Montgomery [Private] Fund investors thus:
"We aren't so arrogant to presume we know what will happen next. We have taken earnings expectations for 2012 and beyond (expectations that are typically optimistic in the first half of a financial year) and reduced them to where we believe they could safely be regarded as conservative. The resultant estimations for intrinsic values … are significantly lower and suggest we should require larger margins of safety before committing your funds to many companies…I expect in coming months we may not be as aggressive in purchasing and you might even find our cash levels increase. It's always preferable to protect capital because we can come back to reinvest at any time. Recovering from losses is much more challenging and demoralising for you."
A prominent media commentator and broker however wrote on December 6
"Our No.1 discretionary retail recommendation remains JB Hi-Fi (JBH). We all know 21% of JBH's register is currently shorted, a massive short position usually reserved for financial impaired or structurally stuffed stocks. JBH is neither, and that is why we continue to be aggressively recommending buying the stock which generates 25% of its annual profit in December. JBH is trading on 11.2x bottom of the cycle earnings. Nowadays, the P/E's of cyclical stocks compress with their earnings, meaning that both P/E and E bottom concurrently."
So, JBH still has long term prospects that surpass many of its peers and I believe it still has a competitive advantage.  And if all those short sellers cover their position, the stock could rally.  That however would be speculating.  On the flip side, changes to accounting reporting standards will give it a lot more liabilities – contingent liabilities such as operating leases will need to come onto the balance sheet.  Also, the medium outlook, which includes deflation continuing, will put pressure on JB to sell more volume at precisely the time everyone may just have enough stuff.  Finally, the market may now finally catch up to the maturity story we described way back in 2010.  Of course consumers will return at some point and spending and credit growth will recover, but given the current weakness and fear among consumers the idea of requiring very, very large discounts to the more conservative estimates of intrinsic value dominates our thinking.
As always be sure to do your own research and seek and take personal professional advice.
Posted by Roger Montgomery, Value.able author and Fund Manager, 16 December 2011.