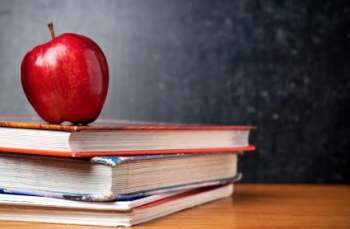 Not Getting Schooled Part 1
Telecommunications, healthcare, technology, financials. These are all common themes in a Montgomery portfolio, yet what about education?
It's a sector that's been notably absent from the portfolios and of course, this has been by design. Today we thought it would be worthwhile to run through our thoughts on why we're (currently) not invested nor interested.
A prerequisite for inclusion in the Montgomery portfolio is for a firm to have a predictable future and bright prospects. This is a rational starting place for any investment (to paraphrase Warren Buffett, we have enough trouble making a silk purse out of silk). This might also give away why we have avoided many of the recent listings; we feel there is too much risk and uncertainty for the industry.
In Australia, the education industry is by nature fragmented. At the VET/trade level, it is comprised of TAFEs and a large array of small private educators (usually with their own niches, some listed) and at the degree level; the universities (none of these are listed). Funding for these businesses is largely provided by the government (circa more than 90 per cent), which results in each entity having a very high degree of concentration risk in its revenues.
This suggests that when it comes to clashes between the government and education providers, the bargaining power will (usually) reside with the government (he who has the gold, makes the rules).
Rules are an important part of the education provider's business model because they can influence student volumes. In 2011, the processes around the provision of student visas were tightened which reduced the number of students that Navitas Limited (ASX: NVT) was able to recruit into its programs. Let's take a look at how they fared: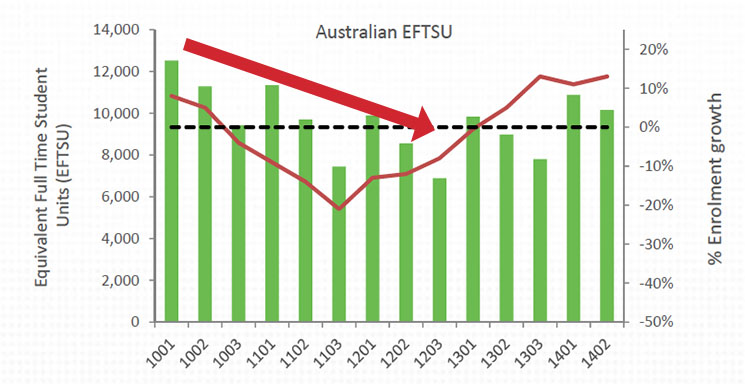 Source:  Navitas Limited investor day presentation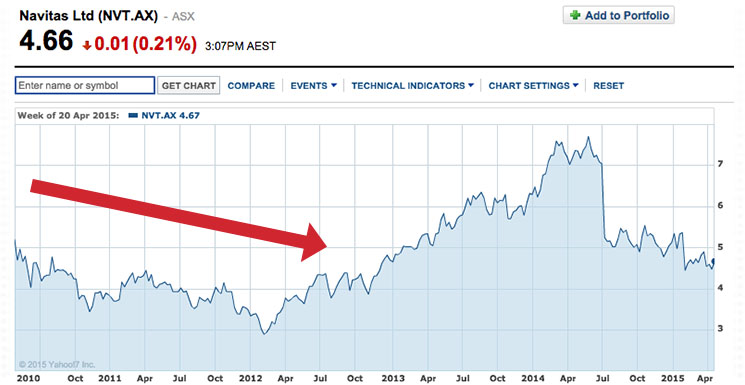 Source: Yahoo finance 
Now the firm's prospects have since improved materially as the processes were later amended, but the government's influence over shareholders fortunes is clearly quite stark.
Education providers are also expected to adhere to complex and exhaustive regulation – this is not necessarily a bad thing, the government does (and should) attempt to ensure that the public's money is spent well.
However if issues are found when the government audits these companies for compliance, large issues can arise (as we noted back here). At Montgomery it's clearly not within our field of expertise to judge whether a provider is compliant with government regulations or not – hence, we can't be confident in judging the firm's level of risk and its prospects.
Changes in government policy and acts of government (even if not directly the cause), can lead to large changes in the prospects for shareholders fortunes for such business and we have even raised all of the other concerns such as those brought to light by Four Corners Last Monday (see here).
We wouldn't advise any investor to simply avoid the education sector. We ourselves will review opportunities as they arise on a case-by-case basis but we do would wonder as to how many holders of these stocks fully understand the level of risk they are really taking.
Scott Shuttleworth is an analyst at Montgomery Investment Management. To invest with Montgomery, find out more.
This post was contributed by a representative of Montgomery Investment Management Pty Limited (AFSL No. 354564). The principal purpose of this post is to provide factual information and not provide financial product advice. Additionally, the information provided is not intended to provide any recommendation or opinion about any financial product. Any commentary and statements of opinion however may contain general advice only that is prepared without taking into account your personal objectives, financial circumstances or needs. Because of this, before acting on any of the information provided, you should always consider its appropriateness in light of your personal objectives, financial circumstances and needs and should consider seeking independent advice from a financial advisor if necessary before making any decisions. This post specifically excludes personal advice.
INVEST WITH MONTGOMERY