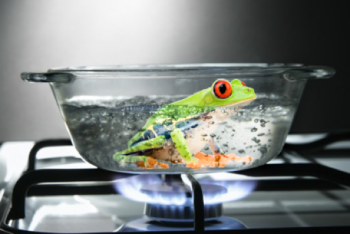 It's getting hot in here
Global bond yields are the lowest they've been in 500 years. And, around the world, there are $10 trillion of negative rate bonds. This situation has prompted legendary US investor, Bill Gross, to comment: "this is a supernova that will explode one day". So, how concerned should we be?
Several of the Montgomery team, including CEO David Buckland, Chris Demasi, Ben MacNevin and your author have written extensively about the stunning decline in bond yields, which is occurring despite terrorist attacks, political turmoil in the UK, violence in the US and the prospect of 'last resort' helicopter money in Japan.
Since the Fed raised rates in December 2015 (usually a sign the economy is strengthening), US 10-year government bond yields have fallen from 2.3 per cent to 1.47 per cent.
Traditionally, a rising stock market has signalled an improving economy while falling bond yields signalled deflation or disinflation, implying the virtual certainty of a recession.  We have both.  Tradition doesn't apply when the source of the declining bond yields aren't regular investors but massive, globally coordinated central banks.  One must ask whether the signals we, as equity investors, are used to seeing are being obscured by 'official' central bank activity?  Are investors unwitting frogs in a pot full of now simmering water?
According to one report, 30 per cent of global sovereign bonds, or about US$13 trillion of the US$43 trillion, are carrying negative yields.  In another report by Deutsche bank, US$15 trillion or 40.5% of the US$37 trillion in developed market sovereign bonds are carrying negative yields and 80 per cent are carrying yields of less than 1 per cent.
Think about that for a moment.
If you lend CHF100,000 to Switzerland for 30 years – by purchasing a 30-year Swiss bond – you will receive CHF96,172 30 years from now. The same thing happens if you lend money to the governments of Germany and Japan for 10 years. The list over five years includes the aforementioned countries as well as Netherlands, Finland, Austria, Denmark, Belgium, France, Sweden and over two years you can add Ireland, Spain and Italy to the list.
And that last country is interesting.  Italy's banking system is in crisis and in need of a bailout.  It is estimated Italy's banking system is harbouring US$400 billion of problem loans or 25% of the country's GDP.  Despite this, the country can now borrow at lower rates than when times were good.
All of this of course has been driven, not by the weighing scales of the market's price discovery process, but by heavy-handed central banks.  The combined central bank balance sheets of Switzerland, the UK, the ECB, the US and Japan have grown from US$3.5 trillion in 2007, to US$12.5 trillion today. 
The justification for many equity investors to be fully invested is that the earnings yield on equities is more attractive than bond yields.  But if bond yields are an artifice created by central bank buying, should they be the benchmark against which we measure the attractiveness of stocks?
As John Authers wrote in the Australian Financial Review on 18 July 2016, "there is no enthusiasm, but ever pricier bonds leave no choice but to buy stocks…Is this a secure basis on which to invest?  No….Anyone trying to make money or preserve capital must be calm and relaxed."
Bill Gross the founder of the Janus Global Unconstrained Bond Fund perhaps summed it up best: "Global yields lowest in 500 years of recorded history.  $10 trillion of negative rate bonds.  This is a supernova that will explode one day."
Roger Montgomery is the founder and Chief Investment Officer of Montgomery Investment Management. To invest with Montgomery, find out more.