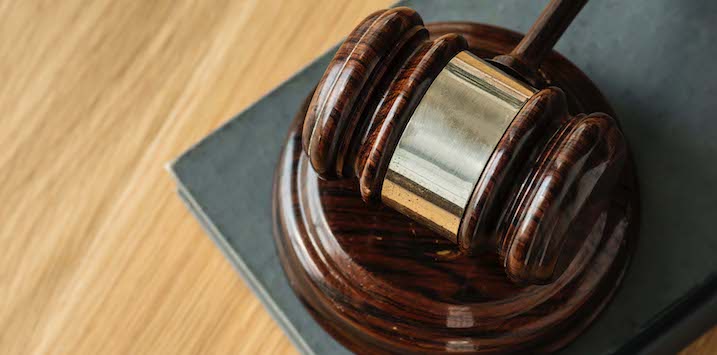 Is Trade Me about to go under the hammer?
New Zealand's biggest and most popular internet auction and classifieds website, Trade Me (ASX:TME), is being put under the microscope by two potential bidders – Apax Partners and Hellman & Friedman. And there's speculation that more bids are likely for this strong and growing business.
We have been positive on the prospects and opportunities for this company for some time. While the company started life as an online auction site similar to eBay, the core value in the company is its online classifieds business.
Trade Me owns the number one motor and property online classifieds businesses in New Zealand by revenue, and the number two job site. The New Zealand online classifieds market is around 2 to 3 years behind that of Australia in displacing traditional print advertising. This provides a relatively visible path for growth over the next few years, while still providing the opportunity to realise similar opportunities to utilise the data it generates in combination with artificial intelligence to value add in bringing together buyers and sellers, allowing it to gain a significantly increased share of the overall transaction cost.
To highlight the scale of the revenue opportunity open to Trade Me, if we look at the company's property classifieds advertising revenue base, Trade Me's market leading online property site captured advertising revenue equating to 0.08 per cent of the value of property transacted in New Zealand in the year to June 2018. By comparison, REA Group generated classifieds revenue equal to approximately 0.19 per cent of the total value of Australian property transactions over the same period.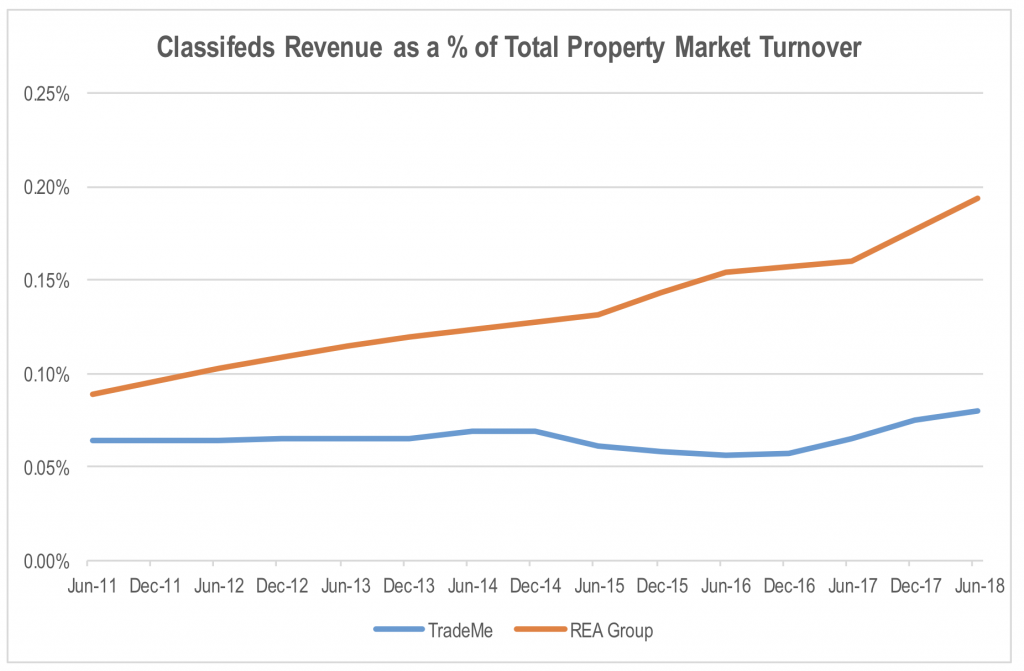 Source: Companies, ABS, Credit Suisse
Strong and consistent reinvestment in its product capabilities has increased the value REA provides to both buyers and sellers in the Australian market. Trade Me stepped up its product investment a number of years ago, and this has seen its revenue growth accelerate while widening the gap to its nearest competitors. But the company still only captures a fraction of the share of transaction costs that REA's market leading product is able to command. This provides an insight into the long-term revenue opportunity for Trade Me in merely catching up to REA's current level of monetisation.
The difficulty for management has been in managing the short to medium term earnings expectations of the market while continuing to step up investment to the level required to realise the long-term potential of the company's classifieds franchises. As such it is not surprising to see private equity fund interest emerge for the company. A private equity owner will be able to sacrifice short or even medium-term earnings in order to invest for the future.
The strong free cash flow generation of Trade Me is an added attraction for private equity funds given their leverage buyout model. Even at the indicative bid price, the company generates a free cash flow yield of 4.6 per cent.
Since the approach from Apax in November, and the board's willingness to engage and provide access to due diligence, there has been media commentary suggesting other private equity firms like Hellman & Friedman and Silverlake might also be running the numbers. This has subsequently been confirmed by Hellman & Friedman, with it making a non-binding indicative proposal of its own at NZ$6.45 per share.
While there are a number of vital conditions yet to be met before a formal binding offer can be made by either party, such as completion of due diligence and securing financing, the emergence of multiple interested parties raises the possibility of a bidding war for these valuable assets, and increases the probability of at least one formal bid being made. Multiple bidders could see the final price increase materially above the current indicative bids. As such, the gap between the share price and the latest NZ$6.45 bid should be expected to reduce.
The Montgomery Funds own shares in Trade Me. This article was prepared 10 December 2018 with the information we have today, and our view may change. It does not constitute formal advice or professional investment advice. If you wish to trade Trade Me you should seek financial advice.