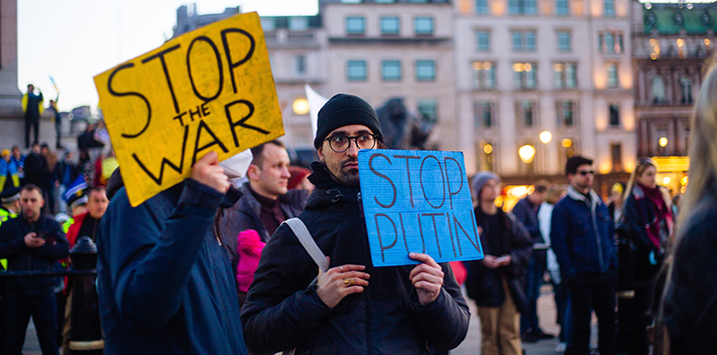 Is it simply greed that motivated Putin to invade the Ukraine?
In 2015, Professor Karen Dawisha – a renowned Russian scholar – published a book titled Putin's Kleptocracy: Who Owns Russia? It details Russia's politically driven system of economic predation, which has resulted in the greatest inequality[1] of any developed nation. Her book documents numerous cases of government theft, and provides the context for Russia's invasion of the Ukraine.
Russia's regime is often described as a kleptocracy – a government whose corrupt leaders and inner circle (kleptocrats) use political power to steal the wealth of the people and land they govern. They do this by embezzling or misappropriating government funds at the expense of the wider population.
The book joins together the sometimes-incongruent investigations previously conducted by other political scientists and journalists, to piece together the rise of Russia's or Putin's 'sistema' and its impact on the country's development since.
Dawisha observes Putin's kleptocracy has resulted in the fastest-widening chasm of inequality in the world. Between 1991 and 2011, Dawisha notes, Russia's super rich doubled their wealth, while in 2011 the bottom 20 per cent of Russians were earning 55 per cent of their 1991 income in real terms.
Attributing Russia's increasing wealth since 1999 to the increase in world hydrocarbon prices, Dawisha reports precious little had found its way into improving public goods or economic diversification. Indeed, in one example of corruption cited by Dawisha, an allowance for food imports worth US$122 million produced just two railroad cars of cooking oil. And citing Russian sources, Dawisha notes claims that more than half the funds allocated to build facilities for the 2014 Winter Olympics at Sochi simply vanished.
As additional examples of inequality, Dawisha cites data revealing billions of dollars spent on a national health program have done little, with Russian female mortality from cardiovascular disease five times greater than the European average, while the life expectancy of a 15-year-old Haitian male is three years longer than a Russian male of the same age.
Russian infrastructure development lags much of the rest of the world. In Dawisha's 2015 account, China built 7,017 kilometers of modern highways annually over the previous decade, while in 2010, Putin said Russia would build 14,000 kilometers over five years. Meanwhile, pipelines between Russia and Germany cost Russia €5.8 million per kilometer, while the Germans paid €2.1 million per kilometer.
But perhaps even more important than offering an understanding of the sistema's impact on Russia's health and infrastructure development, Dawisha's book posits, in 2015, that little more than greed might be driving today's invasion of Ukraine.
Dawisha's book contends that corruption and predation have extended to the Commonwealth of Independent States and the East European borderlands – those countries between Russia and Europe. Dawisha notes corruption is worst in those territories "liberated" by Russian military groups. And it is here that Ukraine receives a mention with Dawisha noting the country is the repository for Russian business's most material cross-border stake: in 2012 most of the US$17.6 billion per year worth of Russian military equipment sold to Syria, Algeria, India and Vietnam (among others) went through the Ukrainian port of Odessa on the Black Sea. Dawisha determines on page 347:
"Russia has real and deep interests in this region that will not be compatible with a closer relationship between Ukraine and the EU. These interests include a long history of national collaboration as well as the personal interests of key Russian leaders. As Lev Gudkov, the director of the Levada Center, writes, "Putinism is a system of decentralized use of the institutional instruments of coercion…hijacked by the powers that be for the fulfillment of the private, clan-group interests." The Russian leadership's attitude toward Ukrain is deeply affected by these interests."
As an aside, perhaps these deep interests are well known to the nations now sanctioning Russian oligarchs and seizing their assets. On 24 February 2022, UK Prime Minister Boris Johnson vowed to 'peel back the facade' of Russian cash in London with a 'next wave' of reprisals including measures to 'stop all Russian banks, all oligarchs, all Russian individuals, raising money on London markets' and 'accelerating' an Economic Crime Bill that will enable the exposure of 'beneficial ownership of property and companies' in the UK by people linked to the Kremlin.
Finally, and somewhat ominously, on pg.348, Dawisha concludes:
"Putin's ability to rule with a charm offensive has been largely exhausted. Many Russians still admire his tough-guy approach against weaker neighbors…[but] With a decline in both the economy and Putin's personal stature among the Russian middle class, maintaining control will more and more depend on coercion." Putin, she adds on pg.349, "will not go gentle into the night. He shows himself to be less flexible and more bombastic in his public appearances, and those in his inner circle suggest…there is also fear."
[1] According to Credit Suisse data, globally, billionaires control 12 percent of total household wealth, Russia's 110 billionaires however control 35 percent of that country's wealth.