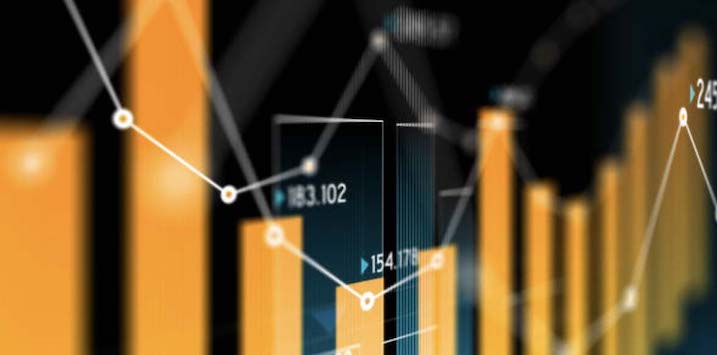 Investment Returns: 1900-2017
Any investor looking for long term context should read the Credit Suisse Global Investment Returns Yearbook 2018 by Elroy Dimson, Paul Marsh and Mike Staunton of the London Business School. They have analysed investment returns, volatility, and inflation from 23 countries since 1900.
The countries comprise of the United States and Canada, ten countries from what is now the euro currency area (Austria, Belgium, Finland, France, Germany, Ireland, Italy, the Netherlands, Portugal and Spain), six non-euro zone markets in Europe (Denmark, Norway, Russia, Sweden, Switzerland and the UK), four Asia Pacific markets (Australia, China, Japan and New Zealand) and South Africa. Together, these countries make up 91 per cent of the investible universe for a global investor (based on free-float market capitalisations).
The graph below shows how the weightings of these countries have changed over the 118 years of analysis. The shift in the US weighting from 15.0 per cent to 51.3 per cent and the accompanying decline in the UK (25.0 per cent to 6.1 per cent), Germany (13.0 per cent to 3.2 per cent) and France (11.5 per cent to 3.3 per cent) is most notable.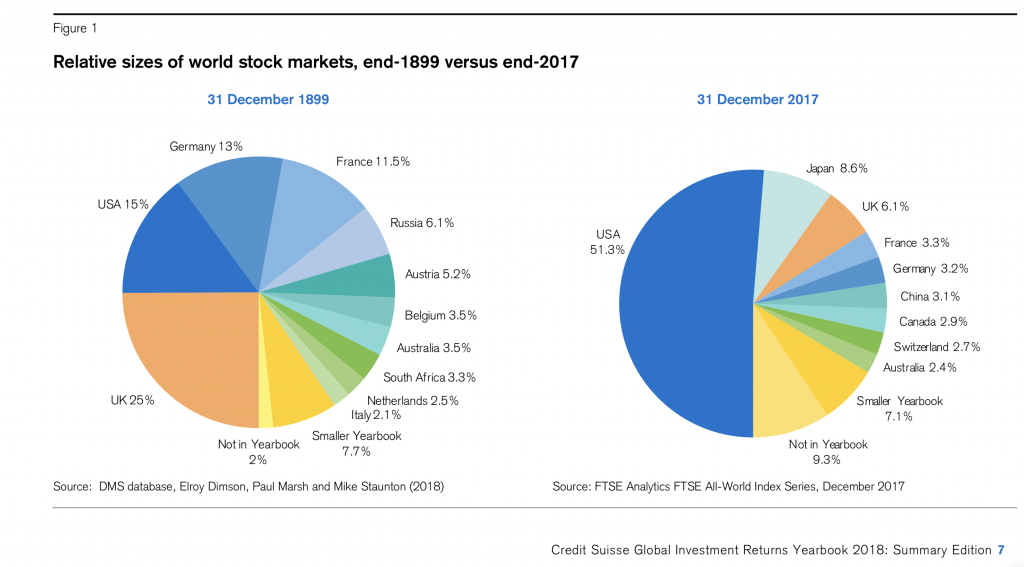 Detailing the nominal returns and real returns is probably the biggest takeaway. Over the 118 years, on average, equities have returned 9.6 per cent per year, bonds 4.9 per cent per year, bills 3.7 per cent per year and inflation 2.9 per cent per year. As seen from the left-hand graph below, $1 invested in equities turned into $47,661 in nominal terms, while $1 invested in bonds turned into $293.
The right-hand graph shows the real returns on US equities, bonds and bills and these come down to 6.5 per cent per year, 2.0 per cent per year and 0.8 per cent per year, respectively. Over 118 years, the original $1 invested in equities, together with dividends, turned into $1,654. With bonds, the $1 turned into $10.20.  (Interestingly, only the two mineral based economies, Australia and South Africa, did better than the US in real returns on equities over the 118 years under review).
Inflation is the great deceiver, and Professor Jeremy Siegel from Wharton argues the average real return from equities has been surprisingly stable at around 6.5 per cent per year, and this has become known as Siegel's Constant.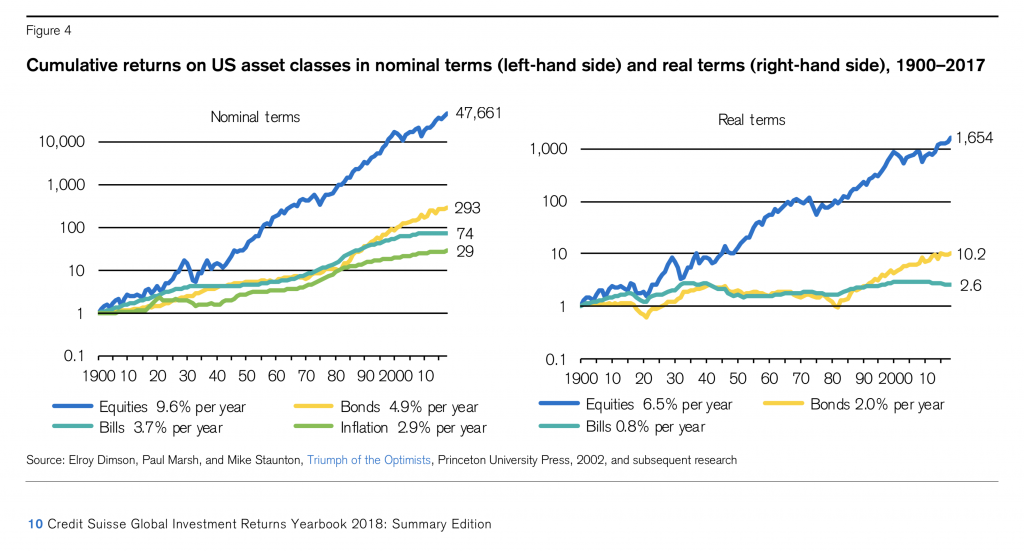 Before simply buying equities for the very long term, we probably should consider the following:
The real interest rate on Treasury Bills represents the real return on a (near) risk-free asset. The expected return on equities needs to be higher than this to compensate for higher risk. For context, US equity markets delivered a negative return in 38 of 118 years, relative to treasury bills, or nearly one year in three; and
The analysis by Dimson, Marsh and Staunton over 118 years (and from 2,382 observations of overlapping five-year periods), demonstrates the clear relationship between the current real interest rate and subsequent five year real returns for both equites and bonds. When real interest rates are low, expected future returns on all risky assets are also lower. We note that while today's nominal short-term interest rates are at record lows, real rates are generally not in the extreme negative territory, as per the left-hand side of the graph below.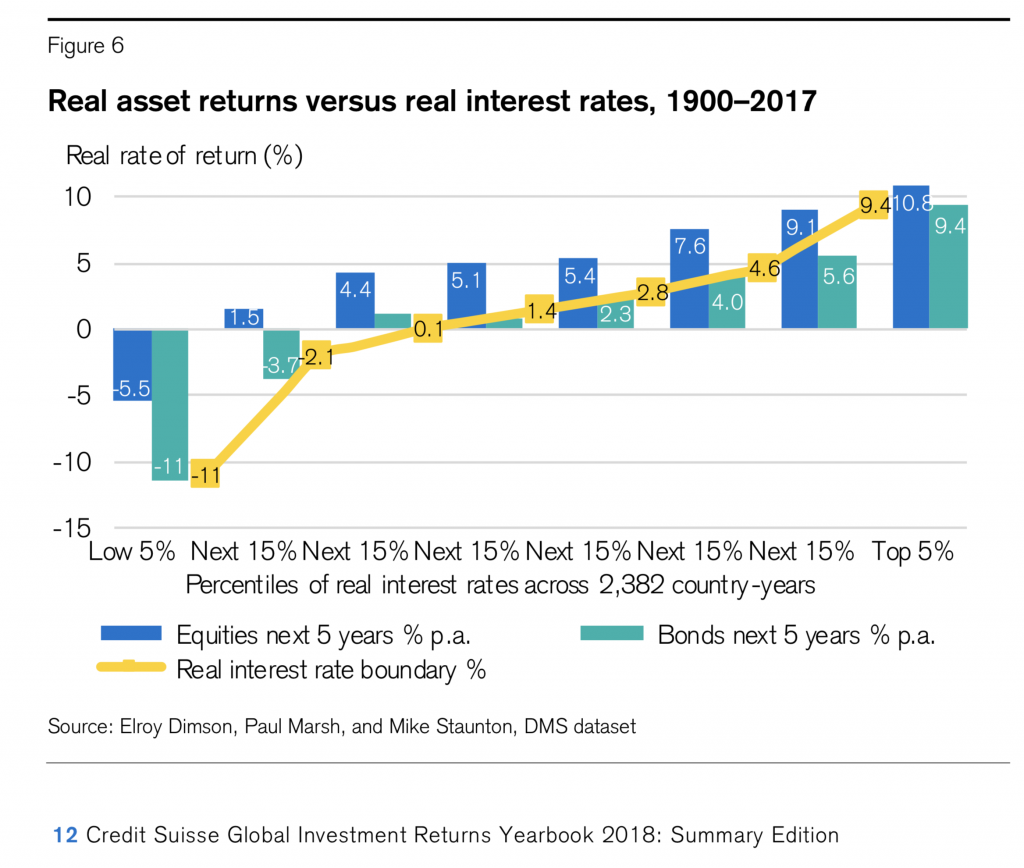 Please click here to read the full version of the Credit Suisse Global Investment Returns Yearbook 2018.