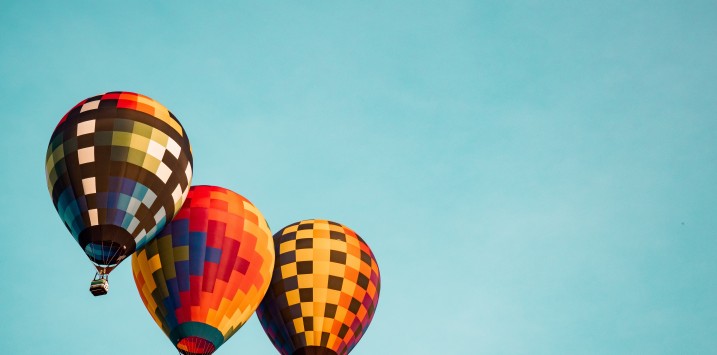 Inflation, what is happening and what conclusions can we draw
Most people are familiar with the concept of inflation. As a quick recap, it is the process whereby prices tend to increase over time. A positive, but low, level of inflation is generally seen as positive for a number of reasons and central banks tend to manage their interest rates to try to hit an inflation target of generally around 2%.
The mechanism they use for this are:
If economic activity is high, rates are likely to increase to encourage savings and make borrowing more expensive and, in this way, suppress economic activity to avoid an overheating economy and resulting runaway inflation.
Conversely, if economic activity is low, which tends to be associated with low inflation, central banks tend to lower interest rates to stimulate the economy by making borrowing cheaper and discourage savings and stimulate consumption.
Inflation is like almost all other economic processes caused by supply/demand balance (at least as long as you have a functioning market). Economists generally make a difference between two different processes when talking about the causes of inflation. These are:
Demand-Pull inflation – This is when consumer demand for a large number of goods and services increase faster than the supply of said goods and services and prices rise as there is competition for the limited supply.
Cost-Push inflation – This is when the input cost rises and prices have to rise to maintain the profit margin of the producer of goods and services.
It is quite obvious that inflation matters in different ways to different parts of the economic value chain and depending on which type of inflation we are seeing, different companies will benefit or suffer in different ways.
Yesterday the Australian Bureau of Statistics released their September inflation figures and I thought it would be interesting to have a look and see if we can draw any conclusions from the numbers.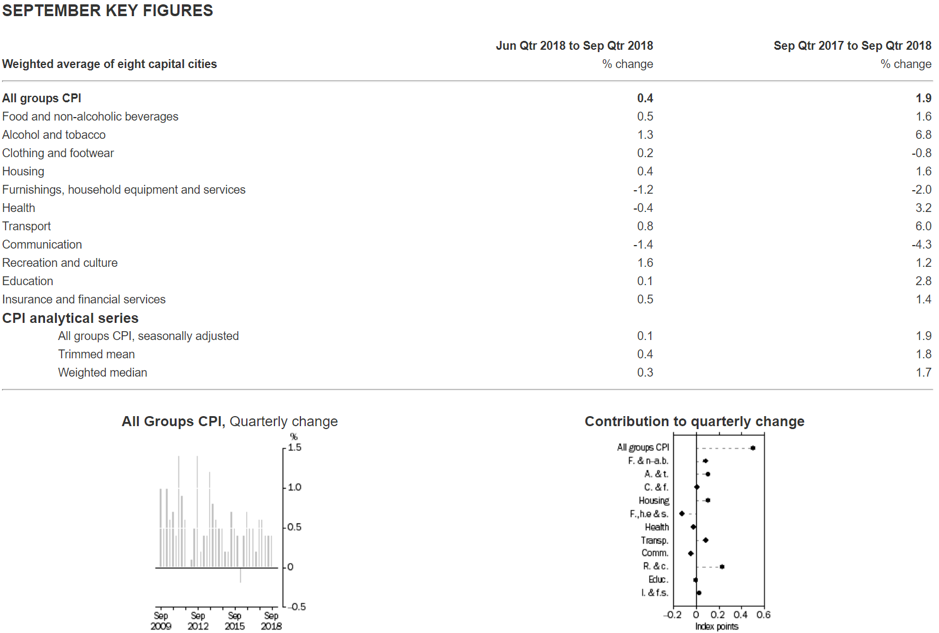 You are free to draw your own conclusions but my thoughts regarding the numbers in the tables above, please keep in mind I am not an economist but an engineer by training, so my interpretations might not be the same as an economist's are:
Overall, inflation is trending down. As I have previously covered, even though the RBA has communicated that they see the next interest rate move up, I struggle to see this as there are no signs of inflation picking up and with the housing market rolling over, increased interest rates could have a very negative effect on economic activity.
Given that US and many other countries have started to increase interest rates, this should lead to a weaker Australian dollar due to interest rate parity theory.
The biggest driver of the inflation we are seeing are:

Recreational and Culture. The biggest driver is the price of international travel and accommodation which was up 4.3 per cent. This is a clear result of the weaker Australian dollar compared to most popular foreign tourism destinations so cost-push inflation without any Australian beneficiaries.
Alcohol and Tobacco was the second largest driver, and this is driven by increased tobacco prices due to tax increases, so this is a cost-push inflation without any real beneficiaries (apart from government and any smokers who quit as a result).
The third largest contributor was transport costs and in this fuel costs which is both a result of the weaker Australian dollar and the higher international oil price.
The largest price falls were seen in:

Communications where increased competition in the mobile and broadband space with Telstra in particular rationalising their mobile plans.
Cost of Childcare fell 11.8 per cent due to introduction of the new Child Care Subsidy on July 2. This is just a subsidy change and not indicative of any underlying supply/demand dynamics.
In general, there seems to be much more cost-push than demand-pull inflation at the moment and the cost-push is driven by a weaker Australian dollar and higher international oil prices. This suggests to me that there are very few positive conclusions to draw for any domestic exposed business but that the outlook for the Australian dollar is weaker which should benefit export-oriented companies.