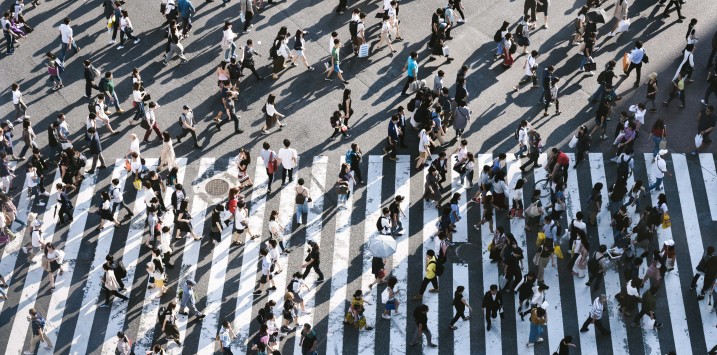 How has Coronavirus affected you?
The Coronavirus has led to big changes in the way many people in China eat, work and move about.  But what about here, in Australia?  How has it affected the way you live, and have you noticed any changes in your workplace or the places you visit?  I'd value your feedback.
I started my career working for Fidelity and had the privilege to interact a couple of times with the legendary investor Peter Lynch. Peter managed Fidelity's Magellan fund between 1977-1990 and achieved an outstanding 29.2 per cent average annual return during his tenure which was more than double the return of the S&P500 index. The point that Peter put most emphasis on when talking to us junior analysts was "invest in what you know." As he told us, this has a dual meaning:
If you are an expert in a field, say for example an aeronautical engineer, you have specialised knowledge that you can use to an advantage over other investors, as you are able to spot trends and evaluate news better than people that are less knowledgeable about the subject matter than you are.
The second meaning is that it is possible for investors to draw significant investment conclusions through just observing events that happens in their day-to-day life. Peter famously invested in Dunkin' Donuts when it was a very small company, not because he read about it in any business newspapers or research reports, but because he went there to buy a coffee and thought their coffee was much better than his normal place.

He also told us how he got confidence in betting heavily on a company that claimed to have launched a superior panty hose by buying all the women working in Fidelity's head office a pair and requesting feedback. When the feedback came back universally positive and he compared the price with existing market leading products and found it comparable, he got the confidence to bet heavily on the company and it turned out to be a big success (one of his famous ten-baggers).
I am a believer in both of these meanings. But as you are limited in the number of areas where you can develop really specialised knowledge, the second meaning is something that has more day-to-day applicability to investment decisions. Basically it often pays to keep your eyes open and be observant as what you see in your daily environment will often translate well into what is happening on a macro level.
In today's blog, I would like to solicit feedback from our readers on day-to-day observations that can have investment implications in connection with the evolving Coronavirus situation.
To kick off, I will contribute with two observations:
On Sunday morning, I rode my bike to the Sydney Fish Market which is something I do quite regularly. The reason I ride instead of drive is twofold – first to get some exercise but also because Sunday mornings are generally extremely busy at the Fish Market and you often struggle to find a parking spot and will have to wait for someone to leave before you can park. That was definitely not the case last Sunday as the car park was less than 1/5th full and there was only one other person in the shop I normally go to. The restaurants that are normally packed like cans of sardines (bad pun intended…) were virtually empty. The demographic that normally frequents Sunday morning breakfast at the Fish Market is predominantly Chinese (both tourists visiting Sydney and locals) and the casual conclusion would be that they are taking the Coronavirus threat very seriously and are avoiding crowded places.
The second observation, although it is second hand, basically confirms this. A friend of mine who lives next to Chatswood and does his grocery shopping there mentioned in passing that he had never ever seen so few people in Coles in Westfields Chatswood on a Sunday evening. The place is normally teeming with people but was virtually deserted when he went last Sunday.
So, what would be the causal conclusions we could draw from this?
There could be some weakness to discretionary retail. The trends seen recently have not been good and we have seen a few discretionary retailers issuing disappointing updates like Mosaic Brand (ex. Noni B) and Super Retail Group whose BCF and MacPac brands saw disappointing sales over Christmas (most likely partly caused by the bushfires). On top of this, if we get a widespread trend that people are avoiding crowded places, it will further impact especially discretionary retailers and their landlords. This is (hopefully!) a transitory effect and should not have a large impact on the fundamental value of businesses but the stock market tends to still punish share prices short term until the effects have passed.
For non-discretionary retailers, the impact should be lower as people still need to eat and have other necessities. It might even be a positive in terms of volume if people reduce eating out. The issue could though be if people resort to, and get accustomed to, home delivery as this is basically a zero-margin business for Coles and Woolworths so could be dilutive to margins over time.
Entertainment businesses like cinemas, restaurants and amusement parks might also see a reduction in foot traffic if people are avoiding crowded places.
It could be positive for home delivery food services like Marley Spoon etc.
We should probably be cautious to draw any very firm conclusions from these casual observations yet, as I think the propensity to react to the Coronavirus situation by staying home is (understandably) much higher amongst the Chinese population than in the rest of the population. But if it spreads to other parts of the population it will definitely be worth taking notice.
That's why I'd love your feedback on any changes you've made to your life as a direct result of the Coronavirus, and any changes you've seen in the people around you.
I'm looking forward to your feedback!
This post was contributed by a representative of Montgomery Investment Management Pty Limited (AFSL No. 354564). The principal purpose of this post is to provide factual information and not provide financial product advice. Additionally, the information provided is not intended to provide any recommendation or opinion about any financial product. Any commentary and statements of opinion however may contain general advice only that is prepared without taking into account your personal objectives, financial circumstances or needs. Because of this, before acting on any of the information provided, you should always consider its appropriateness in light of your personal objectives, financial circumstances and needs and should consider seeking independent advice from a financial advisor if necessary before making any decisions. This post specifically excludes personal advice.
INVEST WITH MONTGOMERY