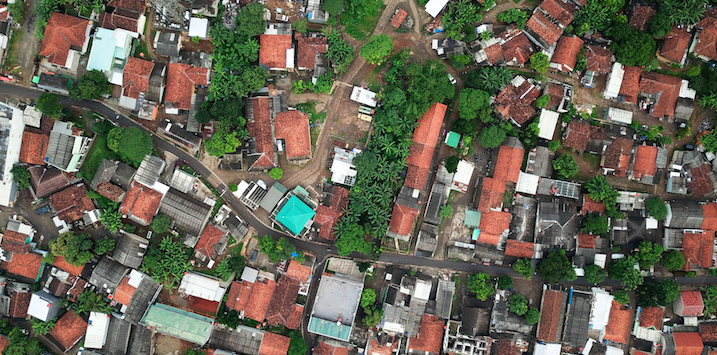 House prices in Box Hill down 41%
As you would well know, we have been bearish property for more than two years, warning those who feared missing out, to be extra cautious about borrowing to buy at the peak.
If you type 'property' into the search bar of this blog and read some of our posts you will find a bunch of respondent's comments suggesting that factors like immigration and population growth will ensure that property prices would not fall.
Today's The Australian is leading with a story (see picture below) about property price falls that far exceed the national average. Box Hill in Western Sydney has declined 41.3 per cent in January year-on-year and Red Hill on Victoria's Mornington Peninsula is down 32.5 per cent.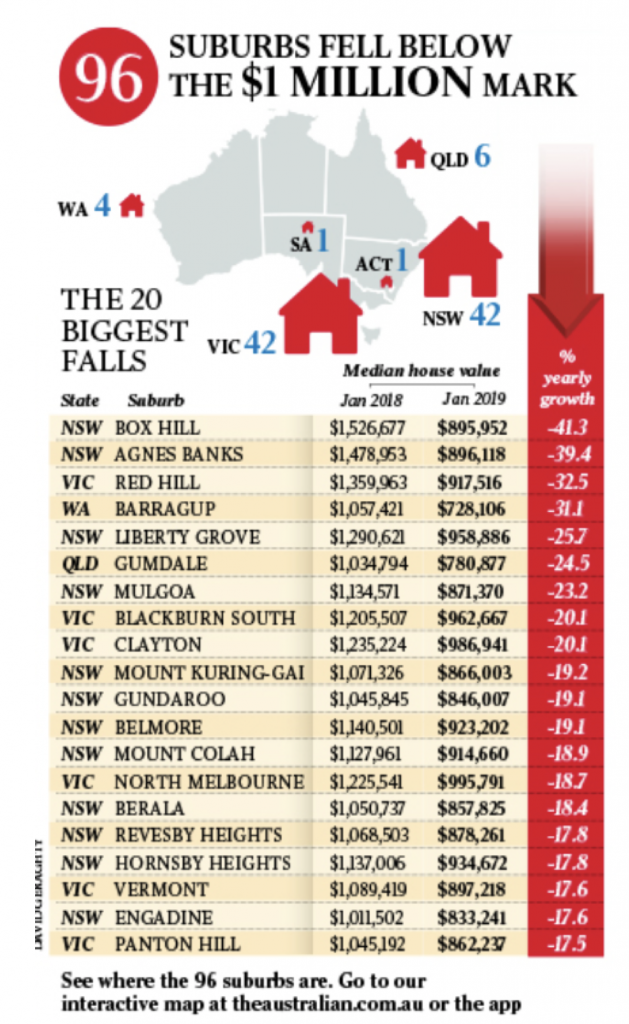 We make a couple of observations. Many of the owners in the suburbs listed will now be in negative equity. JB Hi-Fi and Nick Scali will not be seeing those families in their stores any time soon. As I will write about in coming days and weeks, we are entering a period of deleveraging.
With house prices now declining substantially, the record debt is what households will turn their attention to reducing. Credit growth is already slowing and possibly faster than GDP. And that means a decline in retail spending. Unsurprisingly, that is what we are now seeing.  Big ticket items are the first to see the tide go out, and car sales are slumping. By way of example, national Mercedes sales fell 43 per cent year-on-year in November alone. Ford reported a 41 per cent decline in the same month. Retail sales slumped in January and the fashion category fell by 3.8 per cent – annualise that! Meanwhile foot traffic is plunging, and Westpac reported consumer confidence had "evaporated".
When you are looking for reasons for all of this just remember everything goes in cycles.  After a debt binge there must be a period of indigestion, followed by reflection. Therefore, after a great debt boom, expect it will take time for the debt to be digested and brought back to a 'comfortable' level.  For some that will mean slow and steady repayments, for others at the pointy end of debt-to-income, expect some forced asset sales. Whichever path is taken however to reduce debt, expect retail sales and house prices to soften in the meantime. And then expect some time to pass before any sustainable recovery occurs.
The other observation worth making is that house price falls are not occurring where owners aren't feeling pain. At the top end of the property market there has been little change with the exception of a more cautious approach by buyers. Vendors aren't lowering prices unless they have to and with Investment Banker bonuses never higher, the loan repayments aren't at risk so owners don't need to sell. And of course, there will always be buyers who can pay cash. Turnover at the top end may slow but only a financial crisis or a deep recession, that 1) causes job losses in the finance industry or 2) the private equity funding tap to turn off for trade sales, takeovers and start-ups, will bring top end home prices down.
Top end homes aren't immune to falls – they plunged during the GFC and entire Mosman streets were 'quietly' listed – but something much more pronounced than rising mortgage rates and a slowing economy is needed to shake things up.
You can be certain however, for the vast bulk of Australian's, conditions are about to get a lot tougher.