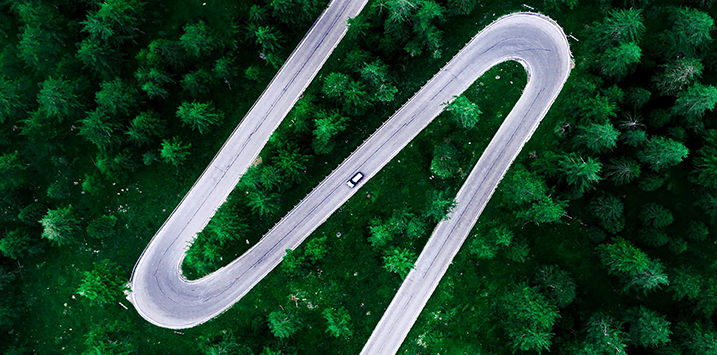 Have you joined the de-carbonisation train?
In my recent interview with Gary Rollo, Portfolio Manager of the Montgomery Small Companies Fund Gary focused on the bull market associated with the decarbonisation thematic, the long-term fundamentals for Lithium and Copper and two stocks, Pilbara Minerals (ASX:PLS) and Aeris Resources (ASX:AIS).
In calendar 2021 to date, Pilbara Mining has appreciated from $0.87 to $2.40; whilst Aeris Resources has appreciated from $0.11 to $0.21, which included the $50 million raising, or nearly 13 per cent of the company's issued capital, at $0.175. Whilst both companies have a combined weighting of 5 per cent in the Montgomery Small Companies Fund, the aggregate exposure to the decarbonisation thematic approximates 12 per cent.
I am particularly comfortable with the long-term fundamentals for Copper. From the pandemic low of March 2020, the Copper price has doubled to around US$4.35/lb., challenging the record-high of ten years ago. As illustrated below, the average global copper mill grade in terms of per cent of contained Copper has declined from over 3.0 per cent to the current 1.0 per cent over the past 25 years. Major discoveries over the past decade have been disappointing, particularly at a time when the electrification of the global motor vehicle fleet is starting to gain traction.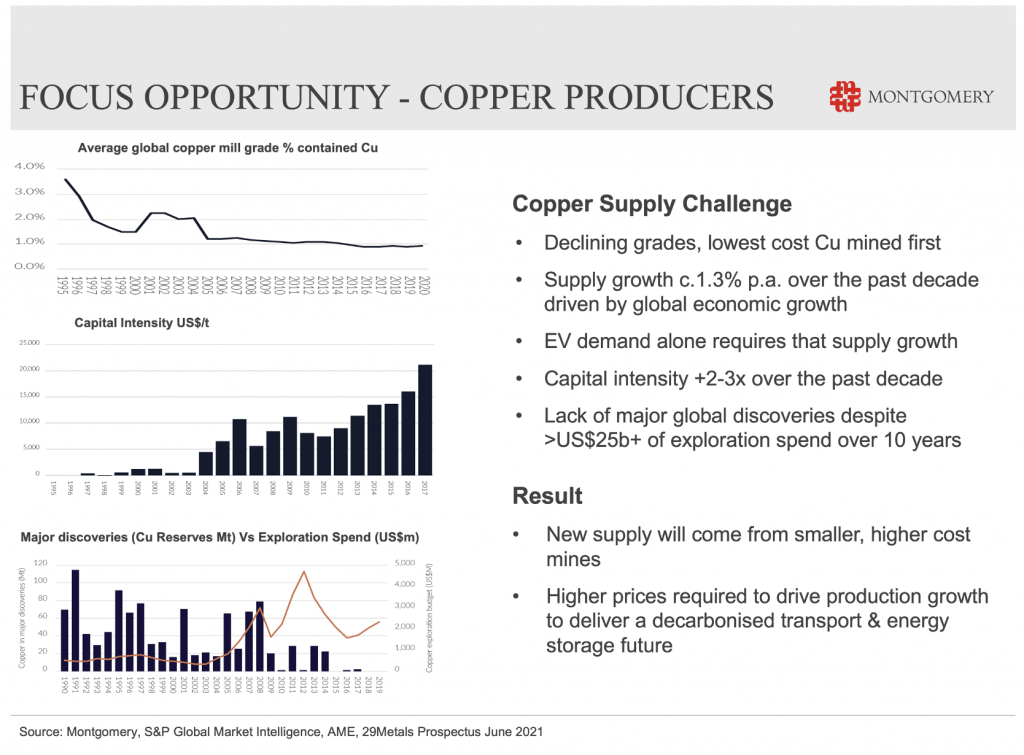 As we covered, an electric vehicle requires around 72 kilograms of Copper, approximately 4.5 times the requirement of a Conventional (Combustion Engine) Vehicle. Currently there are around 1.4 billion motor vehicles in the world, or around 18 per cent of our global population of 7.85 billion.
If we assume that over the next two decades, the combination of legislation, technological improvement, and price force the world to electrify just 40 per cent of the motor vehicle fleet, or around 600 million vehicles, this should see an enormous boost in the demand for Copper. At say an average of 55 kilograms difference between conventional combustion engine vehicles and electric vehicles, we are talking an additional 33 million tonnes of Copper demand, or an average annual 1.65 million tonnes.
And this math does not consider the approximate four-fold Copper intensity required for renewable power generation relative to conventional (fossil fuel) power generation.
According to the International Copper Study Group refined copper usage in 2019 hit 24.4 million tonnes, and China accounted for 52 per cent of this. In summary, we believe the Copper market requires 8 to 13 per cent primary supply growth to meet incremental demand from electric vehicles and additional renewable power generation, and that is why I am comfortable with the long-term fundamentals.
You can watch my interview with Gary here: Two stocks we like in the lithium and copper space
The Montgomery Small Companies Fund owns shares in Pilbara Minerals and Aeris Resources. This article was prepared 13 August 2021 with the information we have today, and our view may change. It does not constitute formal advice or professional investment advice. If you wish to trade these companies you should seek financial advice.