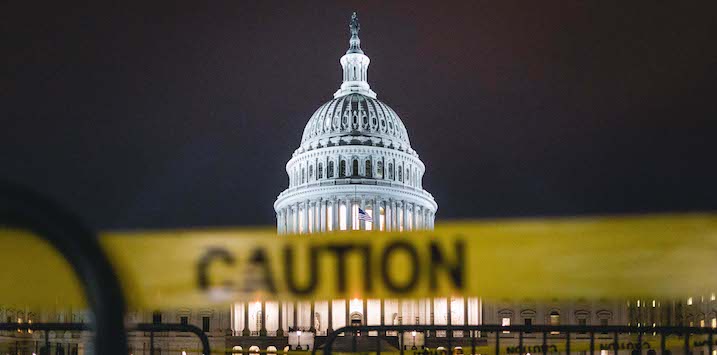 Feeling the Pain of a Record Government Shutdown
The United States' partial government shutdown has officially become the longest in the country's 282-year history. Since December 22, President Trump has refused to budge as Republicans work to gain Democrats' votes in favour of funding his proposed US-Mexico border wall, a cost of $5.6 billion. However, every day the parties remain resilient, the implications for the broader US economy become more widespread.
There are 800,000 federal workers affected by the shutdown. Many have been furloughed until funding returns, and many more missed their first paycheck on January 11. Crucially, these employees operate core national functions, such as TSA agents and IRS tax servers, and they are not able to afford to live week-to-week unpaid. During the final week of December, over 4700 federal employees filed for unemployment, more than five times the 929 who filed the week before the shutdown. If the government cannot reach a budget agreement before January 25, federal workers will miss a second paycheck.
Moreover, this has forced many businesses to pause operations. The National Gallery of Art, National Zoo and Smithsonian museums have been closed for almost two weeks. Nearly all NASA employees have been furloughed, preventing engineers from repairing the malfunctioning Hubble Space Telescope. FAA inspectors are not working, meaning commercial airlines cannot get approvals to add new planes to their fleet. The National Park Service has suspended services on road maintenance and trash collection, now losing $400,000 a day in fees.
Perhaps most alarmingly, hundreds of TSA agents have called in sick in protest of the shutdown. Expected to work without pay, these officers are fundamental to airports functioning without delays. As such, the implications can extend from individual airports to other domestic airports and even internationally. Congressman Bennie Thompson, chairman of the House Committee on Homeland Security, affirmed, "not only will continuing the shutdown increase airport delays and hinder commerce, it could have a negative impact on aviation security if a resolution does not come quickly."
In the meantime, travellers are left to plan for extended delays, and airlines face an uphill battle to keep planes on schedule. TSA will begin relocating airport screening officers "on a national basis to meet staffing shortages that cannot be addressed locally," the federal agency said in a tweet Monday.
Even President Trump, responsible for the government shutdown and with the power to end it at any time, has had his own operations compromised. Clemson University's football team, invited to dine in the White House's State Dining Room after winning the Collegiate National Championship this week, had their meal personally paid for by Trump while much of his residential staff are furloughed. However, the fine dining teams are typically treated to was replaced by a selection of fast food, catered by McDonald's, Wendy's, Burger King and Domino's Pizza.
Despite using the Clemson team visit as an opportunity to emphasise the shutdown's strain on national resources, Trump has no intention of abandoning his budget requirement for wall funding. Senate Majority Leader Chuck Schumer said President Trump threatened to keep the government shuttered "for a very long period of time – months or even years" until he gets funding for a US-Mexico border wall. The President confirmed as much.
Fed chair Jerome Powell acknowledged that a long shutdown could prove harmful to the US economy. "If we had an extended shutdown then I do think that would show up in the data pretty clearly," he confirmed.
Although there is no clear indication of a solution, with the number of businesses affected growing by the day we hope the ongoing economic implications are enough of a threat to bring the government to an agreement.