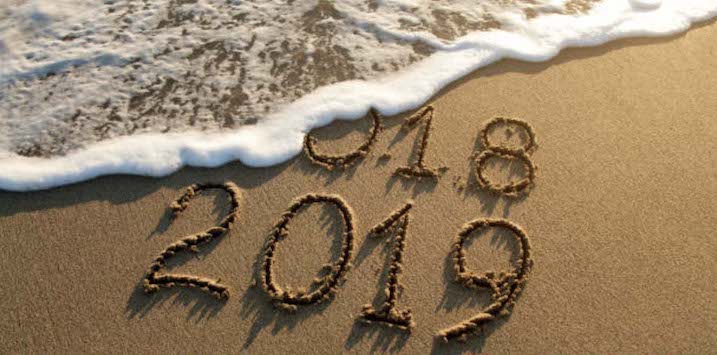 Farewell 2018, Hello 2019
As 2018 has drawn to a close, let's take a look at the year that was. Excluding dividends, the Australian market declined 7.5 per cent over 2018 to 5,709 points. By August, the market was at 6,460 points, and the all-time high of 6,850 points recorded in November 2007 appeared to be within reach. However, the final four months of the year was a rough period for most equity investors.
US government yields widened in October, with US ten-year treasury bonds approaching 3.24 per cent, before retracing the increase and then dropping further as the sell-off of risk assets spread. Volatility and term premia jumped. Further turbulence was accompanied by mixed signals on global economic activity, the gradual and persistent tightening of financial conditions, ongoing trade tensions and heightened political uncertainty in the euro area.
The S&P 500 closed down 6.2 per cent for the year at 2,507 points, 15 per cent from its September peak of 2,941, while the Nasdaq was down 3.9 per cent for the year at 6,635 points, and 18 per cent below its peak of 8,133. Company results in the September 2018 Quarter were pleasing, however investors appeared unnerved by poor forward visibility particularly in the context of trade tensions, weakening global economic conditions, the Federal Reserve's normalisation of monetary conditions, and corporate spreads widening for lower quality credit.
The German DAX 30 closed the year down 18 per cent at 10,559, the UK FTSE 100 was down 12.5 per cent at 6,728, while the French CAC 40 was down 11 per cent at 4,731. Corporate spreads in Europe also increased materially, especially for financial firms, and bank valuations came under renewed pressure with growing political uncertainties associated with the Italian budget and Brexit. The Deutsche Bank share price, for example, at E6.97 is at a multi-decade low.
Closer to home, the Chinese Shanghai Composite Index has been in a bear market since January, closing the year down 25 per cent at 2,494 points, while the Hong Kong Hang Seng fell 14 per cent to 25,846. Both the Indian Sensex and the New Zealand NZ50 Gross recorded a positive return for the year up 6 per cent and 5 per cent, respectively.
As mentioned, US ten-year treasury bonds peaked at 3.24 per cent in October and retraced 0.56 per cent to 2.68 per cent by year-end. German ten-year bunds rallied from 0.78 per cent in February to 0.24 per cent, and Aussie ten-year bonds followed suit, rallying from 2.92 per cent in February to 2.32 per cent by year-end. The Australian cash rate has remained at 1.5 per cent since August 2016, while the US Federal Reserve has since December 2016 tightened on eight occasions by 0.25 per cent each to a range of 2.25-2.50 per cent.
On the commodities front, oil deserves a special mention rallying from US$60/bbl. to US$78/bbl. (+30 per cent) by October before declining to US$45.41/bbl., down 25 per cent for the year. Copper was down 18 per cent to US$2.63/lb. while wheat closed the year up 18 per cent at US$5.03/bushel. Gold and iron-ore were steady, closing at US$1,281/oz. and US$71.30/tonne, respectively.
The Australian Dollar was weaker against all major currencies, as the strong indications of synchronised world growth so prevalent in 2017 seemed to fade in the final few months of 2018.
| | | | | | |
| --- | --- | --- | --- | --- | --- |
| | 31-Dec 2017 | 30-Jun 2018 | 31-Dec 2018 | 6 months to 31-Dec-18 | 12 months to 31-Dec-18 |
| | | | | | |
| |   |   |   | % Change | % Change |
| | | | | | |
| Indicies | | | | | |
| All Ordinaries | 6173 | 6290 | 5709 | -9.2% | -7.5% |
| S&P 500 | 2673.6 | 2718.4 | 2506.9 | -7.8% | -6.2% |
| Nasdaq | 6903.4 | 7510.3 | 6635.3 | -11.7% | -3.9% |
| Nikkei 225 | 22764.9 | 22304.5 | 20014.8 | -10.3% | -12.1% |
| FTSE 100 | 7687.8 | 7636.9 | 6728.1 | -11.9% | -12.5% |
| Dax 30 | 12917.6 | 12306.0 | 10559.0 | -14.2% | -18.3% |
| CAC 40 | 5312.6 | 5323.5 | 4730.7 | -11.1% | -11.0% |
| Shanghai Composite | 3310.0 | 2848.3 | 2493.9 | -12.4% | -24.7% |
| Hang Seng | 29919.2 | 28955.1 | 25845.7 | -10.7% | -13.6% |
| Sensex (India) | 34056.3 | 35423.5 | 36068.3 | 1.8% | 5.9% |
| NZ50 Gross | 8398.0 | 8943.0 | 8811.3 | -1.5% | 4.9% |
|   | | | | | |
| Bonds | | | | | |
| US 10 Year Bonds | 2.41% | 2.86% | 2.68% | -0.18% | 0.27% |
| German 10 Year Bunds | 0.42% | 0.30% | 0.24% | -0.06% | -0.18% |
| UK 10 Year Gilts | 1.19% | 1.28% | 1.28% | 0.00% | 0.09% |
| Japan 10 Year Bonds | 0.04% | 0.02% | 0.00% | -0.02% | -0.04% |
| Australian 10 Year Bonds | 2.63% | 2.63% | 2.32% | -0.31% | -0.31% |
| Australian 11am Call | 1.50% | 1.50% | 1.50% | 0.00% | 0.00% |
| | | | | | |
| Commodities | | | | | |
| Gold (US$/oz) | 1302.8 | 1253.0 | 1281.3 | 2.3% | -1.7% |
| Oil (US$/bbl) | 60.42 | 73.01 | 45.41 | -37.8% | -24.8% |
| Iron-ore (US$/tonne) | 72.4 | 65.0 | 71.3 | 9.7% | -1.5% |
| Copper (US$/lb) | 3.30 | 2.97 | 2.63 | -11.4% | -20.3% |
| Wheat (US$/bushel) | 4.27 | 5.01 | 5.03 | 0.4% | 17.8% |
|   | | | | | |
| Currencies | | | | | |
| $US/$A | 0.78 | 0.74 | 0.71 | -4.1% | -9.0% |
| $A/GBP | 1.72 | 1.78 | 1.81 | 1.7% | 5.2% |
| $A/EUR | 1.54 | 1.58 | 1.63 | 3.2% | 5.8% |
| Yen/$A | 88.00 | 81.87 | 77.55 | -5.3% | -11.9% |