Do these three companies represent the last of good value?
Fifteen months ago I was shouting it from the rooftops; "we will look back on this time as one of rare opportunity".  Since then, and as the All Ordinaries Accumulation Index rallied 61 per cent, there has been a fall in my enthusiasm for the acquisition of stocks.
Now, let me make it very clear that I have no idea where the market is going, nor the economy. I have always said you should never forego the opportunity to buy great businesses because of short-term concerns about those things. Even my posts earlier this year about concerns of a property bubble in China need to be read in conjunction with more recent reports by the IMF that there is no bubble in China. Take your pick!
My reluctance to buy shares today in any serious volume comes not from concerns about the market falling, or that China will cause an almighty slump in the values (and prices) of our mining giants. It comes from the fact that there is simply not that many great A1 businesses left that are cheap.
So here's a quick list of companies that do make the grade for you to go and research, seek advice on, and on which to obtain 2nd, 3rd and 7th opinions.
* Note: Valuations shown are those based on analyst forecasts and a continuation of the average performance of the past.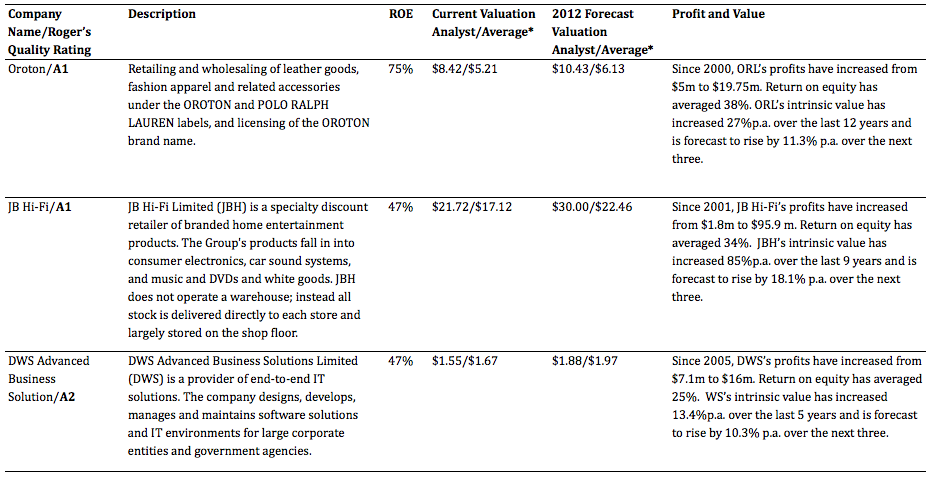 In addition to these companies, investors keen to have a look at some lesser-known businesses, that on first blush present some attractive numbers, could research the list below. I have not conducted any in-depth analysis of these companies, but my initial searches and scans are suggesting at least a second look (I have put any warnings or special considerations in parentheses).
CogState (never made a profit until 2009)
Cash Convertors (declining ROE forecast)
Slater&Gordon (lumpy earnings profile)
ITX (trying to identify the competitive advantage)
Forge (Clough got a bargain now 31% owner and a blocking stake)
Decmil (only made a profit in last 2 years and price up 10-fold)
United Overseas Australia (property developer).
What are some of the things to look at and questions to ask?
Is there an identifiable competitive advantage?
Can the businesses be a lot bigger in five, ten, twenty years from now?
Is present performance likely to continue?
What could emerge from an external force, or from within the company, to see current high rates of return on equity drop? For example, could a competitor or customer have an effect or are there any weak links in the balance sheets of these companies?
Of course I invite you again – as I did in last week's post entitled "What do you know?" – to offer any insights (good, bad or in-between) that you have about these or any other company you know something about, or even about the industry you work in.
Posted by Roger Montgomery, 4 May 2010