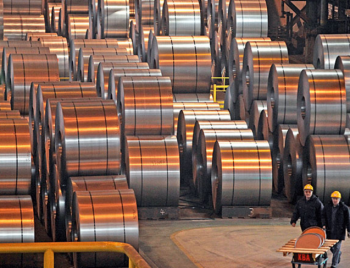 China's steel production jumps 10 million tonnes
According to the World Steel Association, global production for the March Quarter 2016 was 385.7 million tonnes, down 3.6 per cent year on year from 400.3 million tonnes.  China's production for the March Quarter 2016 was 192.0 million tonnes, down 3.2 per cent year on year from 198.4 million tonnes.
What is interesting though is China's monthly average production for January and February 2016 was 60.7 million tonnes, while for March 2016 it was 70.7 million tonnes, up 10 million tonnes in one month!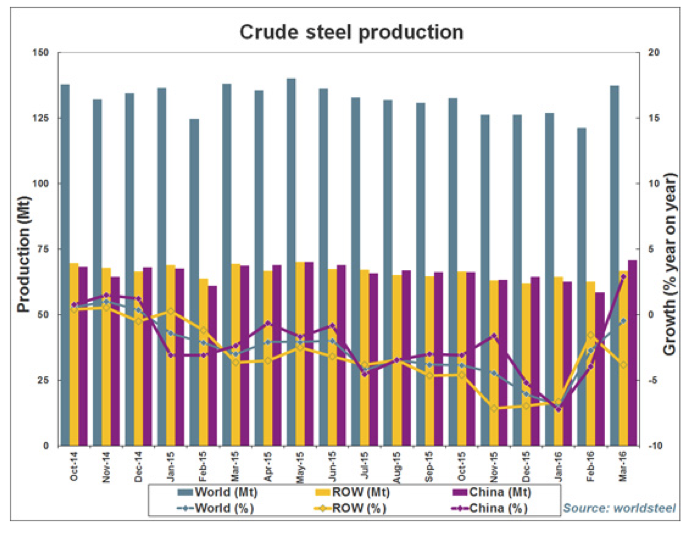 China appears to be on a collision course with the world's leading powers over excess steel output.  The US, Japan and the EU (collectively produced 31.2 million tonnes of steel in March 2016, or 44 per cent of China's output) have agreed to joint steps at a special OECD summit.  While the US has imposed penalties of 266 per cent on Chinese cold-rolled steel, the EU has acted more slowly and stopped at 13 per cent, but that mood seems to be shifting.
The Communist Party, fearing political protests, has done everything to recently boost China's fixed asset investment.  Property new starts, for example, jumped 27 per cent year on year in March 2016.  Another wave of new starts however doesn't help to resolve the issue of new housing inventory or the strongly rising private sector debt to GDP ratio.
To learn more about our funds, please click here, or contact me, David Buckland, on 02 8046 5000 or at dbuckland@montinvest.com.