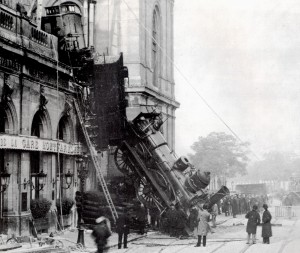 China Watch
In February 2014, Robert Brusca, Chief Economist of FAO Economics, was quoted as saying: "U.S. imports are weak. And imports are closely linked to GDP. Weak imports suggest that there will be more weak GDP reports to come. That is bad news and it is the kind of bad news that trumps the good news".
More recently, another US-based analyst provided insights that reflected this turn of events, writing: "The year-to-year change in non-petroleum imports has been sloping downward over the same period – even though the stronger trade-weighted dollar effectively raised the purchasing power of importers. Non-petroleum import growth (see Chart 1) is currently at levels more associated with recessions rather than expansions."
Chart 1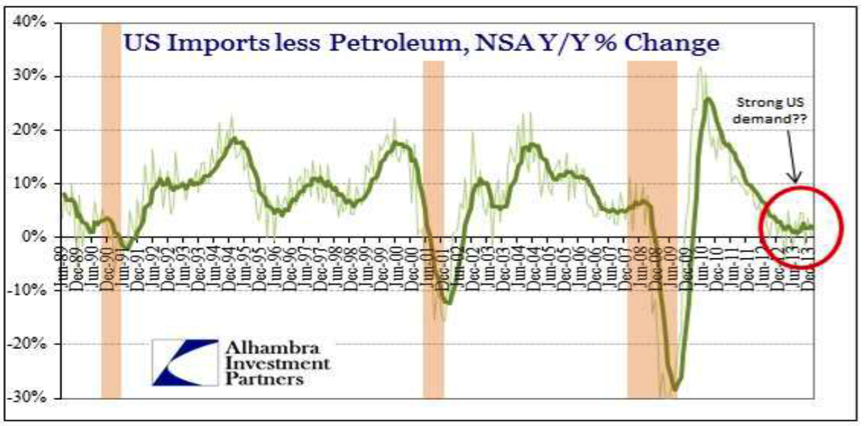 If US import growth is down, it likely means Chinese exports must be down.
We believe growth in China is headed towards 5 per cent, if it is not already there. A year or two ago, when growth was reported at 11 per cent per annum, any talk of 5 per cent growth would have been heresy, and yet here we might just be.
According to the Hang Seng China Enterprises Index (see Chart 2), first quarter Chinese company revenues fell by more than seven per cent compared to the previous corresponding period. The fall is significant because it makes the ability to grow earnings much more challenging and often through cost cutting – lower prices for inputs being demanded such as raw materials or labour.
Chart 2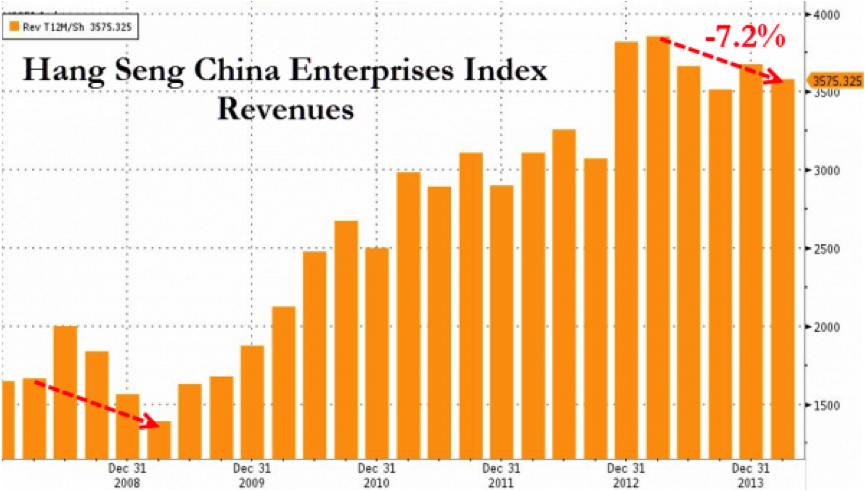 Finally, as Chart 3 demonstrates, it appears that China is waking up from its property dream. Only time will tell whether it was a pleasant one, or a nightmare.
Chart 3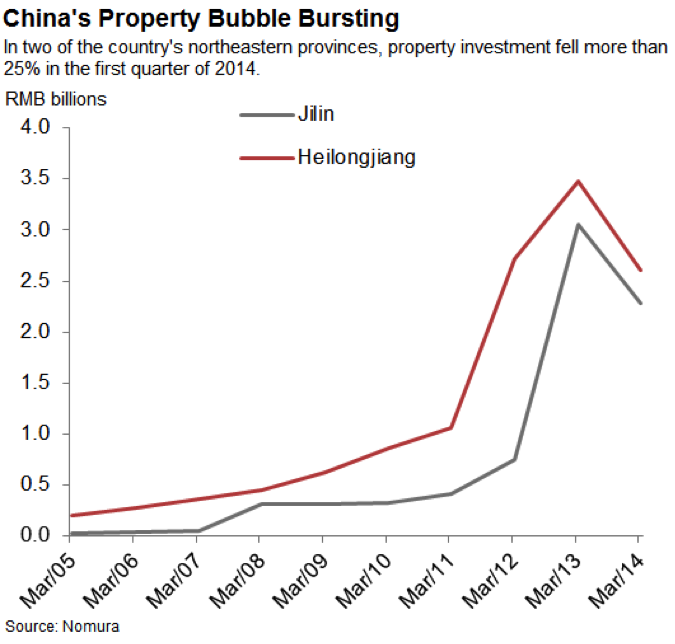 According to Nomura, property investment turned negative in four of China's 26 provinces in the first quarter of 2014, and in two of them, Heilongjiang and Jilin, the fall was greater than 25 per cent. To Nomura, that's a warning sign of similar problems to come in other Chinese provinces.
As you are no doubt already aware, falling levels of construction and sales typically follow falling investment.
The property market has done much heavy lifting in China's emergence as an economic powerhouse, so given the real estate industry – including steel and cement – accounts for somewhere between 16 and 25 per cent of GDP, the impact of slowing investment could be significant.
The bulls however, which include UBS economists, suggest: "Government still has the means and willingness to mitigate a property downturn".
They might be right, but in the battle between unconventionally deep Communist Party-pockets and conventional economic forces – driven ultimately by people with behaviour that's been repeated countless times over dozens of generations – the Communist Party will have to win.
And we repeat again, our comments from earlier this year: debt, even if used on another throw of the 'infrastructure-spending' dice, cannot expand forever at rates above income growth. When this expansion stops, economic growth must slow, with massive implications for iron ore and coal prices, if not Australia's prosperity itself.
Some people suggest that Xi Jinping, General Secretary of the Communist Party of China, the President of the People's Republic of China, and the Chairman of the Central Military Commission, would be 'rolled' from his position if growth floundered to 5 per cent, so there is every incentive not to print that number. But conventional economic forces appear to be conspiring against those efforts.
Postscript: Take this with a grain of salt… as we have been told, by the relative of a very senior figure in the Australian resources sector who has just returned from Sierra Leone via China – that his uncle came back from China very bearish. He reckons government is instructing all steel mills to reduce capacity back to minimum levels that will maintain employment at status quo, that stockyards are full everywhere and is suggesting iron ore could fall back to $80t.