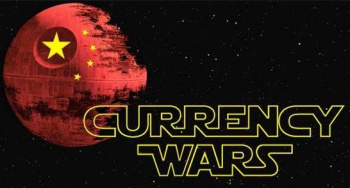 China Watch #2
Recently Australian Financial Review Journalist Angus Grigg reported an interesting admission by a director at China's State Administration of Foreign Exchange (SAFE).  It's a big deal for a SAFE official to be making such statements publicly.
Here's the highlights:
Guan Tao, [a] director of international settlements at the State Administration of Foreign Exchange, sounded a warning even as the government continues to stress the economy is stable.
"My personal view is that the domestic and foreign situation facing China looks more and more like the Asian financial crisis," he told a conference over the weekend.
"We can sense the atmosphere of the Asian financial crisis is getting closer and closer to us."
Mr Guan said the crisis-like symptoms were showing up in the foreign exchange markets, as capital continued to leave China at ever greater rates.
Officially $US20 billion left the country in December, but many believe the real figure could be four times that level if money taken out through grey channels was included.
At the same time its currency, the Yuan, has weakened against the US dollar.
The fear is that continuing high levels of capital flight could see the currency weaken sharply.
"There is a risk if the currency was to weaken too much it could cause some financial instability," said ANZ's chief China economist Liu Li-gang.
He said Chinese companies had around $US1 trillion of external debt, 80 per cent of which has been borrowed on the short-term money markets.
Roger Montgomery is the founder and Chief Investment Officer of Montgomery Investment Management. To invest with Montgomery, find out more.