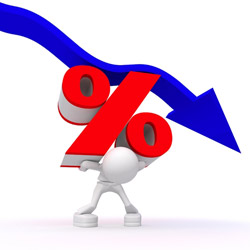 Cash rates do the round trip to 3.0% on slowing growth
Yesterday, the Reserve Bank of Australia cut their cash rate to 3.0%, down from 4.75% at October 2011, and the lowest level since mid-2009. Data points from manufacturing, the job market and the terms of trade are not cheery reading – all pointing to weaker GDP growth – and we expect the cash rate to fall further in 2013.
Released on Monday, the Australian Performance of Manufacturing Index shrank for the ninth consecutive month in November, declining by 1.6 to 43.6. Innes Willcox, chief executive of the Australian Industry Group, warned "the key concerns for manufacturers remain the high dollar, rising energy costs and weak demand in export and local markets. These factors are exacerbated by the ongoing slump in the residential and commercial construction sectors. In each of the past eight months the production, employment, exports and new orders sub-indices have all declined". It sound like manufacturing in Australia is on its knees!
Meanwhile the job market looks to be softening with Australia's unemployment rate at a two year high of 5.4%. Admittedly, it is well below the 34 year average unemployment rate of 7.0%.
The graph below however shows the Roy Morgan unemployment rate (right hand side), which uses a less stringent definition of "unemployed", has shot up toward 10.0% in the past year.
Supporting this thesis is Andrew Bassat, CEO of Seek Limited, Australia's clear market leader with 70% share of the jobs ads. At their Annual General Meeting held last Thursday, Bassat said there had been a consistent but gradual decline in total ad volumes since 30 June 2012.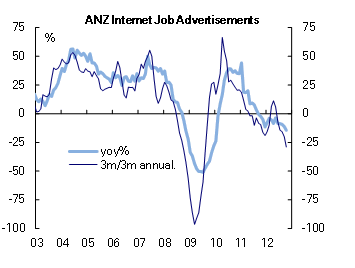 Finally, Australia's terms of trade – the ratio of export prices to import prices – are coming off the boil after peaking in the September 2011 Quarter at a 140 year high. The RBA expects Australia's terms of trade will probably have fallen by about 15% by the end of 2012.