Stratton the Saviour?
We consider Carsales.com (ASX:CAR) to be one of the highest quality businesses on the ASX and has been favoured by Montgomery Investment Management for a number of years. Yet in September 2014, we exited our position based on a number of concerns which we detailed here.
To summarise some of our key concerns, at the time we believed the share price incorporated considerable growth from its offshore investments, which are currently barely profitable, coupled with an almost perfect execution of expansion within its Australian operations.
Based on our analysis that formed this view, it appeared that the company was reaching a point (much like SEEK.com.au) whereby living on an island with 20 million people and circa 1.1 million new car sales per annum would lead to mature domestic growth.
Because of this, we felt that any deterioration in its core division would put considerable downward pressure on its earnings growth potential (and its share price).
Since we published this article, inventory on the Carsales.com has declined to levels that are causing us to question if the above is in fact materialising.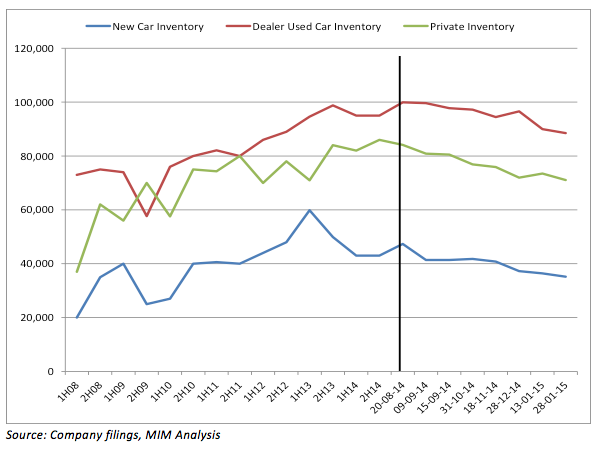 We have compiled the running totals of car inventory levels on Carsales.com.au to 28 January 2015. What they detail to us is that inventory levels were significantly lower than the average second half 2014 (2H14) levels:
Total Inventory on carsales.com.au appears to be down 13 per cent
New Car Inventory on carsales.com.au appears to be down 18 per cent
Dealer Used Car Inventory on carsales.com.au appears to be down 7 per cent
Private Inventory on carsales.com.au appears to be down 17 per cent
The decline in new car listings could partially be explained by manufacturers like Hyundai and Toyota attempting to wrestle some control from Carsales.com, and in the process, appear to be boycotting the site.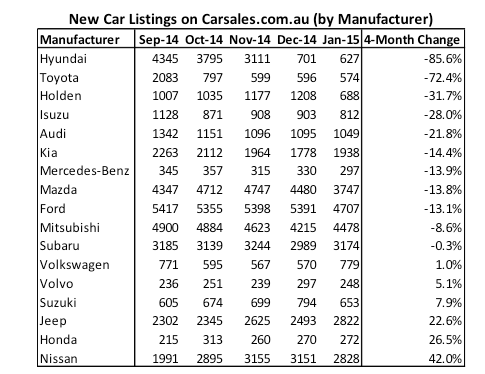 This is important given the majority of Carsales' earnings are derived from Display Advertising and Enquiry Fees from the dealer network, so a strong relationship with manufacturers is paramount in order to keep listings high and enquiries flowing.
Another trend that we are monitoring is declining Private Inventory on Carsales.com.au. A key competitive advantage for Carsales' is their network effect. Over the years they have built Australia's largest online network of car buyers and sellers that visit the site to make a market and conduct vehicle research.
A deterioration in activity (and volumes) could render the site's key competitive advantage less compelling. This is a long bow to draw based on a few months of data, but nonetheless, we are eagerly awaiting CRZ's 2015 half-year result for further insights. We are not expecting the impact of the inventory decline to be apparent in the result given;
Average inventory levels in the first half of 2015 (1H15) are relatively flat when compared to the first half of 2014 (1H14)
The fee to list a car on the site was increased in 2014
The investment in Stratton Finance should meaningfully contribute to earnings
But if inventory does not recover from current levels, it may put considerable pressure on future growth and earnings. We will be seeking reasons for the decline when we meet with management after the release of the 2015 first half result.
Ben MacNevin is an Analyst with Montgomery Investment Management. To invest with Montgomery, find out more.
This post was contributed by a representative of Montgomery Investment Management Pty Limited (AFSL No. 354564). The principal purpose of this post is to provide factual information and not provide financial product advice. Additionally, the information provided is not intended to provide any recommendation or opinion about any financial product. Any commentary and statements of opinion however may contain general advice only that is prepared without taking into account your personal objectives, financial circumstances or needs. Because of this, before acting on any of the information provided, you should always consider its appropriateness in light of your personal objectives, financial circumstances and needs and should consider seeking independent advice from a financial advisor if necessary before making any decisions. This post specifically excludes personal advice.
INVEST WITH MONTGOMERY