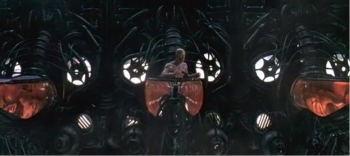 Bubble Watch #17 – The Red pill or the Blue pill?
Some times you just wake up with a clear view of our current condition. I think my friend Chris Joye, a columnist for the The Australian Financial Review and a director at YBR Funds Management, might be feeling a little like Neo did in the movie The Matrix, when he woke up to see reality for the first time.
In his article today, Why Capitalism Is Not Doing Its Job, Chris makes the observation:
"There is absolutely a role for governments to vouchsafe a minimum level of liquidity when markets temporarily shut tight in crises. I argued this in March 2008 apropos the securitisation market, which the government ended up (very) profitably supporting with $15 billion.
Yet seven years after the GFC central banks continue with their unrelenting campaign to reject market prices and impose their own false values through buying government bonds, bank bonds, corporate bonds, asset-backed bonds and, amazingly, direct equities.
While the US Federal Reserve has announced that it will stop its $2.4 trillion asset purchase program, the European Central Bank and the Bank of Japan will more than compensate with their own attempts to bolster asset prices.
The ECB is expanding its balance sheet by between $1.4 trillion and $4.2 trillion through investments in asset-backed securities, bank-issued covered bonds and possibly corporate bonds. These outright purchases are on top of the ECB's long-term lending facilities, where banks can borrow hundreds of billions of euros at just 0.15 per cent.
Last Friday the Bank of Japan shocked markets with the announcement that it will boost its purchases of Japanese government bonds to $800 billion each year. It also increased its annual investments in Japanese exchange-traded funds (equities) and listed property trusts to $30 billion and $900 million, respectively.
Around the world stocks and bonds soared on the news. Central bankers are combining these investments with near-zero short-term cash rates, which has lowered the cost of borrowing to the cheapest levels in history. Any asset-class that relies on leverage has consequently been a major beneficiary.
In most countries you can borrow more against residential property than other investment categories. It should be no surprise, therefore, that house prices in Australia, Britain, Canada, New Zealand and the US have been surging on the back of the most attractive mortgage rates borrowers have seen.
My concern is that these policies are making the problems that existed prior to the GFC worse. Most agree the crisis was triggered by excessive debt, cheap money, and overvalued investments. But today we have more debt, even cheaper money, and dearer asset prices.
The shock that erupted in 2007 was a clear market signal that we needed to reallocate scarce people and capital, which had become overexposed to financial services and other leveraged assets like housing, to more productive activities.
By preventing markets from clearing, we are fundamentally undermining the creative destruction that has powered prosperity for a century."
He adds, "The prices we see today for equities, bonds and housing are not remotely near their true market "clearing" levels."
And quoting Australia's Matthew McLennan who manages $80 billion for US-based First Eagle Investments, "they are fake prices, that have been artificially lifted by governments spending trillions of dollars buying assets in a misguided bid to maintain their values."
You can read the full article here.