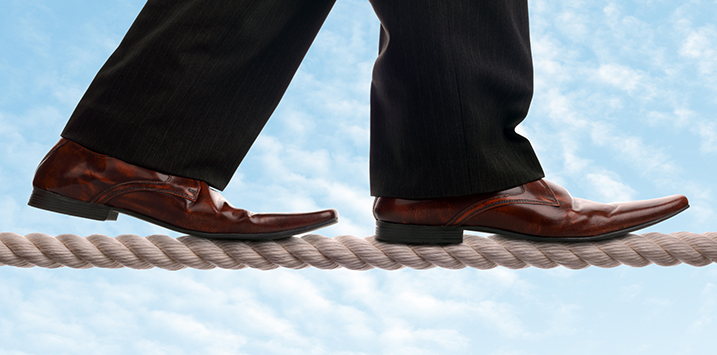 Beware the margin of danger
Most investors are familiar with the value investing mantra of buying a dollar for fifty cents. We call this discount of price over intrinsic value the margin of safety, because the bigger the discount, the more leeway investors have to account for the possibility that their estimate of intrinsic value is wrong. A wide margin of safety gives investors comfort. However, the margin of safety is only one side of the coin; on the other side is the margin of danger.
In a world where publicly available information is accessible at one's fingertips and thousands of investment analysts are scouring the same investable universe looking for bargains, the margin of safety starts to give way to the margin of danger. In short, the margin of danger means that as markets become more efficient, the more an investor's assessment of intrinsic value deviates from price, the higher the probability that the valuation is wrong. Put differently, a stock with a 50 per cent margin of safety isn't immediately a bargain; it is first and foremost a signal that the investor has likely overestimated the value of the company, either through careless mistake, unjustified optimism, or simply misunderstanding the business model. To ignore this possibility is to arrogantly believe that one's variant perceptions are always superior (i.e. different and right) to the market.
Fortunately, there are coping mechanisms available to help investors deal with the margin of danger. The global team uses the following mechanisms (amongst others) to minimize the probability and consequences of misestimating intrinsic value.
Use market implied expectations for growth and margins as a baseline for forecasts. Most investors will find it easier to gauge whether market implied expectations are reasonable, than to form their own set of sensible assumptions from scratch. This also focuses the investor's attention on the assumptions underlying the intrinsic value, rather than the intrinsic value itself.
Take into consideration a stock's valuation range as well as the level of conviction when sizing positions. The bigger the discount to intrinsic value (i.e. margin of safety), the lower the conviction in the valuation should be, unless there are compelling reasons for the investor to have a high level of conviction. A smaller position size minimizes the consequences of overestimating intrinsic value, and gives the stock more room to run before it becomes an oversized position.
Start each day with a blank mental portfolio, and ask yourself if you would buy back yesterday's positions at the current market price given everything you know up to today (assuming no transaction costs and infinite liquidity). If the answer is "no" for any stock, that stock should be removed from the portfolio. This exercise helps investors to not only detach themselves from historical price movements, but also to regularly think about and update the margin of safety/margin of danger.