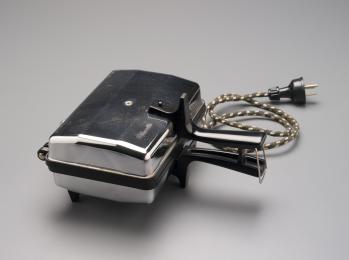 Back to the Future
By Russell Muldoon and Roger Montgomery
Growing up in inner Melbourne in the 1970's I cannot tell you how many post hockey-game lunches my mother trotted out on the 'Breville'. The original scissor action Breville Sandwich Toaster was released in 1974. It sold 400,000 in its first year and reached 10% of Australian households. It was quickly improved in 1976 with the release of the Breville Snack'n'Sandwich Toaster (pictured) which was the first sandwich toaster to cut and seal sandwiches in half. It was a revelation and became an icon of the appliance world – we could eat a sandwich while riding our BMX's without the contents of the sandwich spilling everywhere. And Mum was happy because a healthy and warm lunch was done in a few minutes and while it was being made, she could get the carpet sweeper out and do a quick run up and down the hallway or throw a slipper at any kid that was mucking up because they were hungry!
To celebrate my recent memory of these lunches, filled as they were with baked beans, cheese and ham, Breville is rolling out a retro model called "The Original '74". I reckon it will be a cracker because it will appeal to all the 1970's kids (now in their late thirties and early forties) who want to share the experience with their own kids (perhaps not the carpet sweeping or slipper throwing). I will be lining up to buy one when it is released later this month and I never queued for an iphone.
Its products like these that impress us about Breville, the company that is the subject of this post.
We recently had the pleasure of meeting with the CEO and CFO of Breville Group, a business we have held in both THE MONTGOMERY FUND and THE MONTGOMERY [PRIVATE] FUND. We think the business will continue to enjoy bright prospects with just 10% of their current Australian product range (about 300 SKU's) being retailed in the United States (about 50 SKU's). Management stated that along with product revamps, they aim to launch 5-10 new products over the next 3 years which will mean a 30% to 60% lift in products for sale at the premium end of the US market. And whilst Australian sales will plod along, we reckon its time to watch the growth in America in coming years. But don't get too excited about a decline in the Aussie dollar. There are costs to consider for the company as well.
The core growth engine of the business which is driving margin expansion and ROE uplift is nevertheless the US. Its expansion that appears to have legs for at least the next 2-3 years and according to Skaffold.com, this will see the business's valuation step-up meaningfully in coming years if they can pull it off.