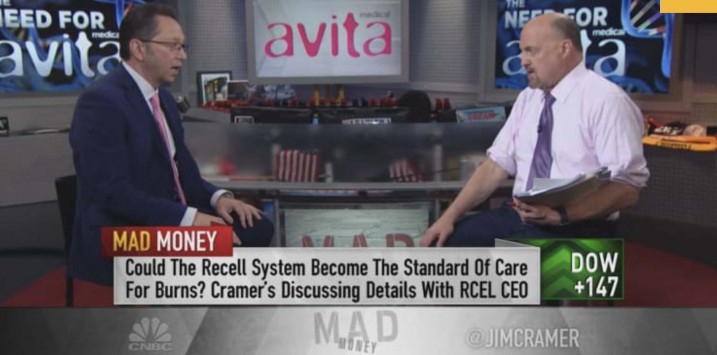 Avita on Mad Money
Sometimes value is visible in plain sight. Avita Medical's (ASX: AVH) RECELL technology solution for burns patients represents the commercialisation of the invention of West Australian, Fiona Wood.
Instead of harvesting large amounts of skin for painful skin grafts, RECELL sprays on a fine layer of skin cells, taken form of up to 97 per cent less harvested skin, which heals with virtually no scarring. The impact of the work undertaken by Fiona Wood and her team into tissue engineering technology is well known and has had a global impact. 'Spray on Skin' – allows skin grafts to be applied much sooner which reduces the risk of infection and results in less scarring. Avita Medical is now rolling out the technology globally and spray on skin is now being used around the world.
Avia Medical's CEO, Dr. Michael Perry joined Jim Cramer on CNBC to discuss the company's game-changing medical technology RECELL and points out the possibility of a new standard of care for burns victims along with growth from new geographies, deeper penetration within existing geographies and new markets in paediatrics and possibly cosmetic surgery. You can watch the video here.
Early last month Joseph Kim published an article on the upside for Avita Medical, which you can read here.
The Montgomery Fund and Montgomery [Private]  Fund own shares in Avita Medical. This article was prepared 05 December with the information we have today, and our view may change. It does not constitute formal advice or professional investment advice. If you wish to trade Avita Medical you should seek financial advice.