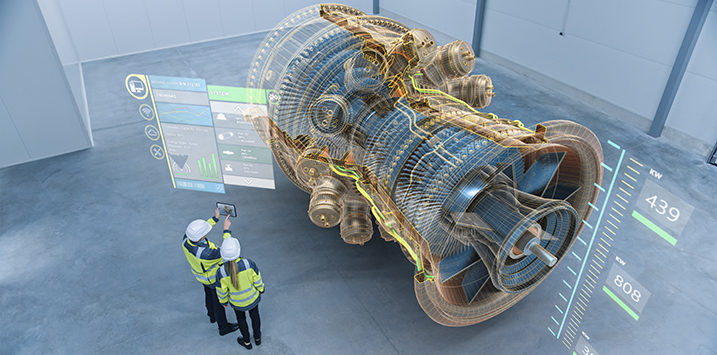 Autodesk's shift to software-as-a-service
In March Montgomery Investment Management introduced the Polen Capital Global Growth Fund to Australian investors. In this series of articles the team at Polen Capital describe companies currently in the portfolio.
The Boca Raton-based manager Polen Capital was established in 1979 and over the past 32 years the flagship US Portfolio has been able to compound earnings growth above 15 per cent annually versus approximately six per cent annually for the S&P 500.
Their approach to investing in a focused portfolio of the highest quality global companies that can deliver double digit annual returns, their ultra-low portfolio turnover with the average holding period exceeding seven years, and their huge outperformance historically particularly during market sell-offs all have enormous appeal.
In this article we look at Autodesk Inc. (NASDAQ:ADSK; market capitalisation of US$61 billion) which publishes and supplies AutoCAD, the global industry standard software for computer-aided design (CAD) which has been a market leader since the early 1980s.
In the design world AutoCAD is similar to Adobe's Photoshop product in terms of its global ubiquity.  It is the industry gold standard for architects, product designers, engineers, visual effects designers in media and entertainment as well as for the construction and manufacturing industries. AutoCAD is typically the first tool student designers and architects learn globally, entrenching its prominence and interdependencies.
Their strongest position is in construction where they are the undisputed number one provider with greater than 60 per cent market share. Autodesk is one of four global leaders in manufacturing design, each with greater than 20 per cent market share.
In the corner of media and entertainment, all of the last twenty Oscar winners for visual effects were Autodesk customers.
Revenue is split 65 per cent construction (AEC), 35 per cent manufacturing (MFG), and 10 per cent media and entertainment (M&E). During the Fiscal 2022 first quarter earnings call, the company reported total revenue of $989 million at an operating margin of 28 per cent, and this is illustrated below.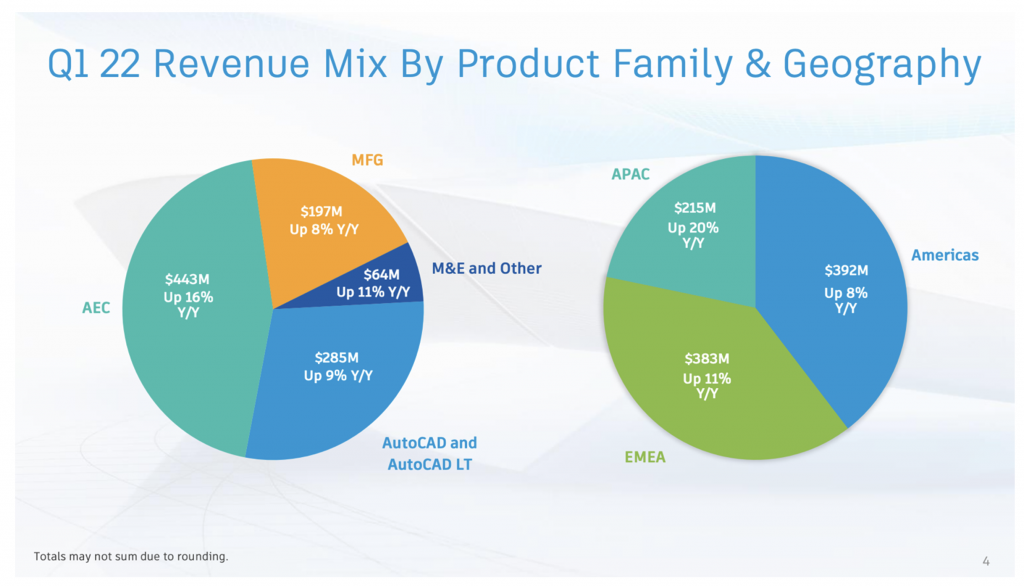 Over the last two decades, Autodesk has expanded beyond AutoCAD's 2D CAD dominance by organically developing and acquiring a portfolio of applications to become a global leader in 3D CAD; computer-aided manufacturing; computer-aided engineering; project lifecycle management; 3D animation, simulation and rendering, and 3D building information modeling.
The company's portfolio of software applications includes Revit, Civil 3D – modeling for infrastructure roads/bridges, Inventor and Fusion 360, BIM 360 and PlanGrid construction cloud collaboration, and Maya / 3DS Max, to name a few.
Since 2014, Autodesk has been transforming its business, shifting from the one-time-sale of shrink-wrapped software to a cloud-connected subscription-based business model.  This took Autodesk from the realm of a very-good business to an extraordinary business with greater-than 95 per cent recurring revenues accompanied 30 per cent free cash flow margins.
The move to a cloud-based subscription revenue model has greatly reduced the company's cyclicality.
As an aside, the construction sector has been slow to adopt digital design and management tools, resulting in its status as of one of the more wasteful industries in the world.  The consequent mandating of building information modeling software on building projects is the catalyst for the industry adopting software to manage all parts of the construction process.
This is a very long-term secular tailwind for Autodesk as the dominant player and the only one with an end-to-end suite of integrated solutions for the whole construction value chain from asset owner to architects/engineers, to the contractors.
The subscription business model also benefits from the ability to eliminate piracy.  The ability to use Autodesk's most advanced software without a legal subscription will eventually cease.
The company today estimates non-compliant (pirated) users are three times larger in number than its four million paying subscribers.  Over time Polen Capital expects the company to convert a significant number of these pirates to paying customers. All of this should result in solid low double digit revenue growth and significant operating leverage boosting earnings per share growth through the next three to five years.
If you would like to learn more about the Polen Capital Global Growth Fund, visit the fund's web page:
POLEN CAPITAL GLOBAL GROWTH FUND
The Polen Capital Global Growth Fund owns shares in Autodesk. This article was prepared 11 June 2021 with the information we have today, and our view may change. It does not constitute formal advice or professional investment advice. If you wish to trade Autodesk you should seek financial advice.