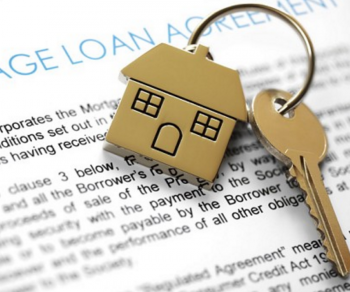 Aus Banks – Not all Mortgage Exposures are Created Equal
There has been a lot of discussion of late about the current state of the residential property market and the potential for a correction, or even a collapse, in residential property prices.
In terms of the most exposed banks to any correction in Australian residential property prices, most of the discussion revolves around the proportion mortgages make up of each bank's loan book. As such, the most common assessment is that of the majors, CBA and WBC have the most exposure.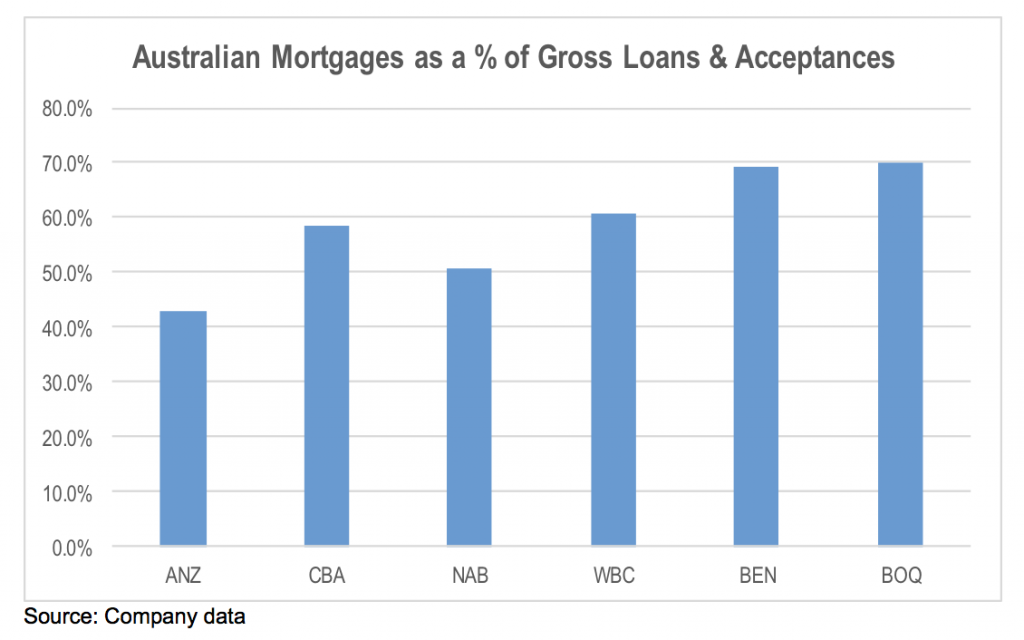 The chart above indicates that the regional banks have the most significant exposure to Australian mortgages, followed by WBC and CBA.
However, not all mortgage books are equal. Given that a non-performing loan is essentially a straight write off to the equity value of a bank, another way to look at a bank stock's exposure to a downturn in Australian residential property prices is the mortgage book as a percentage of the bank's market capitalisation. This would provide a better indication of the downside risk to the share price from an unexpected write off of a given percentage of the mortgage book. This shows a slightly different indication of exposure.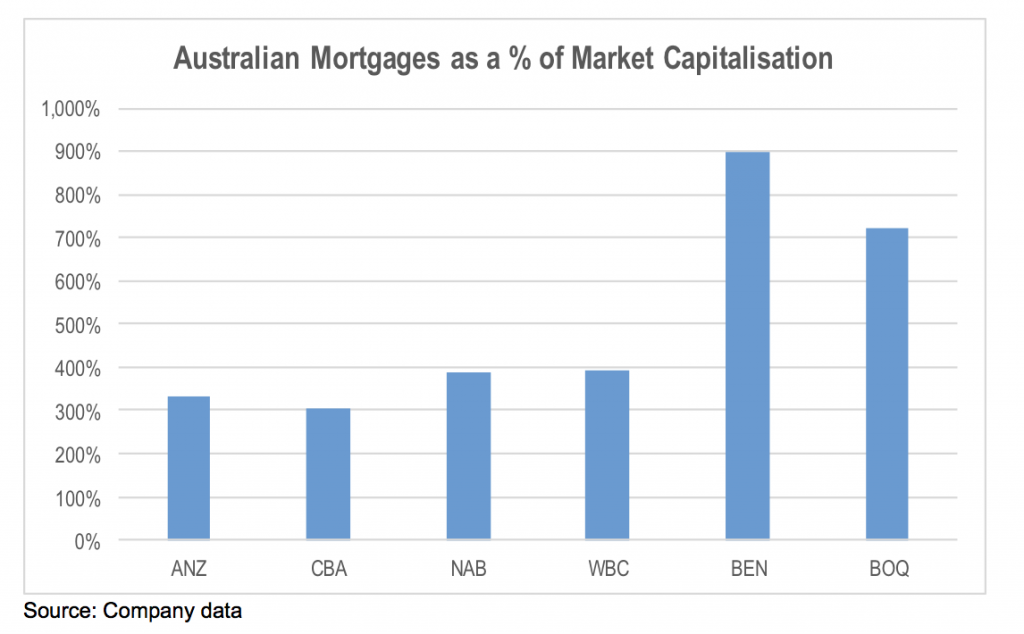 This shows an even greater risk in the regional banks. However, it also suggests a more even investment risk across the majors, with WBC remaining the most exposed, but CBA falling to be the least exposed.
Of course the above chart is a function of the bank's price to book ratio. This is driven by the market's perception of the bank's sustainable ROE generation. A significant correction in the Australian housing market is likely to negatively impact sustainable ROE expectations, resulting in lower price to book ratios, particularly for WBC and CBA. Therefore, the impact on share prices would not merely reflect the mortgage impairment surprise in isolation.
Additionally, these figures do not take into account any mortgage insurance protection.
The other thing to take into account is the age of the mortgage book. Because mortgages amortise over the like of the asset, the loan to value ratio (LVR) of a mortgage falls over time (assuming the value of the property doesn't fall). Additionally, older mortgages will have been written when property prices were significantly lower than current levels, providing additional LVR protection.
This means that banks that have been aggressively growing their loan book more recently are likely to have less equity protection against a correction in residential property prices.
If we look at mortgage book growth rates over the last 1 and 2 years, BOQ and ANZ have grown their respective mortgage books at rates well above that of the overall, while NAB and CBA have been the laggards.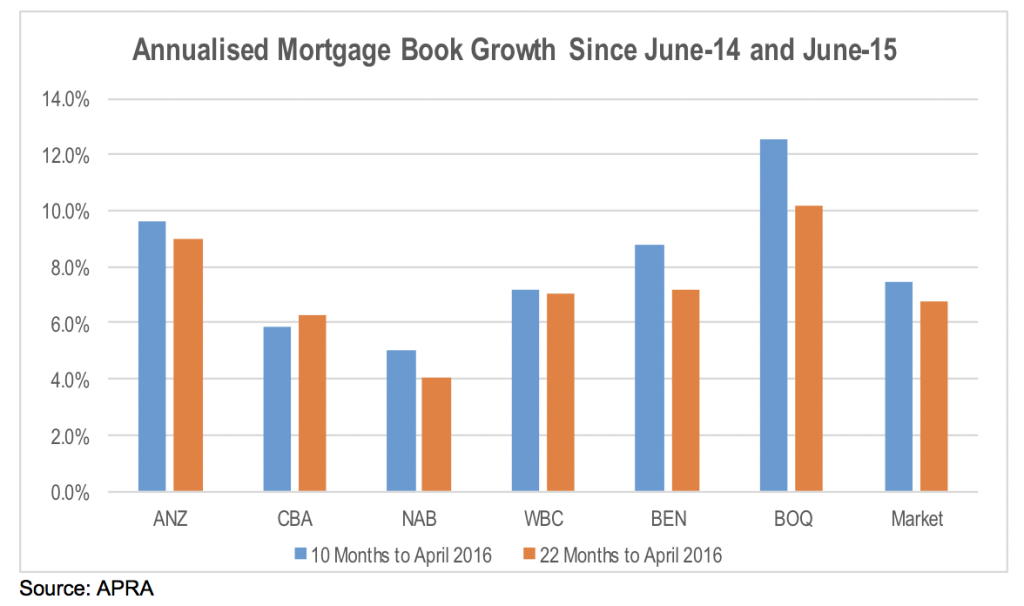 What this says is that if the Australian residential property market falls 10 per cent, around 5 per cent of the mortgage portfolios of ANZ and CBA would have negative equity (ie the property is worth less than the mortgage balance), as opposed to just over 2 per cent for NAB and less than 2 per cent for WBC.
Of course, these dynamic LVR calculations are done internally and are therefore not necessarily 100 per cent comparable. But they broadly show the impact of ANZ's more recent mortgage share growth on its exposure to high LVR mortgages.
We can use these figures to determine the percentage of each bank's total gross loans and acceptances that would be secured against residential properties with negative equity assuming a given uniform fall in Australian property prices as shown in the charts below.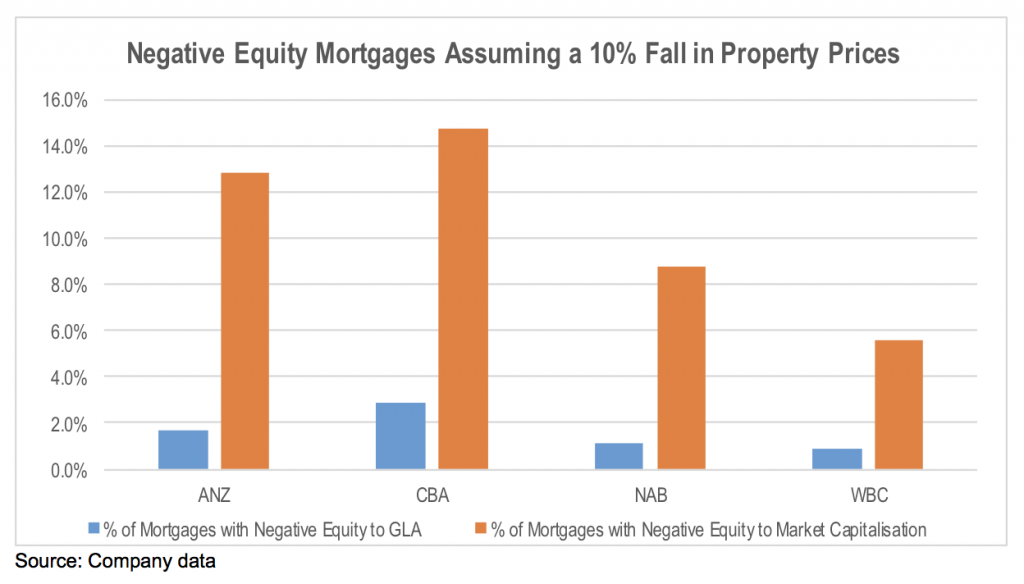 Under a scenario where prices fall 10 per cent across the market, CBA shows the most risk closely followed by ANZ. If we assume a 20 per cent fall, ANZ becomes the most exposed.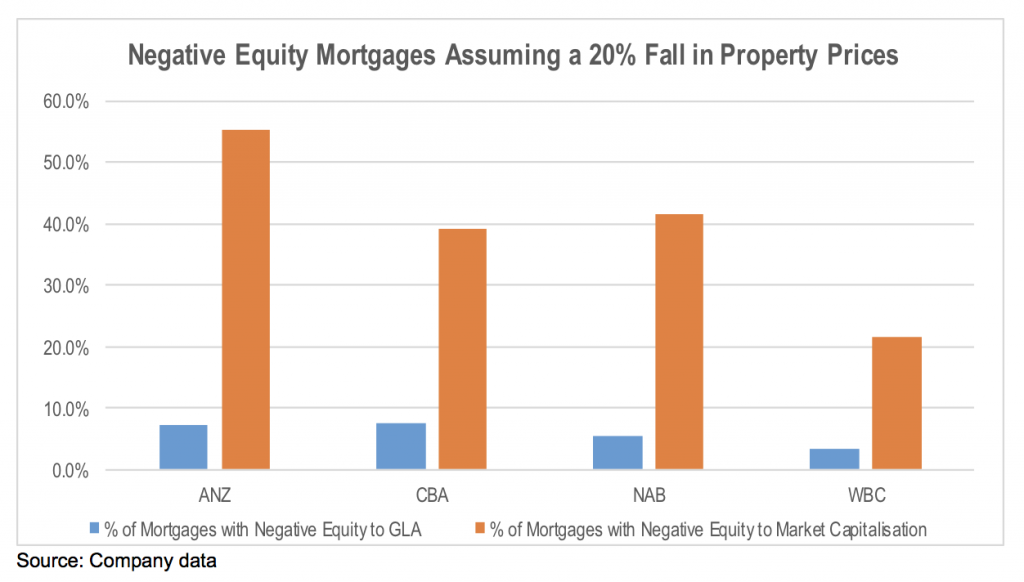 Of course, just because a property's value falls below the value of the mortgage doesn't mean the loan will go bad. However, it does increase the risk of write offs, particularly if the property downturn is accompanied by a more general downturn in economic conditions resulting in rising unemployment.
WBC's risk increases significantly if residential property prices fall more dramatically due to its decision to self-insure a portion of its mortgage insurance requirements.
There are other differences that impact the quality of a bank's mortgage book, and its exposure to any future downturn in property prices. But that is a discussion for another day.
Stuart Jackson is a Senior Analyst with Montgomery Investment Management. To invest with Montgomery domestically and globally, find out more.
This post was contributed by a representative of Montgomery Investment Management Pty Limited (AFSL No. 354564). The principal purpose of this post is to provide factual information and not provide financial product advice. Additionally, the information provided is not intended to provide any recommendation or opinion about any financial product. Any commentary and statements of opinion however may contain general advice only that is prepared without taking into account your personal objectives, financial circumstances or needs. Because of this, before acting on any of the information provided, you should always consider its appropriateness in light of your personal objectives, financial circumstances and needs and should consider seeking independent advice from a financial advisor if necessary before making any decisions. This post specifically excludes personal advice.
INVEST WITH MONTGOMERY