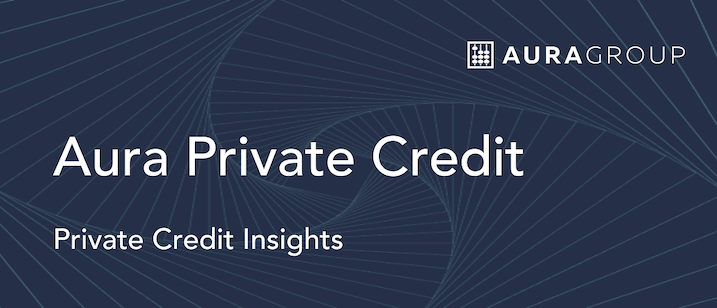 Aura Private Credit insights: Are the rising interest rates finally having their desired effect?
The latest monetary policy decision made in August was to hold the cash rate at 4.10 per cent. With the Reserve Bank of Australia's (RBA) monetary policy meeting next week, many are wondering if the RBA has another rate hike up their sleeve. Whilst many believe we are nearing the top of the rate hiking cycle, understanding the current economic conditions will assist in determining the probability of an interest rate hike versus a hold on interest rates. ​
The RBA earlier this month identified that household consumption is beginning to slow. Consumption growth makes up over 50 per cent of the overall value of gross domestic product (GDP) and therefore holds significant weight. Recent data shows household consumption is beginning to slow in line with disposable income. This in turn, results in downward pressure on growth in Australia's GDP. The following graph proves that overall economic growth has declined since 2022 largely as a result of significant reduction in household consumption.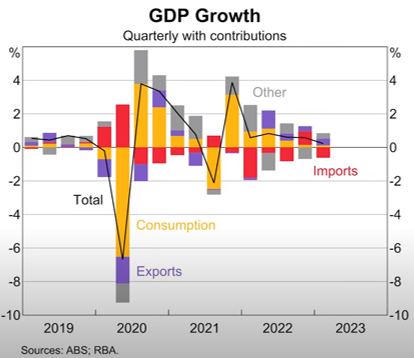 Drilling further down into consumer spending, discretionary spending has begun to take a slight dip. Households are starting to rein in their spending on non-essential goods, as the cost-of-living pressures and higher interest rates mean that households have a reduced disposable income. GDP is expected to remain subdued over the remainder of this year. ​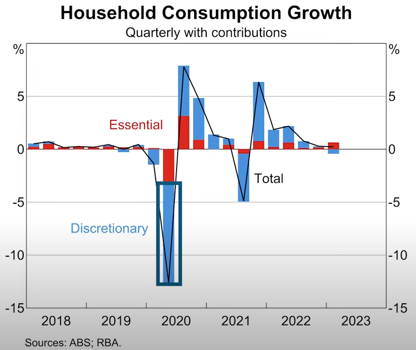 The labour market is also beginning to show signs of easing, although unemployment is still near its lowest point recorded in decades. ​
The RBA's overall aim of returning inflation back within their 2 – 3 per cent inflation target requires a slowdown in economic conditions. The degree to which the RBA pulls back economic growth, however, is what makes the monetary policy decisioning making challenging. By raising interest rates, the RBA essentially aims to slow down growth, which is achieved by reducing consumption and therefore spending. ​
The data points are moving in the right direction. The RBA is pulling back on the pace of their tightening and implying that they have neared their peak. The monthly consumer price index (CPI) indicator will be released later this week. This will provide the RBA with crucial data points to determine what extent their current intervention to date has had in reducing the level of inflation and whether further intervention will be required. ​