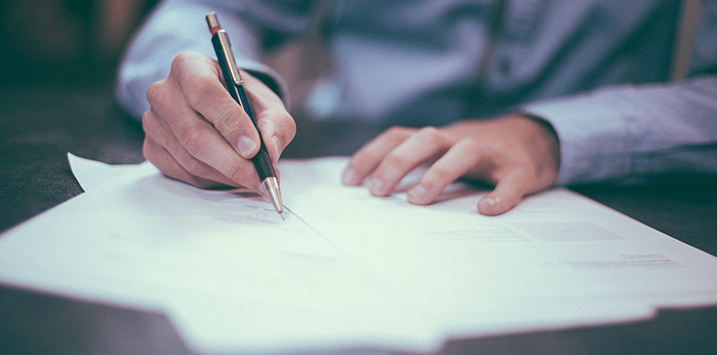 AUB Group – insurance growth without insurance risk
There are many factors that come into play when you consider constructing a portfolio of stocks. Many people want to see a line up of superstars who are expected to shoot the lights out. Having said that, as we all know in investment markets there is no such thing as a free lunch.
With the superstars usually comes volatility, and at times unexpected outcomes. It is therefore important to look to achieve a more balanced portfolio, one with a cornerstone of stability and resilience, these are the stocks we call stable compounders. They keep the wheels turning in the portfolio and allow the superstars to have their moment in the sun when conditions are right for them.
One of the other questions that we are consistently faced with in the current environment is: where do I find a stock that has the potential to grow through an inflationary period, while providing sound defensive or stabilising characteristics?
Why we see AUB Group as a stable compounder
We think one example of this style of opportunity exists with the Montgomery Small Companies Fund's investment AUB Group Limited (ASX:AUB), who are one of Australia's leading Insurance Broking organisations.
When we talk about making an investment into an insurance related company, we generally tend to see eyebrows raise followed by a degree of scepticism from investors. As we all know insurance is a challenging industry from an investment point of view. It equally poses challenges to its consumers as it is at times seen as a harder expense to justify. However, be it personally or in business as we know the day you need insurance is the day we see value in it.
Equally from an operating point of view these are challenging times for insurers. As we're all aware the last few years have posed significant headwinds for these organisations, be it the recent floods that have occurred in New South Wales and Victoria, or historically in Brisbane, the bushfires of 2019-2020 fire season, or the usual tropical cyclone season we see each summer. Australia in recent times hasn't been short of a natural disaster.
To give this some context Suncorp recently advised their investors the damages from the recent floods in Victoria and New South Wales will cost the organisation around $530 million. This will be the third financial year in a row where the insurer has used approximately 40-70 per cent of its allowances for disaster in the first half of the financial year (pre cyclone and storm season). Given the increasing severity of these events coupled with increasing cost of repair, Suncorp now have an internal budget of $1.16 billion for what they term 'natural hazard allowance'.
Why invest in an insurance broker?
Firstly, the beauty of an insurance broker is they act as an intermediary between the consumer who is looking to purchase an insurance product, and the insurance company who look to provide the cover at a desired premium.
This is an advantageous position on two fronts, the broker holds the relationship with the client meaning that they hold the key value relationship in the insurance supply chain. Secondly, they sit in a position where they collect a percentage of the premium written which exposes them to the structural growth of the insurance industry.
As a broker they benefit from the upside of insurance premium growth with none of the downside of claims management and funding. Furthermore, a group like AUB Group are exposed to primarily business insurances, which offers further diversification across industries sectors and geographies which provides both diversity and resilience to their revenue streams.
In a recent report released by Macquarie in October they stated the Commercial Premium Rate Index they use for AUB Group increased in the first quarter of FY23 by 6.6 per cent. This index has grown by over 5 per cent per quarter for the last 6 quarters.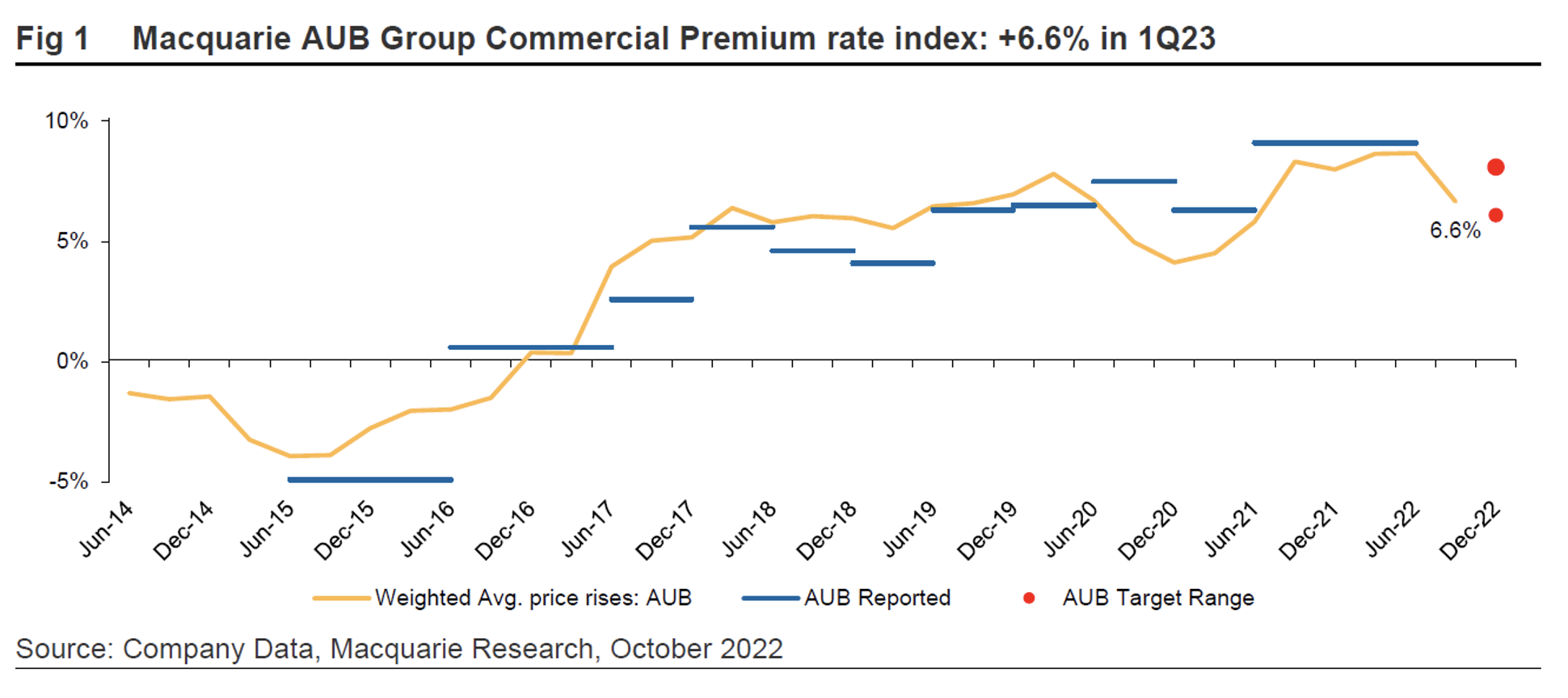 Along with the tailwind of premium growth AUB Group recently entered a joint venture acquisition of a UK based Insurance Broker, Tysers. The Tysers joint venture helps to further strengthen the relationship between AUB Group and its clients, by providing them with the ability to meet their international placement needs. Tysers are a Lloyd's Wholesale broker (they are the 6th largest for Lloyd's globally) with an international footprint. This joint venture also provides AUB Group with access to global markets and starts to geographically diversify their revenue.
To date the acquisition and integration of Tysers has been occurring faster than expected which has been earnings accretive for AUB Group.
Further to the above two tailwinds, another strength we see in AUB Group is diversification of the products they are offering their clients. We are all more than aware of the recent headlines around cyber security risks, which a number of Australian household names have fallen foul of in recent weeks. Off the back of ever increasing cyber related risks, we're also seeing businesses adopt applicable Cyber Security insurance policies to ensure they are adequately protected in the event they fall foul to one of these attacks.
We are also seeing increased adoption in professional indemnity and director's insurances, as the leaders of both small and medium enterprises look to protect themselves and their organisations in what is an increasingly risky operating environment. It is fair to say that for many businesses these insurances are not a luxury but, a mission critical expense. These types of insurance were not commonplace a decade ago and have represented another avenue for growth for businesses like AUB Group.
In summary, we see organisations like AUB Group as a stable compounder inside of our portfolios. The business is debt free and it has multiple tailwinds to support healthy revenue growth over time. Given the critical nature to some of the policies they offer we see a high degree of revenue resilience and even growth in what is an increasingly challenging economic backdrop.
The Tysers business is expected to provide approximately 7 to 8 per cent organic growth per annum, with AUB Group expected to provide low double digit EPS growth over the next two years.
The revenue growth and resilience, coupled with a diversified customer base and a strong balance sheet see AUB Group as a core holding in the Montgomery Small Companies Fund.
The Montgomery Small Companies Fund owns shares in AUB Group. This article was prepared 14 November 2022 with the information we have today, and our view may change. It does not constitute formal advice or professional investment advice. If you wish to trade AUB Group you should seek financial advice.