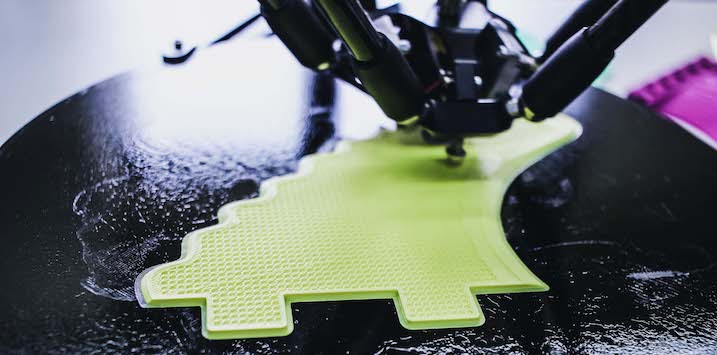 You want to see disruption? Take a look at 3D printing
The relentless pace of technological disruption shows no signs of abating.  The latest major disruptor is 3D printing, which looks set to revolutionise the way we make almost everything – from cars to houses, and even human body parts.
"Every technology, including the printing press, comes at some price"
Bill Keller June 6, 2011.
3D printing promises to decentralise manufacturing and reduce labour costs. Meanwhile, cheap and abundant money, and investor fear of missing out, has produced rapid technological advancement. As we demonstrate here, the printing of metals, concrete and organics is already underway, and some industries have commenced changing processes with ripple impacts that will quickly turn into a tidal wave.
In auto manufacturing the dam wall has already broken and the wave of change will disrupt everything from petrol stations and fuel tankers to coal mines and mechanical car maintenance. At the moment Chevrolet (General Motors) generates a loss on the sale of its Bolt electric vehicle, but California's zero-emission vehicle (ZEV) program ensures GM earns credits that offset its losses on sales of the Bolt. Nevertheless, GM currently has no incentive to sell more than roughly 30,000 units per year. That will change, on the supply side, as it scales manufacturing and the production costs fall. And on the demand side, total cost of car ownership is expected to reach parity with combustion engines from 2018. Even though electric vehicles (EVs) will initially carry higher sticker prices, when fuel and maintenance savings are factored in, EVs will become cheaper – especially in regions where fuel costs are higher such as Europe. Once that happens, an inflection point for demand will be reached.
Volvo has said all its new models will have an electric motor from 2019.
When UBS disassembled a US$37,000 Chevrolet Bolt, they discovered it was $4,600 cheaper to produce than expected and concluded, "with further cost falls likely, electric cars would probably disrupt the industry faster than widely understood".
Think of a 'masstige' car manufacturer like BMW or Audi and their production considerations. There's diesel fuel to consider, different quality fuel standards all over the world. There are varying emission standards and then there is LHD and RHD to factor in as well as various fluids. Coordinating 10,000 parts from a variety of suppliers is expensive and the cause of multi-year development cycles. In contrast, the Chevy Bolt electric motor has just 24 moving parts compared with 149 moving parts in the VW Golf's combustion engine. Clearly manufacturers are naturally incentivised to move to simpler platforms.
Consequently, many production line jobs will be lost. Not only will the car industry need fewer people to manufacture vehicles, fewer still will be needed to maintain them.
Combustion engines require regular maintenance.  At a minimum, spark plugs and oil need replacing. Electric motors do not require the same amount of maintenance and a reboot or an electronic patch may be all that is required to send them on their way.
Meanwhile, according to UBS, electric vehicles will trigger a boom for battery materials such as lithium, cobalt and rare earths. "In a world where EVs reach 100 per cent of the market, which is decades away, demand for lithium will increase by 2,898 per cent, cobalt by 1,928 per cent and rare earths by 655 per cent."
And that's all before we even consider the disruptive threat of 3D printing.
Car makers are already beginning to work with tech companies to 3D-print vehicle parts.
Indeed, some boutique manufacturers such as Hackrod are seeking funding to prove that cars can be designed in virtual reality, engineered by artificial intelligence and 3D-printed on demand and to an individual's specification.
Many underestimate the impact 3D printing is already having on the automotive industry. According to a survey by Infosys, 66 per cent of auto company respondents said 3D printing is already employed in their supply chains. Perhaps more importantly, 68 per cent said that it improves existing business operations.
In the important design and prototyping phase, 3D printed models are already penetrating the industry. Engineers and designers will clearly see mistakes and necessary alterations when a 3D-printed part is their hands and significantly reducing the experimental phase of moulding and milling.
On June 7 this year Stratasys (NASDAQ: SSYS) announced that the Audi Pre-Series Center with its plastics 3D Printing Center in Ingolstadt, Germany, will leverage the world's only full-color, multi-material 3D printer – the Stratasys J750 – to innovate its design process and accelerate design verification. For the production of tail light covers, Audi expects to reduce prototyping lead times by up to 50 per cent.
Earlier this year, the luxury hyper car brand Bugatti, in conjunction with Hamburg-based Lazer Zentrum Nord, announced it had created the "world's largest functional" titanium car part – brake callipers for the Bugatti Chiron – created with a 3D printer. The announcement marks a significant milestone because titanium is so strong that an OEM (original equipment manaufacturer) cannot mill or forge a calliper easily.
Elsewhere MIT's Self-Assembly Lab is collaborating with BMW on a project, called Liquid Printed Pneumatics. The 'collab' is working on customisable air-pressurised seating and marks the first time an inflatable object has been 3D-printed.
And it's not only new vehicles that are adopting 3D printing techniques. The vintage restoration group Porsche Classic has begun 3D-printing components such as the release lever for the clutch on a Porsche 959. As only 292 of the cars were ever manufactured, the part's no longer available. According to some reports, Porsche has identified 52,000 parts that, if possible to manufacture economically, would help keep its classic models on the road.
Ambition of course knows no bounds and in China ambition is found in large doses. In early 2018, Shanghai-based Polymaker and X Electrical Vehicle Limited (XEV) collaborated on the development and launch of a small EV that consists of only 57 3D printed components. With a list price of US$10,000, 7,000 orders have been placed and April 2019 could see the first deliveries to customers in Europe and Asia.
Traditional suppliers to the auto industry are just one of the many industries that are being upended by the move to electric, autonomous and 3D-printed vehicles.  Of course, not all suppliers will be disrupted and some might benefit.  Seats and tyres will still be required…
3D bio-printing
In late May this year, scientists Dr Steve Swioklo and Professor Che Connon at Newcastle University, UK successfully 3D printed human corneas.
The technique could be used in the future to ensure an unlimited supply of corneas.
According to Science Daily, "As the outermost layer of the human eye, the cornea has an important role in focusing vision. Yet there is a significant shortage of corneas available to transplant, with 10 million people worldwide requiring surgery to prevent corneal blindness as a result of diseases such as trachoma, an infectious eye disorder.
"In addition, almost 5 million people suffer total blindness due to corneal scarring caused by burns, lacerations, abrasion or disease.
"The proof-of-concept research, published today in Experimental Eye Research, reports how stem cells (human corneal stromal cells) from a healthy donor cornea were mixed together with alginate and collagen to create a solution that could be printed, a 'bio-ink'.
"Using a simple low-cost 3D bio-printer, the bio-ink was successfully extruded in concentric circles to form the shape of a human cornea. It took less than 10 minutes to print.
"The stem cells were then shown to culture — or grow."
3D-Printed Homes
The first 3D printed houses will be built in the Netherlands this year
With labour shortages driving labour costs higher and significant raw material wastage, 3D printing of homes from concrete offers builders massive cost savings.
According the Quartz Media, Dutch construction company Van Wijnen and researchers from Eindhoven University of Technology in the Netherlands have developed a technique that they hope will lead to the world's first commercially-developed 3D-printed homes (3dprintedhouse.nl).
According to the project's owners "Construction on the first home begins this year and five houses will be on the rental market by 2019".
"Within a week of releasing images of the new homes, 20 families expressed interest in dwelling in these postmodern pods."
"The "printer" in this case is a big robotic arm that will shape cement of a light, whipped-cream consistency, based on an architect's design. The cement is layered for strength. The project developers say that the consistency of this concrete and the precision of the printer will make it possible to mix and use only as much cement as is needed, which makes it environmentally-friendly and less expensive than classic construction methods. The printer and unique cement will also allow them to create unusual forms that challenge conventional notions of home design."
Image 1. 3D printed Concrete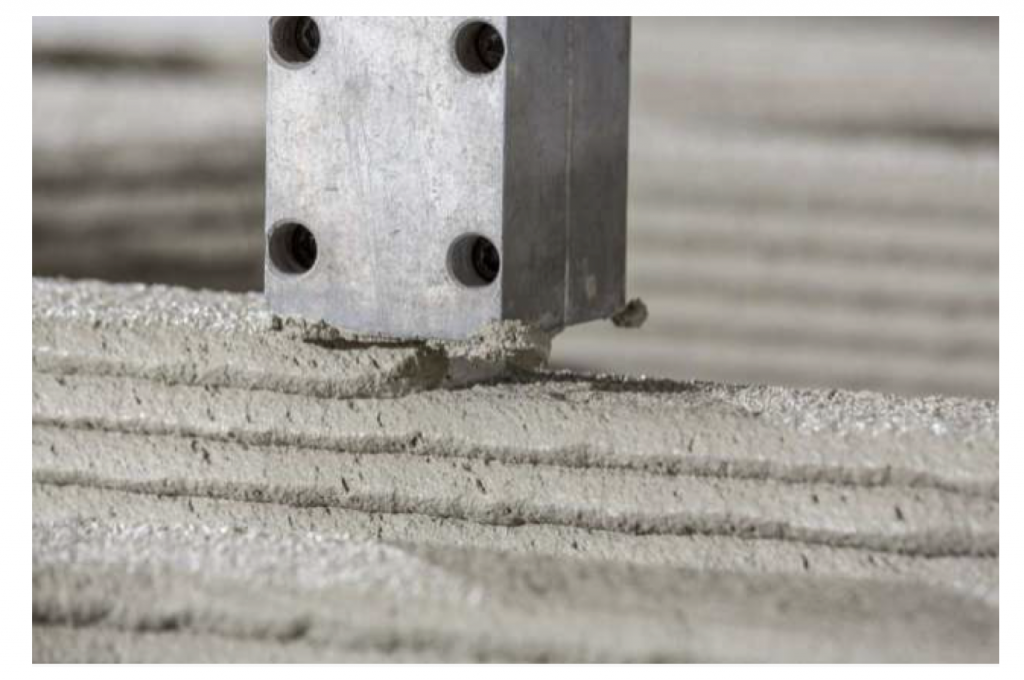 You can read the full article here.
Finally, keep in mind what we have always observed and warned – while these amazing technologies can and will change the world, it is often the consumer and humankind that benefits, not investors.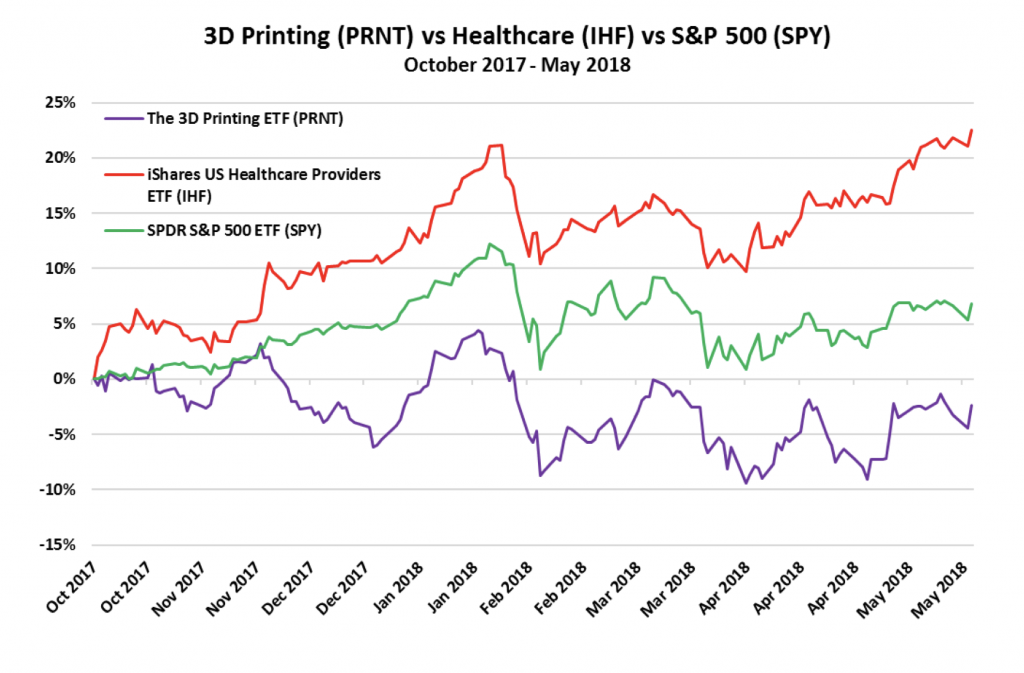 Source: MRP