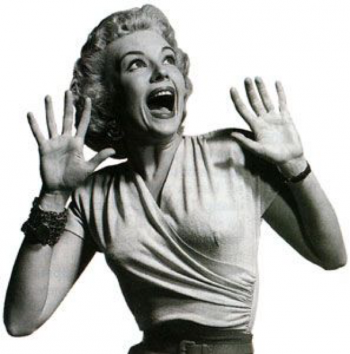 Yes, its over! Property prices to fall…
If you still aren't heeding our warnings about property prices the data we are about to share should strike fear into the heart of anyone who has just purchased a property or is geared to the limit in property having suffered a misplaced bout of FOMO (fear of missing out).
For better or for worse, we have been discussing here at Montgomery HQ, and I have been sharing privately with friends, the suggestion that apartment oversupply will exacerbate a decline in property prices already cooling. If you prefer not to be hanging around, skip to the worrying trends from CoreLogic below.
History shows that asset prices move around much more than their underlying intrinsic value and there is no reason to think the dynamic is any different in property. In the short term there is no doubt that prices are driven by "news" – a euphemism for surprises and predicting surprises cannot be done successfully by the mass market because, by definition, it wouldn't be news at all.
History however also shows that markets do eventually reflect demand and supply dynamics and demand and supply can be easily observed my following comments from a month ago paint the picture:
"Employment, inflation expectations, interest rates, debt-to-income ratios, house-prices-to-income, financial stress measures and the like all influence short-term property prices, but basic demand and supply seem to be the most important influences over the medium term. And given very few people buy property to 'flip' over the short term, it is the medium term we should focus on.
There is merit in looking at household formation as a proxy for demand and construction as our indicator of supply. With the exception of the circa 80 per cent falls in property prices in mining towns in Australia, the most notable real estate price collapse that occurred recently was in the US.
Figure 1 illustrates one of the conditions that preceded the collapse: a sharp jump in the level of construction. According to the US Census Bureau, in the years prior to the GFC, the number of dwellings under construction had risen from 993,000 annually in 2000 to 1.1 million in 2003, 1.2 million in 2004, 1.4 million in 2005 and 1.2 million in 2006.
Figure 1. US private housing construction, 1980-2015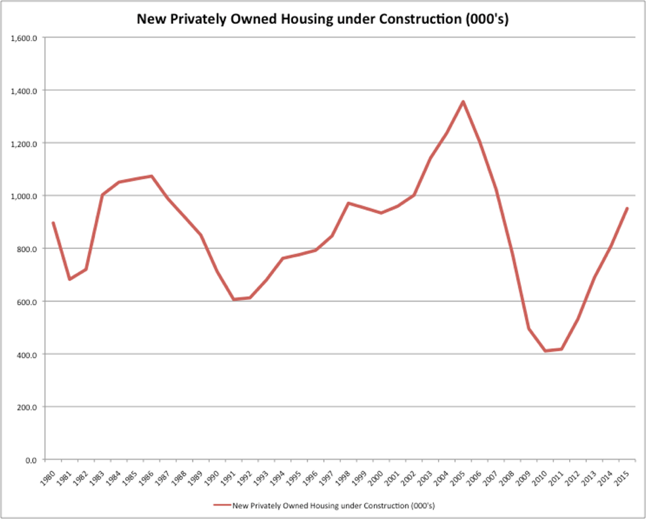 Source:  US Census Bureau
Meanwhile, according to the US Census Bureau's Current Population Report entitled Projections of the Number of Households and Families in the United States: 1995 to 2010, household formation was increasing at about a million per year. In other words, the US was oversupplying dwellings for seven years, and by 2007, possibly a million excess dwellings needed to be soaked up.
Houses were simply being built faster than they could be occupied. In 2012, Warren Buffett observed as much when he said, "In normal times, we need about one million or more homes to keep up with household formation."
And we know what happened next in the US.
How many residential dwellings are needed in Australia?
In Australia today, dwellings are being constructed at a rate faster than they can be occupied by newly-formed households.
 According to the Australian Bureau of Statistics (ABS) March 2015 report Household and Family Projections, Australia, 2011 to 2036, "The number of households in Australia is projected to increase from 8.4 million in 2011 to between 12.6 and 12.7 million in 2036."
In other words, household formation is increasing at about 1.6 per cent annually and in 2017 that equates to about 150,000 new dwellings required.
The ABS also reports dwelling units commenced and the construction industry is currently building about 56,000 dwellings per quarter. That's 228,000 per year, a lot more than seem to be needed.  More importantly, this has been growing since 2011 when 35,000 dwellings were being constructed per quarter, which was about the same number as the number of new households being formed. It roughly balanced.
So if we assume an average of 47,000 dwellings were constructed per quarter in the years 2012 to the first quarter of 2016, and we add the 18,000 or 19,000 monthly approvals occurring now and project this number for eight months until the end of 2016, we arrive at a supply of 923,000 dwellings. During this period, the number of dwellings required, as estimated by household formation, is 716,249. That suggests an oversupply of about 200,000 dwellings.
At the current rate of household formation, that oversupply could be soaked up in about 18 months, provided construction of new dwellings ceased completely. But of course construction will continue and the oversupply will take longer to be absorbed.
It looks like Australia has a greater oversupply problem than the US did in 2007. The estimated 18 months is more than the 12 months oversupply the US had and after their property market collapse, it took five years before property prices began recovering.
Granted we didn't have the subprime lending standards and borrowers they did.
The Latest Worrying Statistics
 It appears CoreLogic is catching up with the analysis of the data we published last month and republished above.
According to an examination of data published by CoreLogic and published in the Australian Financial Review, "The number of new apartments due to settle over the next two years has hit record highs in Australia's capitals…The volume of new apartments is now approaching, and even exceeding, the average number of apartment sales overall in the past five years…"
"The historic sales figures, compiled by CoreLogic, include sales of both existing and new units. New stock usually accounts for a smaller proportion of total sales than resales of existing stock."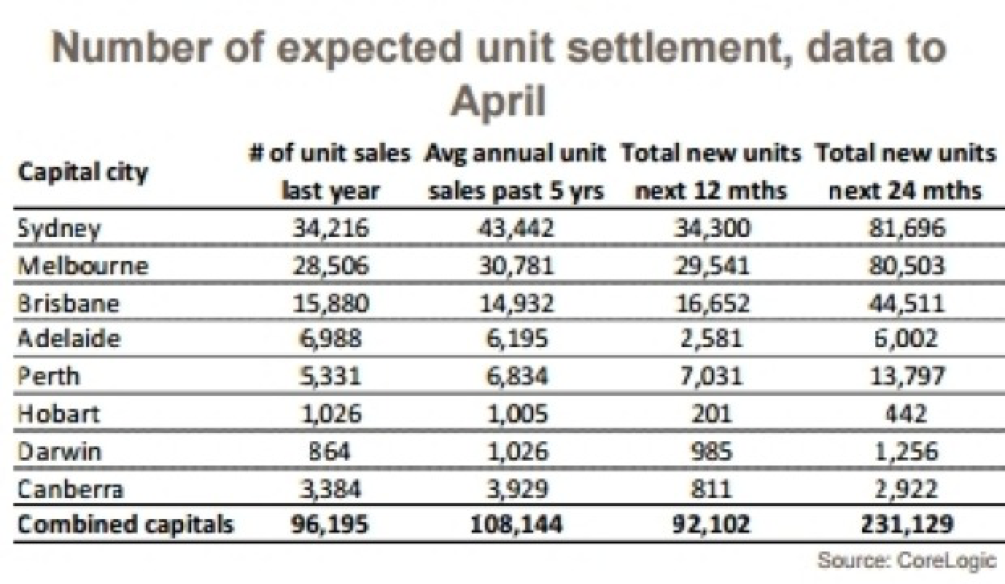 In other words, the historic unit sales numbers include new AND existing units.  The number of new units due for settlement is so high that even if sales of established apartments ceased completely and every future buyer only purchased new dwellings at the same rate they purchase total units in previous years, supply of those new dwellings would still represent more than a year of demand.
And keep in mind that the numbers are skewed by a boom in apartment sales in recent years due to low interest rates.  In a declining market it will take even longer to sell the excess stock!
You can read our previous articles through using these links:
Roger Montgomery is the founder and Chief Investment Officer of Montgomery Investment Management. To invest with Montgomery, find out more.