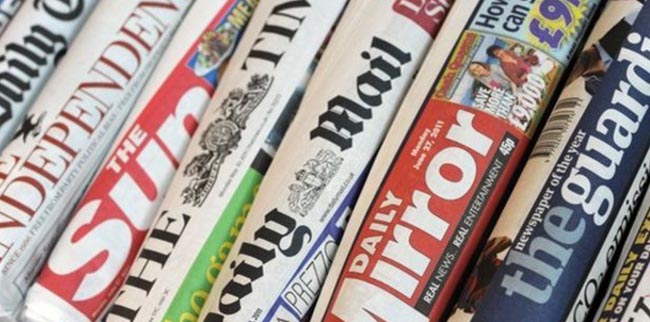 With advertising going digital, what now for traditional media?
Few industries have been as radically transformed by the internet as advertising and, in turn, traditional media (newspapers, TV and magazines). A couple of decades ago, print media was critical to reaching an audience; now it's relevance has significantly declined. And this switch in advertising spending from traditional media to digital media shows no sign of letting up.
All this change can be difficult to navigate. Let's put ourselves in the shoes of Joe who makes Widgets. Joe identifies that his particular Widgets are liked by boys aged 8-18. He wants to target this demographic in the metropolitan Australian landscape. A few decades ago he might have paid for some print advertisements with local magazines/ newspapers targeting this group. Nowadays much fewer eyeballs of boys aged 8-18 are reading such traditional media. Joe needs another way to reach them. Instead, Joe could spend his marketing money on TV ads – but which channels is his audience going to be watching? Are they watching TV at all, or are they using Netflix and Youtube instead? Perhaps some 8-12 boys are watching TV and he can reach a part of his audience this way, but what about the 13-18 year olds? Maybe Joe also needs to use Google Adwords or Facebook for that segment of his target demographic, or he can use outdoor media near schools to reach them. These ads won't be as ubiquitous as print media used to be – so he may need to spread his ad dollars more between medias. Perhaps he needs to also spend on radio (or should that be Pandora? Spotify?)
This fragmentation of the advertising market into new mediums has created both threats and opportunities in the market.
Let's look at what's happened to print media, using Fairfax as a proxy. The shares have dropped to 20% of what they once were given the smaller accessible market they have. In 2001 operating cashflow halved and didn't return to previous highs until 2005, meanwhile Fairfax had to step up its capital expenditure profile in order to keep up to date with the increased digitisation that was occurring.
Free cash flow dropped from $220m in FY2000 to -$60m in 2001 and didn't return to those heights until 2004. Putting some numbers to the headwind – newspaper advertising spend has fallen 40% in the past 5 years (now at $2.4bn). Of course, it should be noted that this is not the sole driver of value – there are many moving pieces (Domain for one).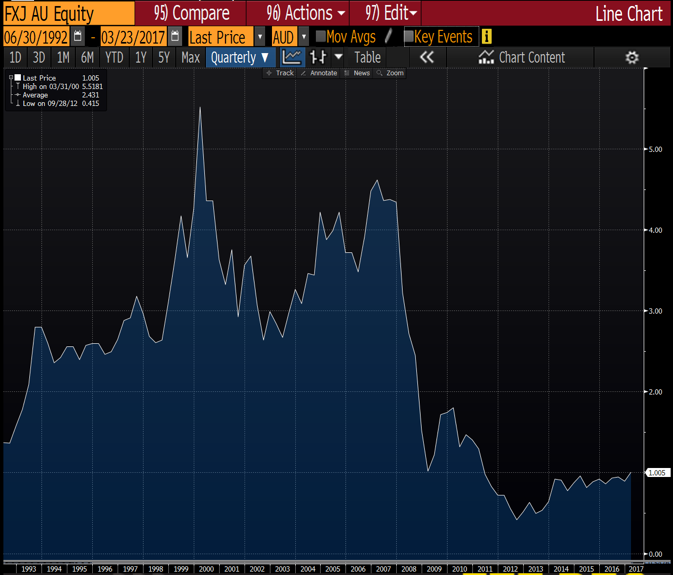 Another space that has been adversely affected has been free-to-air TV. Let's look at NEC together with TEN (note that this is a sector where market share of viewers is critical so it's best to not look at a company in isolation). For Nine, cash from operations fell nearly 5-fold in FY16, while capex had to be maintained. EBITDA margins have declined from 18.4% to 15.5% over a 2 year period. For Ten, cash from operations has been negative since 2013.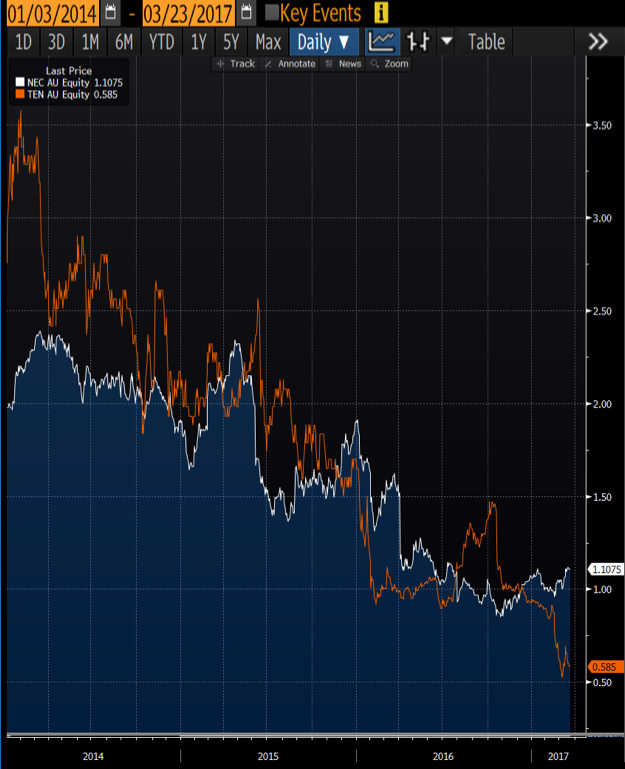 So it is clear from the financials (and the market's response) that print media and TV have been losing eye-balls and Joe has been putting his ad dollars on Widgets elsewhere. The key beneficiaries of this trend have been the newer forms of media. This market shift of ad spending is clearly demonstrated in the following table from McKinsey.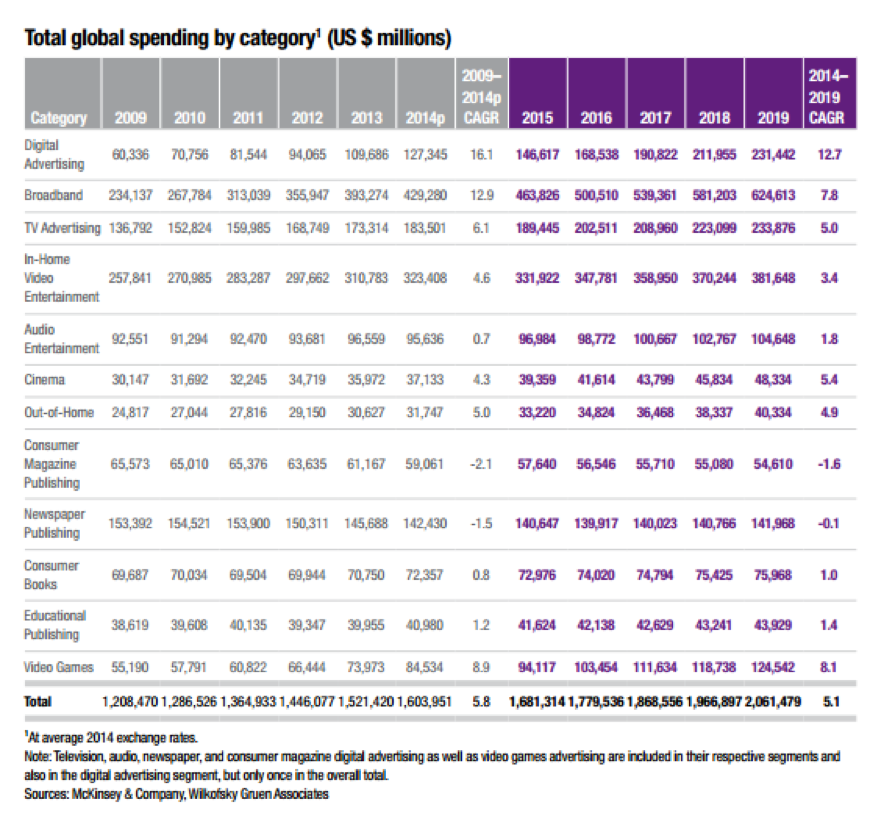 The obvious example is online spending (eMarketer is predicting that in 2017 digital ad spending will outpace TV spending 38.4% to 35.8%). For Australia, PWC expects 51% of marketing to be digital by 2019 (internet spending represented 34% of ad spending in 2014).
Another beneficiary of this trend has been the outdoor media space which has been able to transform its asset base into higher ROIC digitised screens rather than static placements – all while Joe is able to reach less eye-balls in traditional media. For more detail on this you can read Stuart's recent article on this segment.
This post was contributed by a representative of Montgomery Investment Management Pty Limited (AFSL No. 354564). The principal purpose of this post is to provide factual information and not provide financial product advice. Additionally, the information provided is not intended to provide any recommendation or opinion about any financial product. Any commentary and statements of opinion however may contain general advice only that is prepared without taking into account your personal objectives, financial circumstances or needs. Because of this, before acting on any of the information provided, you should always consider its appropriateness in light of your personal objectives, financial circumstances and needs and should consider seeking independent advice from a financial advisor if necessary before making any decisions. This post specifically excludes personal advice.
INVEST WITH MONTGOMERY