Will Iron Ore and Base Metals continue to drive BHP?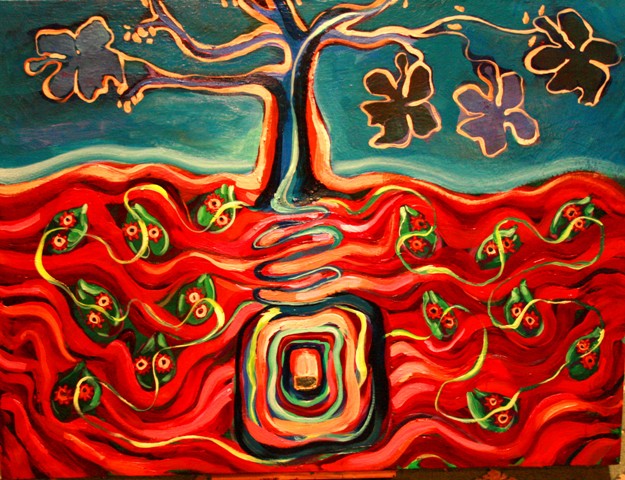 It has been six months since my last BHP update. With so much smoke surrounding the half-year results, I thought it worth reviewing whether anything – particularly my Value.able valuation, had changed.
You may recall back on 31 August 2010 last year BHPs shares were trading at $42.30. At the time my Value.able intrinsic valuation for BHP was $45-$50 per share. As I write today the shares are trading at $46.09 (they have traded as high as $47.63). Gains of 8.2% over the past 6 months are satisfying, but not spectacular. Gains in MLD, MCE, FGE and DCG have been more impressive.
Since I shared my insights, BHP has of course announced their half-year results and exceeded all prior forecasts. Fifty seven per cent earnings growth was forecast for BHP and 50% per cent for the resource sector as a whole in 2011. This was eclipsed by 71.5 per cent earnings growth.
Booming commodities and record Iron Ore and base metal prices, which account for roughly half of the group's revenue (see table below), has boosted their result. Having moved away from yearly pricing to a monthly pricing benchmark, BHP has been able to take full advantage of rapid commodity price appreciation.
BHP's reported revenue from Iron Ore sales in FY11 was up 109.5 per cent. Given its largely fixed production costs, Iron Ore was also the largest contributor from an EBIT perspective, with a 177.90 per cent increase. This is the happy side of operating leverage, which I have discussed previously. And remember, Iron Ore is China's second largest import, after crude oil.
With growth rates and margins of this magnitude, analysts have become even more bullish on our resource sector. Earnings growth for 2011 is now forecast to be 60 per cent (previously 50 per cent) – that's a 20 per cent increase in just six months. Estimates for 2012 are 30-40 per cent.
Compare this to earnings growth forecasts for the Industrials Sector. The difference of 10 per cent clearly indicates where Australia's economy will derive its strength.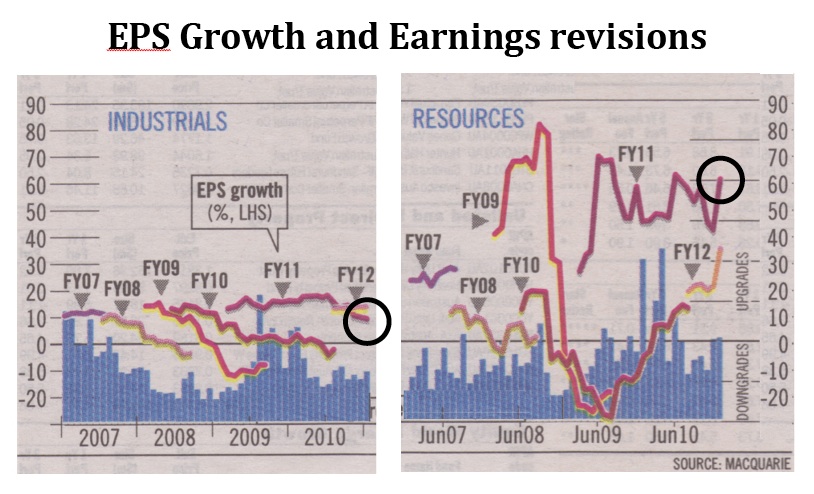 But can it last? I have said many times that I have no predictive ability. I will leave that for others to determine.
I will however take onboard recent comments from Marius Kloppers, who stated that high Iron Ore pricing should continue for a further 6-9 months. Whilst the Iron Ore market remains in tight supply, I note the many expansion projects currently underway will swell supplies from 2014 onwards – an excellent example of how boom-time profits entice others to enter the market and compete – the very definition of a commodity.
Over the longer-term, BHP's aggressive $80b growth plan suggests confidence in the markets in which it operates. More importantly, $80b should give investors in mining services businesses cause to celebrate!
With analysts becoming more bullish and being contrarian by nature, I'm more comfortable adopting a conservative approach when it comes to resource companies. So while others continue upgrading their numbers and forecasts based on current market pricing, I will retain my previous AUD $22b profit forecast (hopefully this is conservative enough) for 2011 and my Value.able valuation of AUD $45-$50.
As always, I will also further my conservative approach by seeking substantial margins of safety. There are some A1 opportunities available at present, however they are the exception rather than the rule.
Posted by Roger Montgomery, author and fund manager, 24 February 2011.
ON ANOTHER NOTE… The SMSF Review, along with Alan's Eureka Report and my team, are delighted to announce an event where 100 per cent of the net proceeds will be donated to those affected by the recent spate of natural disasters. The SMSF Strategy Event – for charity, includes some of the country's most respected Self Managed Superannuation Fund experts. Tickets are $77 and can be purchased online at www.thesmsfreview.com.au. Click here to view the full event brochure. If you are based in Sydney and manage your own super fund, I encourage you to join me at this very special event.