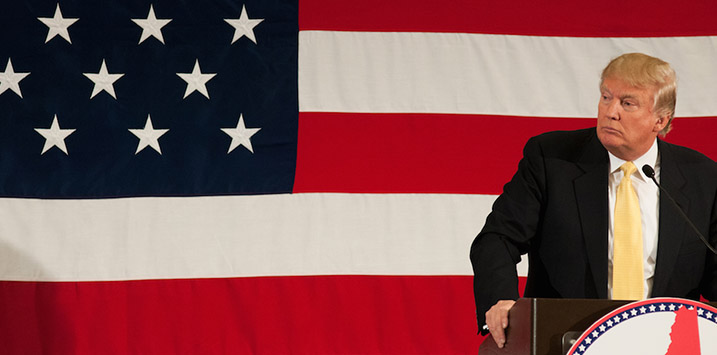 Will Higher Interest Rates Trump the Tax Rate Benefit?
U.S. equity markets have been on a tear recently, following Donald Trump's election win. It seems markets are expecting Trump's policies – particularly the promise of substantial company tax cuts – to provide an economic boost. But are these potential benefits now 'priced in'? And will stronger economic growth lead to the countervailing force of higher interest rates?
The S&P 500 index is up over 5% since the November 8 election day, but the Trump rally has been more pronounced in the Russell 2000 index, a small-cap stock market index. The Russell 2000 index has soared by over 14% since Trump was elected. There is much hope in equities markets surrounding Trump's ability to enact policies that will stimulate growth in the U.S. economy. Tax cuts are one area that have the potential for a swift and genuine impact on corporate valuations.
Investors should think through two questions: 1) Can Trump actually enact tax reform? and 2) What are the likely implications for U.S. equity markets if tax reform is implemented? In answering the first question, it is important to note the Republican sweep of both chambers in the U.S. Congress. Given that the Republicans now control both Houses of Congress and the White House, they have been afforded a rare opportunity to pass legislation without having bills blocked through Democratic opposition (n.b.: a Democratic filibuster can be circumvented if the Republicans use the rules of budget reconciliation).
This unique set of circumstances provides Trump with the power to enact drastic tax cuts, provided that he can reach a palatable legislative proposal that satisfies the Republican fiscal hawks that fret over the subsequent deficit expansion. In consideration of the above, it appears more likely than not that the Republicans can and will enact some form of tax reform, it is just unknown what form these changes will take and how deep the tax cuts may be.
The second question involves a consideration of any likely impact on equity market valuations. Let's consider a hypothetical U.S. industrial company that generates $1bn of revenue and $100m in pre-tax earnings. The company generates all profits in the U.S. and pays tax at a 40% effective tax rate. If the tax rate were reduced to say 20%, the company would pay $20m less in taxes and this all falls through to the bottom line. This is a genuine benefit and is money that remains in the company's hands rather than finding its way into the government's coffers.
If you assume that the company always trades at a 15x earnings multiple, the tax reduction increases the value of the firm by $300m, an enormous 33% value uplift.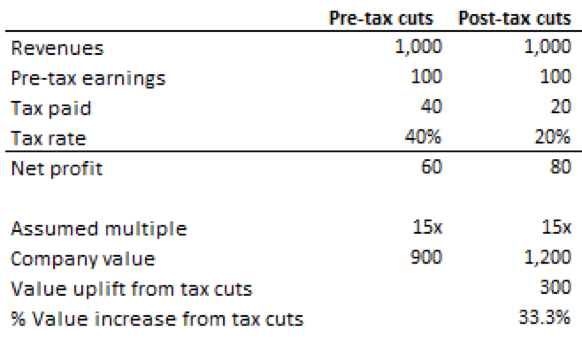 Although the above example is extreme, it highlights the mechanics of how tax cuts can have a positive value impact on U.S. companies, particularly those earning predominantly U.S. earnings and paying high tax rates.
However, this tax reform has real implications for inflation and inflationary expectations. Last week was the second time in a decade that the Fed raised interest rates, and a more aggressive tone was adopted regarding the pace of further interest rate increases in 2017. If Trump's policies, whether they be infrastructure spending or tax cuts, do achieve their goal of boosting economic growth and inflation, then it is likely that there will be a countervailing force to equity valuations due to rising interest rates.
It is clear that equity valuations have significantly increased after the U.S. election, arguably reflecting expectations of increased economic growth through Trump's yet-to-be-revealed policies. However, the much more difficult question to answer is to what extent have the price rallies in individual stock names increased by more than any benefit that will be derived from these policies? That's the million-dollar question that spells opportunity on the short side.