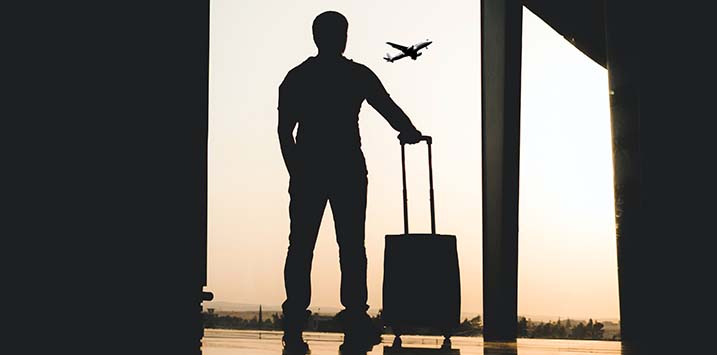 Why Webjet could be set to soar again
Travel businesses have really suffered due to the COVID-19 travel restrictions and border closures, but with many economies re-opening, unleashing a likely tsunami of pent-up travel demand, the future is looking brighter. And companies like Webjet (ASX:WEB), the Australasian online travel agent and global hotel room intermediary, should be major beneficiaries.
Webjet has just released its FY21 results. The company's change in balance date from June to March complicated the analysis to some degree, with the company reporting results for the nine months to March instead of the usual 12-month period. However, the company included quarterly data in its presentation pack.
While the current level of profitability remains impaired by the effects of the global pandemic, the market is looking for signs of sequential improvement as well as focusing on the company's rate of cash burn to ensure it has enough capital to make it across the great divide.
In terms of sequential progress, there were some positive signs with the B2C (or online travel agent) segment of the company with the recovery in domestic travel in Australia combined with improved market share seeing the business move back into the black at the EBITDA line in the March quarter.
Customer spend in the March quarter through the Webjet OTA ('over the air', or wireless transactions) recovered to 28 per cent of March quarter 2019 levels. This is a small improvement on the December quarter performance relative to the same period in FY19. The rate of recovery improved through the quarter given the impact of individual city lockdowns in January and February. As a result, the business exited the quarter at a much faster rate than the average for the quarter.
Additionally, the recovery stepped up materially in April with TTV (total transaction value by customers) of A$86.1 million for the Webjet OTA, approximately 95 per cent of domestic flights TTV in April 2019. This means Webjet generated 87 per cent of its TTV from the whole of the March quarter in just one month during April and TTV would have been around 75 per cent of total 2019 levels in April, even without the any international travel. The return to more normal consumer activity post Easter is consistent with comments made by Coles in its recent March quarter sales results.
Figure 1: Webjet OTA Quarterly TTV and TTV as a percentage of TTV in FY19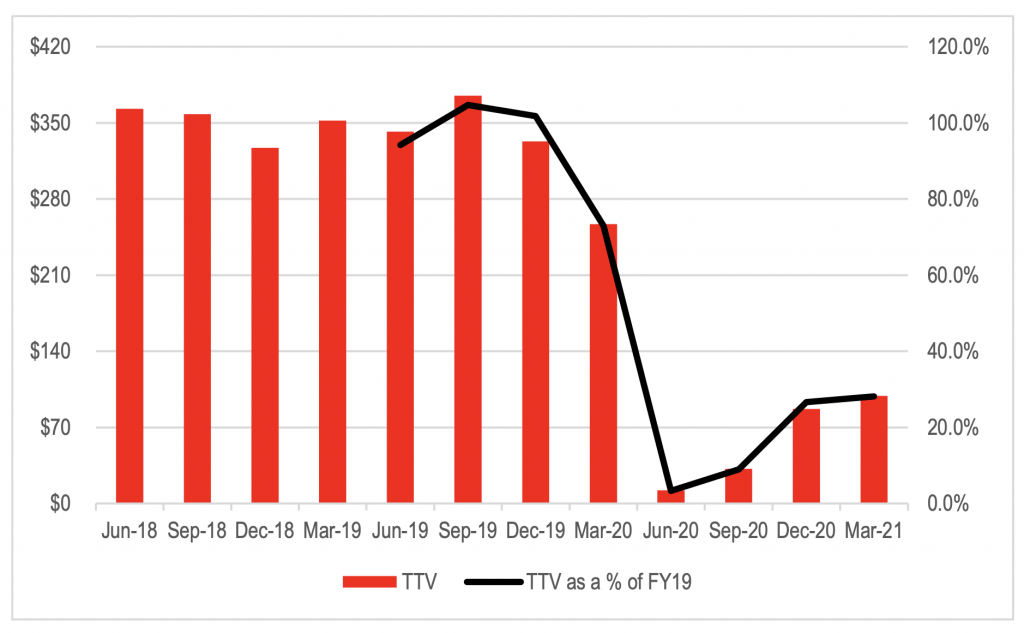 Importantly, Webjet's share of the OTA market in Australia is materially higher than it was pre-COVID. This is partially due to bricks-and-mortar travel agent traffic continuing to be impacted by consumer willingness to go to malls and other locations. However, there is likely to have been a structural shift in online share as a result of COVID given that it will have introduced more of the population to this distribution channel.
Figure 2: Webjet share across all GDS bookings – Travel agency offline and online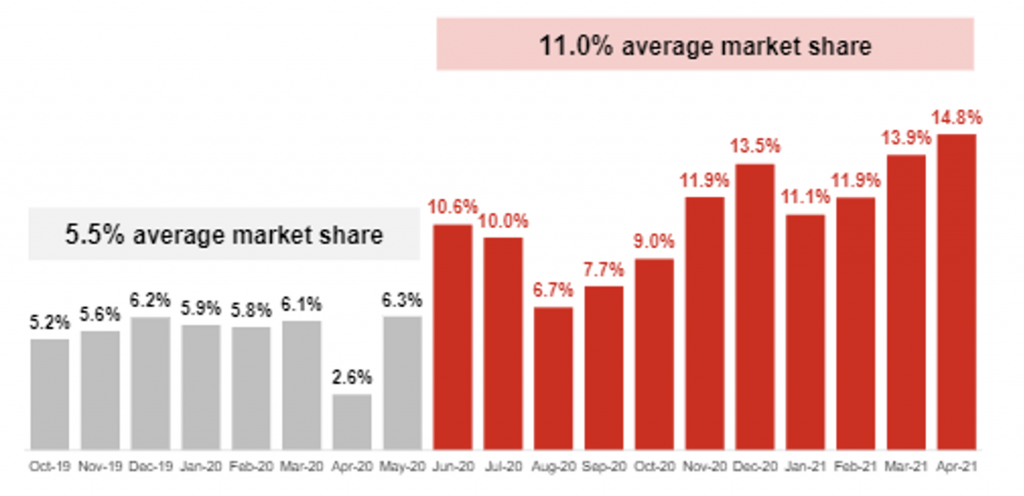 Source: Company
Online Republic showed a similar level of recovery relative to FY19 TTV.
Figure 3: Online Republic Quarterly TTV and TTV as a percentage of TTV in FY19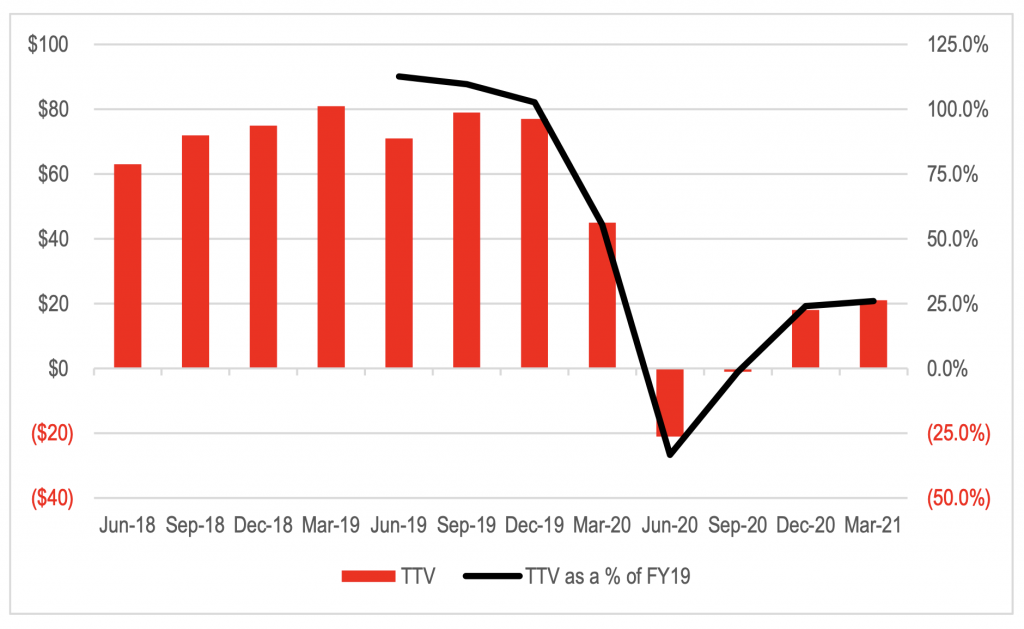 Source: Company
Qantas announced its intention to cut agency fees on international ticket sales from 5 per cent to 1 per cent from July 2022. The market initially took this as a negative for all of the travel stocks (WEB, Flight Centre (ASX:FLT) and Corporate Travel Management (ASX:CTD)). In the case of WEB it is important to recognise that it generates more of its revenue from domestic flights than international flights. Additionally, unlike its competitors, WEB generates a material proportion of its revenue from booking fees, which will not be impacted by the change to commission rates. Competitors will need to adjust prices offered to consumers to make up for the shortfall or suffer a reduction in revenue. This could end up representing a competitive advantage for WEB over more traditional travel agents.
In the B2B (WebBeds) business, the recovery has been slower as a result of travel restrictions in key markets. Among the geographic regions, the Asia Pacific region has shown the biggest recovery relative to TTV levels in CY19. In the March quarter, the Americas, Middle East and Africa had the most significant sequential improvement, while Europe continues to lag.
Figure 4: WebBeds APAC Quarterly TTV and TTV as a percentage of TTV in CY19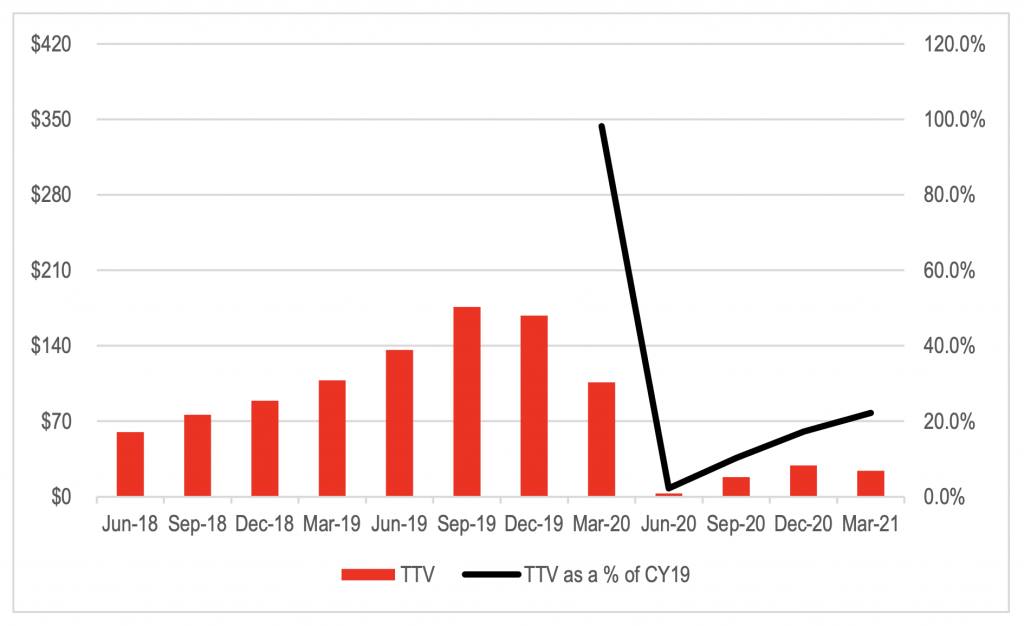 Source: Company
Figure 5: WebBeds Europe Quarterly TTV and TTV as a percentage of TTV in CY19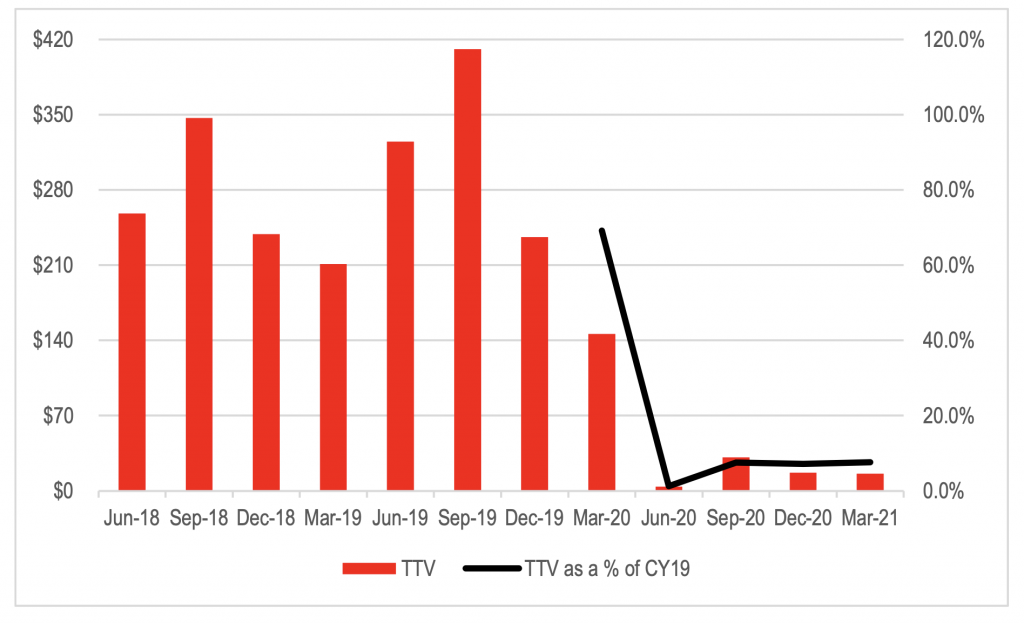 Source: Company
Figure 6: WebBeds AMEA Quarterly TTV and TTV as a percentage of TTV in CY19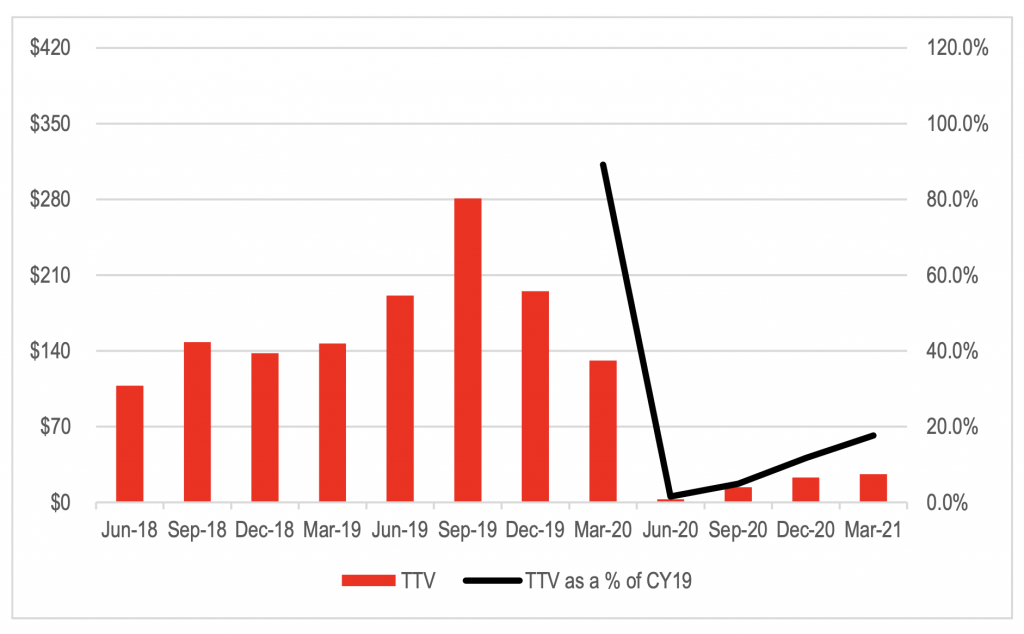 Source: Company
WebBeds remains a long way from EBITDA breakeven with the loss in the March quarter falling marginally on a quarterly sequential basis to A$14.5 million.
Looking forward, the business has missed the summer holidays booking season for key markets like Germany and Scandinavia. The partial offset will come from the second largest source market in Europe (the UK) where WebBeds is seeing a strong recovery in demand following the easing of travel restrictions. On balance, the WebBeds business is likely to remain loss making in the coming couple of quarters. But there are signs that the business could recover quickly once vaccination rates improve in Europe given the rebound in North American markets. April TTV in North America was back to 83 per cent of 2019 levels.
Management recommitted to operating costs being 20 per cent below pre-COVID levels once the business recovers to a similar level of TTV. This puts the company in a stronger position to increase its share in this fragmented global market.
The company's cash burn increased from A$4.8 million per month in the six months to December 2020 to A$6.9 million per month in the three months to March. This is largely due to the contraction in European TTV in the March quarter relative to the December quarter on the back of new lockdowns in various markets. WebBeds has negative working capital requirements resulting from a shorter receivables cycles than its payables cycle. As TTV begins to recover, this negative working capital will release cash from the balance sheet and accelerate the rate of decline in cash burn relative to the reduction in operating losses.
The Montgomery Funds own shares in Webjet. This article was prepared 25 May with the information we have today, and our view may change. It does not constitute formal advice or professional investment advice. If you wish to trade Webjet you should seek financial advice.
This post was contributed by a representative of Montgomery Investment Management Pty Limited (AFSL No. 354564). The principal purpose of this post is to provide factual information and not provide financial product advice. Additionally, the information provided is not intended to provide any recommendation or opinion about any financial product. Any commentary and statements of opinion however may contain general advice only that is prepared without taking into account your personal objectives, financial circumstances or needs. Because of this, before acting on any of the information provided, you should always consider its appropriateness in light of your personal objectives, financial circumstances and needs and should consider seeking independent advice from a financial advisor if necessary before making any decisions. This post specifically excludes personal advice.
INVEST WITH MONTGOMERY