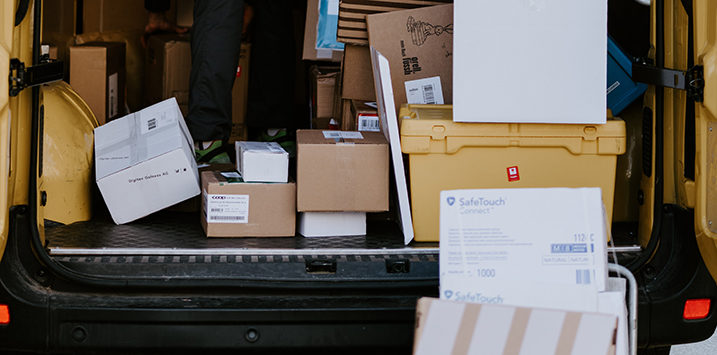 Why we continue to like NZ's Freightways
You may not be familiar with New Zealand's Freightways Ltd (NZX:FRE), but it's a company The Montgomery Fund has held for a long time. Freightways has been a strong performer for many years, and we're attracted to the diversity of the business and entrepreneurial drive. The recently released interim results point to a company that is well positioned for further growth.
Freightways has a market cap of around NZD 2.0 billion and has been a strong contributor to portfolio returns over the last three years as the share price chart below shows with the share price currently significantly higher than pre-COVID levels.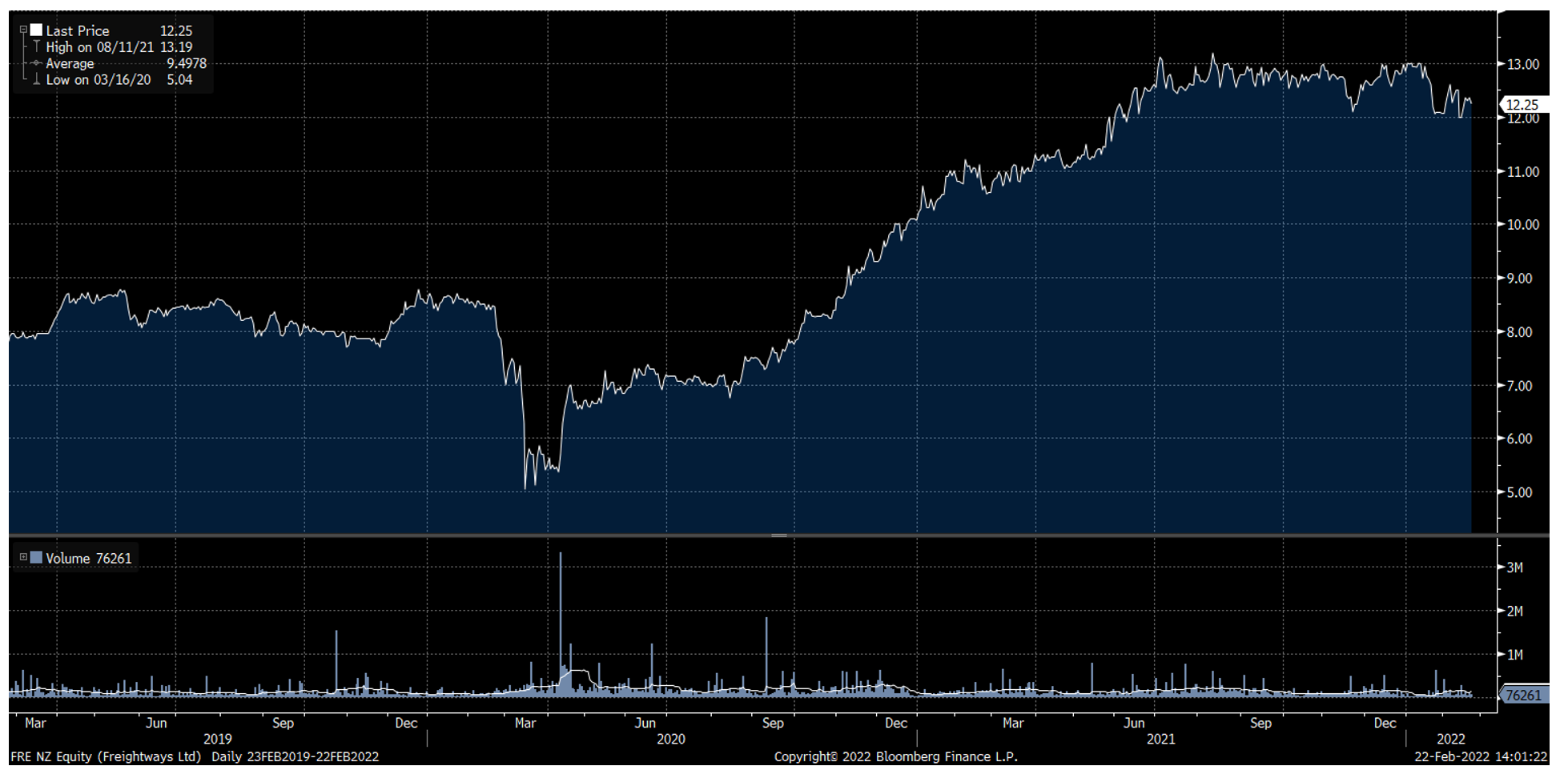 Source: Bloomberg
Freightways reported its 1H22 results on 21 February and in today's post, we dissect these results and pull out some highlights.
Freightways is active in a number of related but slightly different areas, and we are going to use the table below to describe the business and to see what trends are emerging.

Source: FRE
Express package and refrigerated transport
The express part of this division handles time critical transportation of packages and goods in quantities that are smaller than traditional trucking and transport. It is in effect a courier business operating under four different brand names provides varying levels of services at different price points across the whole of New Zealand. The market structure is attractive with Freightways competing primarily with NZ Post and also with a couple of smaller regional competitors.
During 1H21, during August and September New Zealand experienced a hard COVID-19 related level 4 lockdown in large parts of the country. This significantly increased the level of Business to Consumer shipments (B2C) as people turned to online shopping as they were confined to their homes. We can see from the chart below, the spike in volumes was significant with around 100 per cent volume growth on pre-COVID-19 levels but also continued strong growth after the lockdowns ended.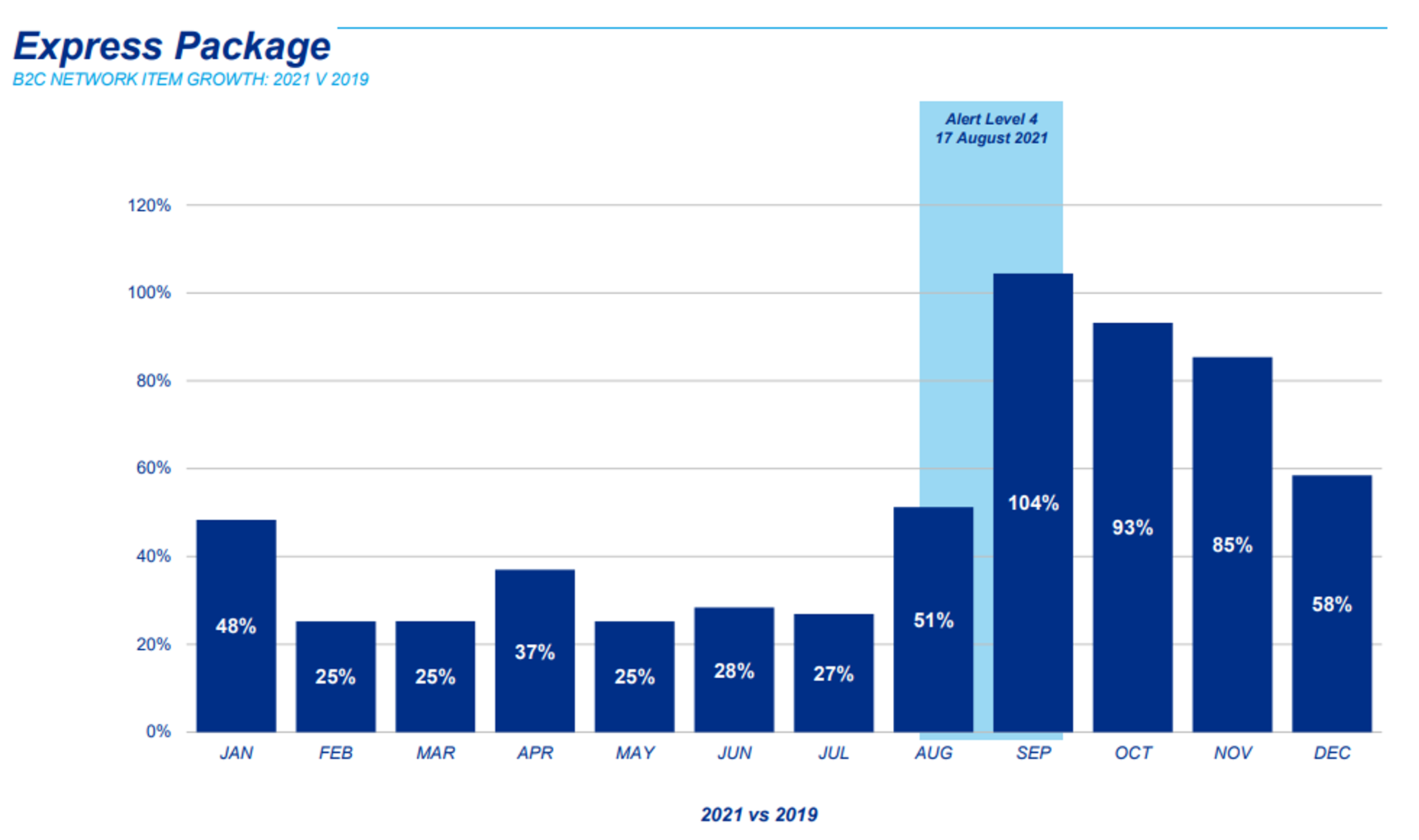 Source: FRE
In contrast, Business to Business (B2B) volumes declined significantly as people worked from home and relied more on electronic correspondence etc.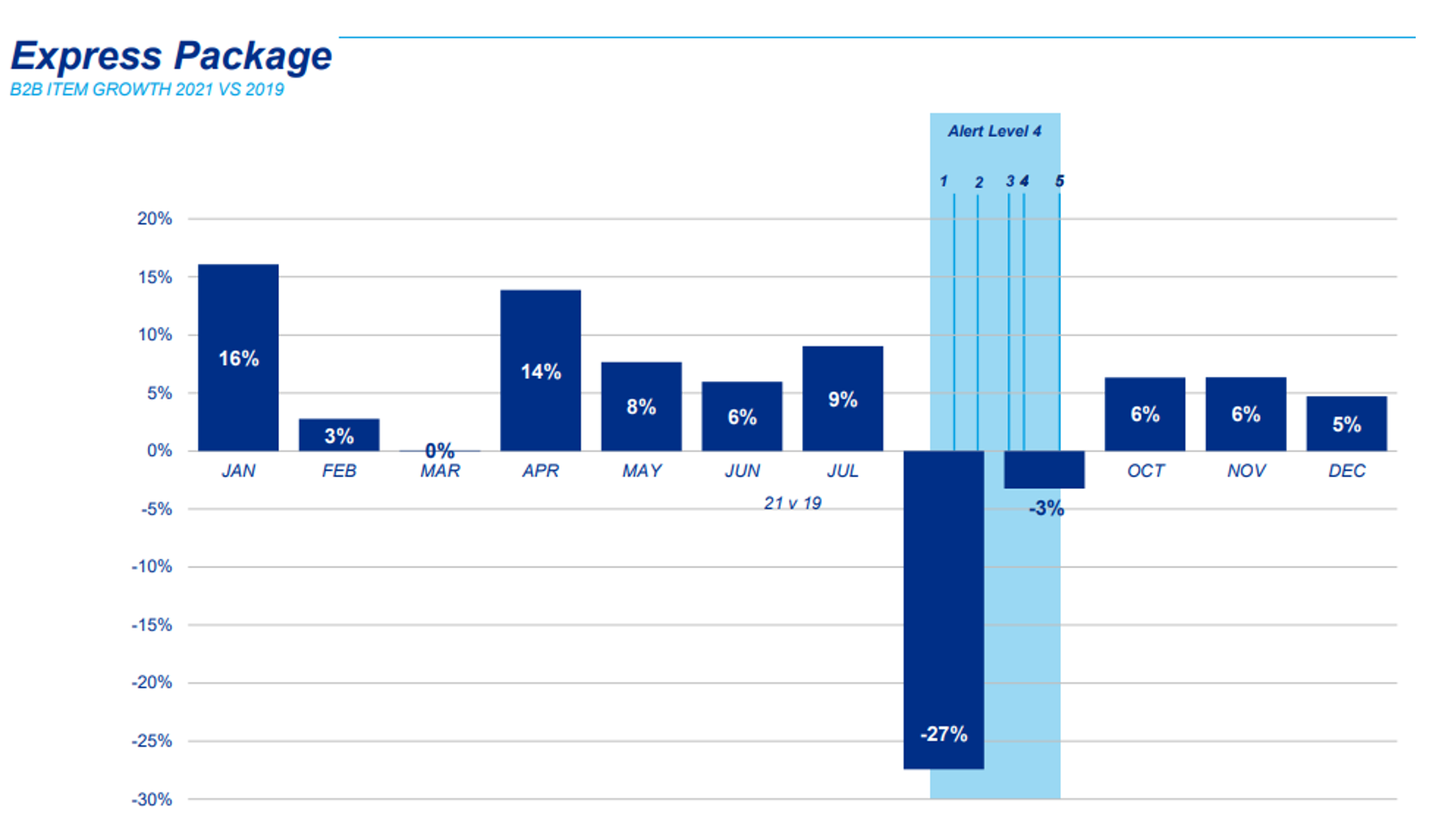 Source: FRE
We should note that B2B is generally a higher margin product than B2C as the cost structure of delivering packages to businesses is much lower than delivering to consumers as businesses tend to be located closer to each other and generally more packages per day so the efficiency of a driver is much higher.
The other part of the division is refrigerated transport which is basically a time critical cold logistics operation that moves chilled or frozen goods for supermarkets and other food providers like wholesalers or major fast food chains. This division has seen relatively little impact from the lockdowns as any volumes lost from fast food chains etc. has been compensated for by increased volumes from supermarkets as people are still eating the same amount of food regardless of if they are working from home or not.
Given that before the August and September lockdown, B2C accounted for only around 17-18 per cent of the total express volumes, we were quite impressed that they managed to grow revenues in this part of the business by 8.6 per cent as the negative mix shift from B2B was significant.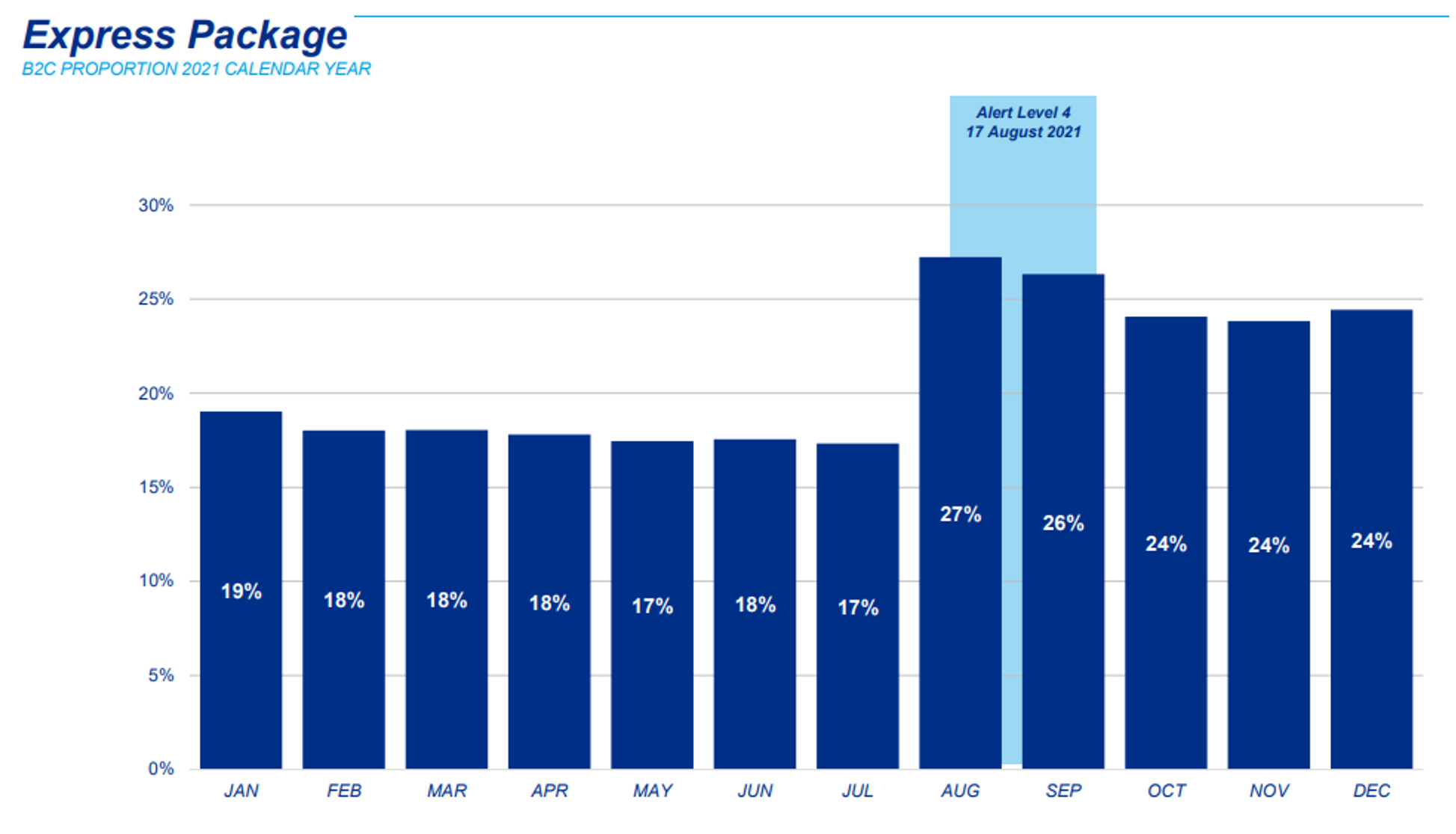 Source: FRE
The next part of the business is Postal where Freightways operates under the brand DX Mail and provides business mail communication in direct competition to NZ Post. This is a declining market as more and more communication is becoming digital and the overall market declined by about 15 per cent in 1H22. Despite this, DX Mail only dropped revenues by just over 4 per cent as they took market share from NZ Post at the same time as they increased prices by over 5 per cent, which is a testament to the very high service levels they are able to provide compared to NZ Post.
The next part of the business is Storage and Handling where Freightways provides outsourced storage and handling of both paper and electronic media (back-up tapes and video footage etc). Many businesses are legally obliged to store all their written documentation for a certain period of time and to be able to access it on demand, but this is generally not a core activity and something that suits outsourcing to a third party well. The storage business has been resilient during the various lockdowns as customers are on ongoing contracts unaffected by volumes but as can be seen in the chart below, there has been a drop in handling revenues as people have been working from home and have not seen the need to access stored document to the same extent. With a return to more normal working conditions, we should see a recovery in the handling revenues again. We were quite impressed to see this division only reducing revenues by less than 1 per cent despite the reduction in handling revenues.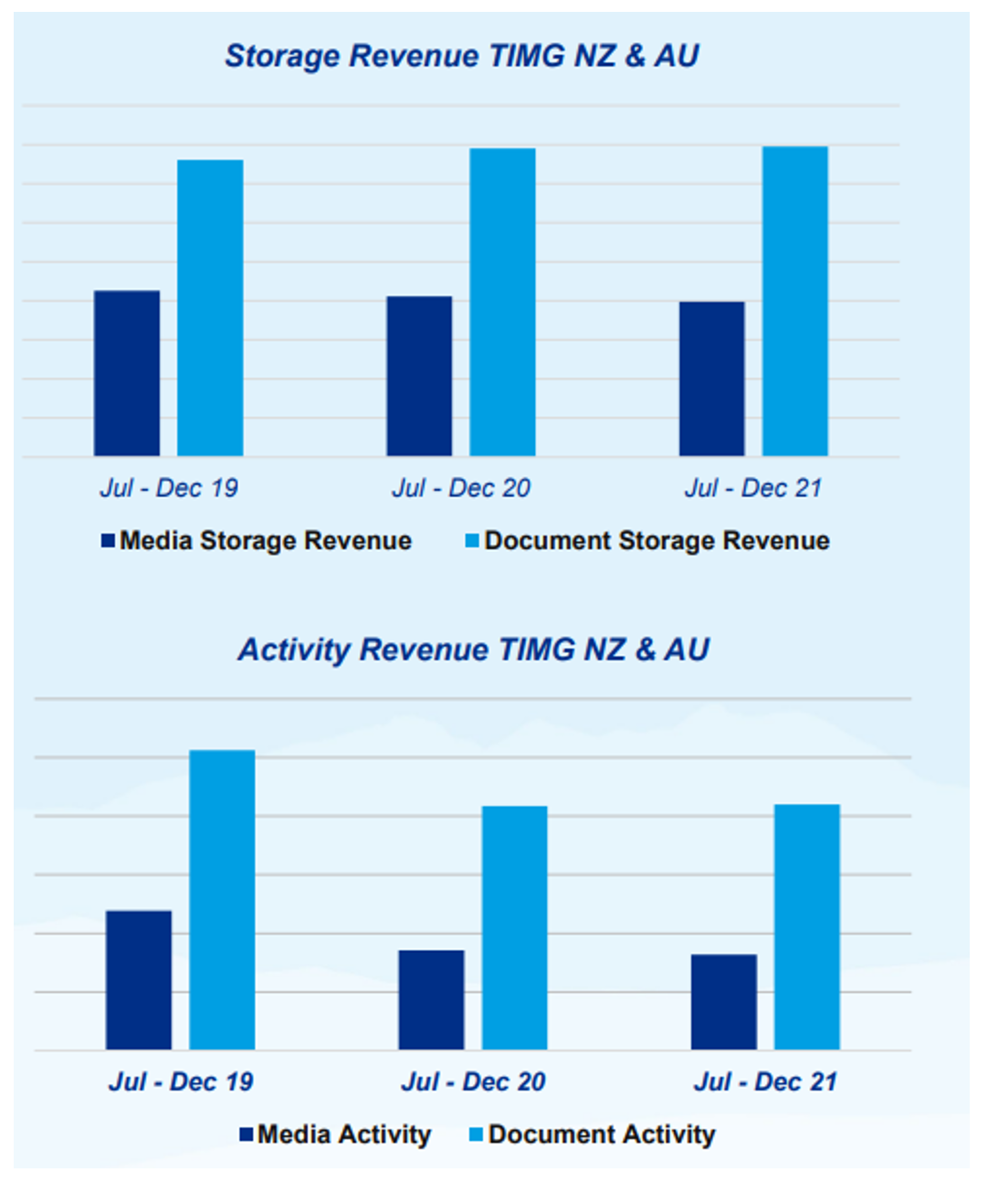 Source: FRE
The last major revenue source is Destruction Activities where Freightways is one of the providers of the various different recycling and destruction bins you have most likely seen in your office. This started out as a paper destruction service where they would pick up printed documents that needed to be securely destroyed for confidentiality or security reasons. They then figured out that the majority of the cost of providing this service is to have a person driving around between different offices in a vehicle and the best way to get additional productivity out of this person was to have him/her pick up more types of material in each office each time he/she visited so they have expanded the offering to provide e-waste, Product Destruction, Non-secure Paper Recycling, Liquid Paper Board (i.e tetra packs) and Medical Waste and the idea is to expand this further and offer Soft Plastics, Food Waste and Textile recycling. As you can imagine, Paper and e-waste volumes have been impacted by lockdowns and people working from home but this has been more than offset by very strong growth in the Medical Waste business where volumes have shown extremely strong growth driven by COVID-19 related activities like vaccination clinics but also by changed hygiene practices in places like nursing homes and GPs etc. The chart below shows the Medical Waste revenue growth which has grown by a factor of 7x since they first acquired a small business in NSW in 2018. Overall, the strong growth in Medical Waste resulted in this division reporting 18 per cent growth in revenues in 1H22 which we consider very impressive given the circumstances of the period.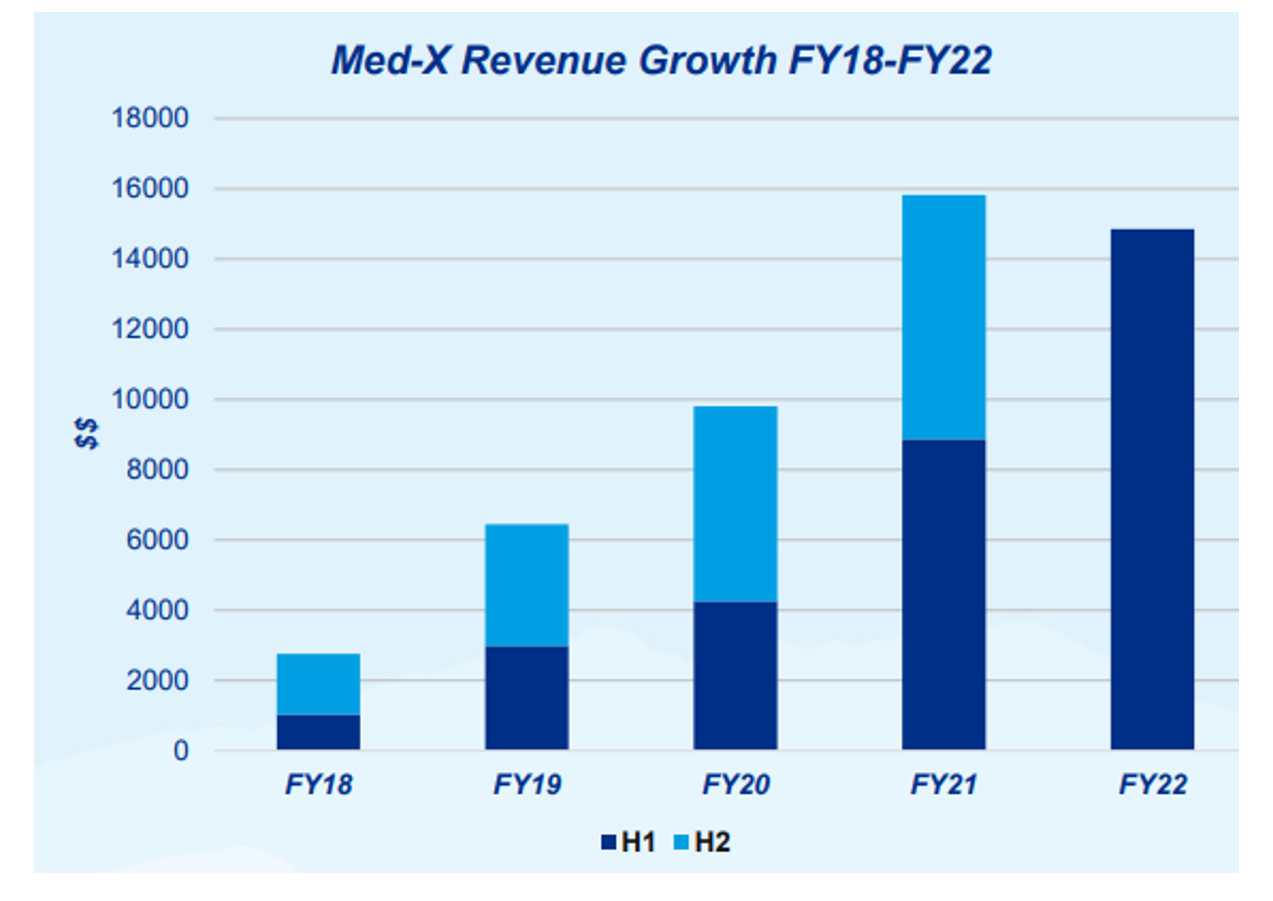 Source: FRE
Overall, FRE managed to produce 7.7 per cent revenue growth and 7.4 per cent profit after tax growth in the first half of 2022 which we consider very respectable.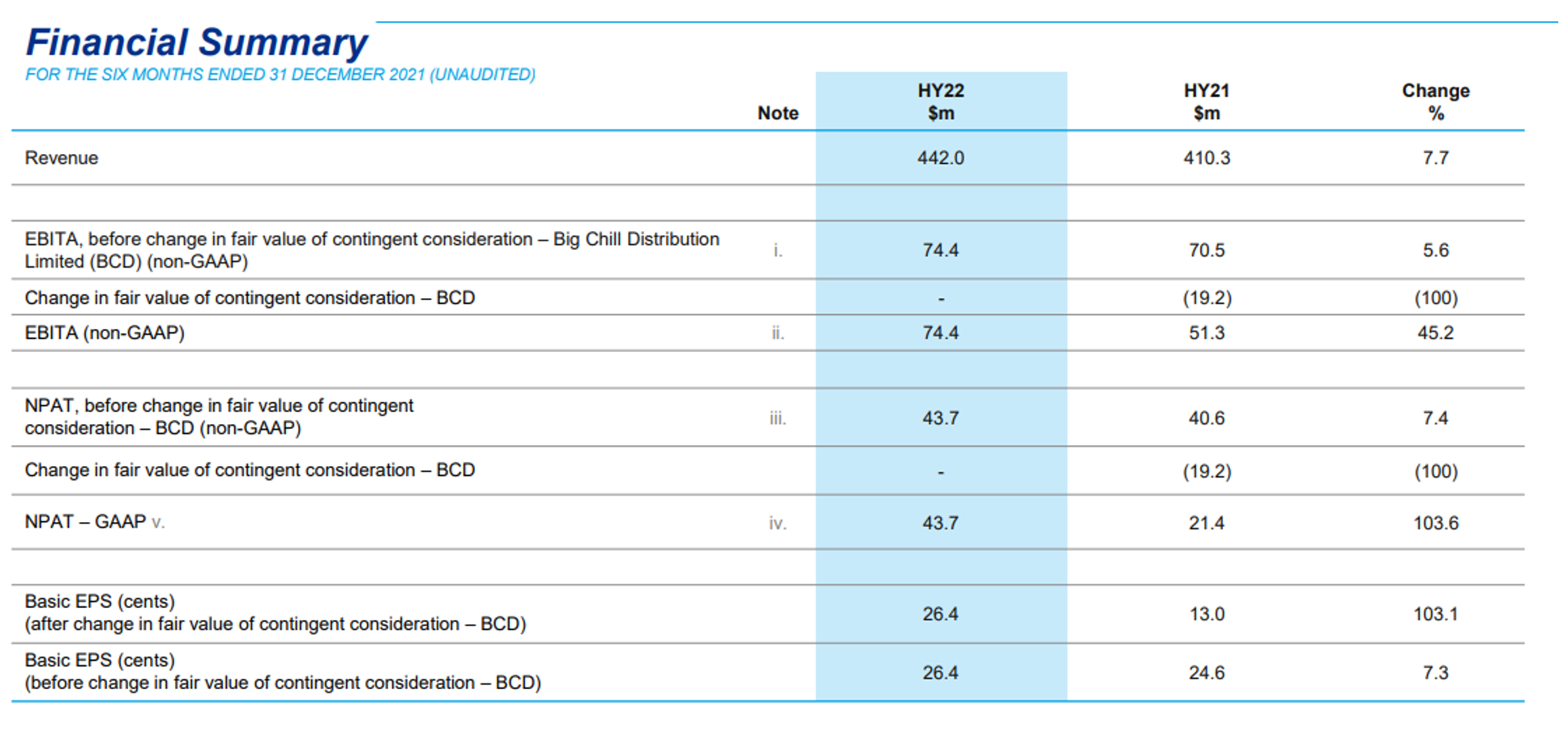 Source: FRE
This was even more impressive when we look at the comparable table for 1Q22 which they presented at their AGM on 28 October 2021 and that showed revenues declining by 4.1 per cent and after tax profit declining by 5.7 per cent.

Source: FRE
If we back solve what 2Q22 looked like, we get that both sales and revenues grew by about 20 per cent in the quarter and hence the exit run rate was much higher than the performance in the beginning of the half which is really what matters when trying to make predictions for what will happen in 2H22 and further on.
New Zealand has not experienced a significant number of COVID-19 cases compared to most other countries but it is rapidly increasing as the chart below shows and we should expect that there will be issues with staff having to isolate similar to what Australia has gone through recently, and this will likely impact the business. But hopefully this will be a temporary issue that the market will see through.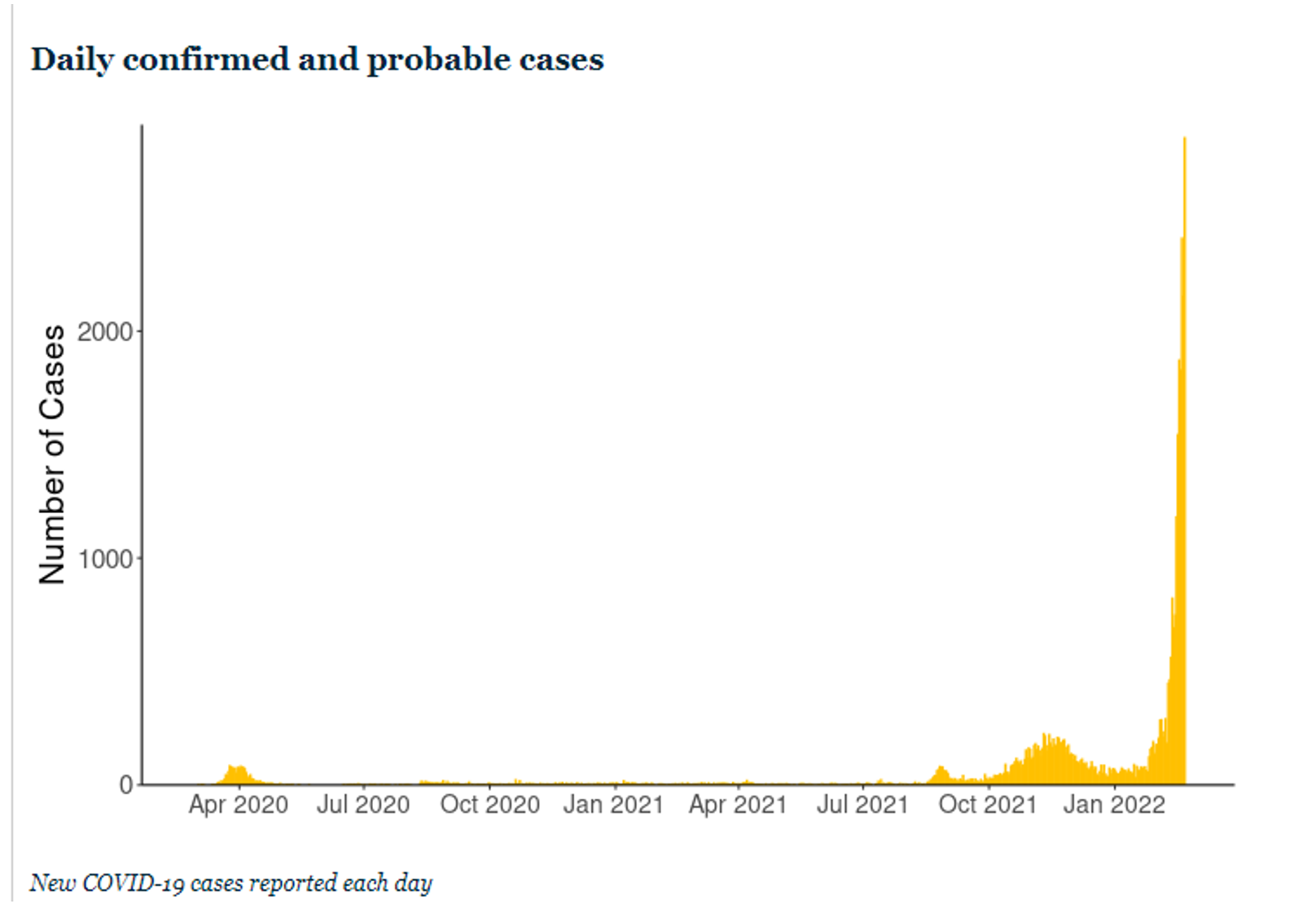 Source: FRE
Longer term, we think Freightways will be able to continue to take market share from NZ Post in the Express business and we are intrigued by the potential to add more types of recycling to its current offering. We are therefore confident that the company will continue to be a strong contributor to portfolio returns.
The Montgomery Funds owns shares in Freightways. This article was prepared 24 February 2022 with the information we have today, and our view may change. It does not constitute formal advice or professional investment advice. If you wish to trade Freightways you should seek financial advice.
This post was contributed by a representative of Montgomery Investment Management Pty Limited (AFSL No. 354564). The principal purpose of this post is to provide factual information and not provide financial product advice. Additionally, the information provided is not intended to provide any recommendation or opinion about any financial product. Any commentary and statements of opinion however may contain general advice only that is prepared without taking into account your personal objectives, financial circumstances or needs. Because of this, before acting on any of the information provided, you should always consider its appropriateness in light of your personal objectives, financial circumstances and needs and should consider seeking independent advice from a financial advisor if necessary before making any decisions. This post specifically excludes personal advice.
INVEST WITH MONTGOMERY