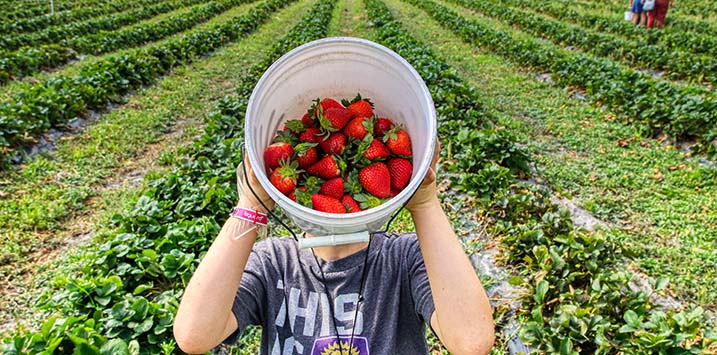 Why our dependence on backpacker labour may need to change
For several months now, many Australian farmers have been complaining they can't get enough workers to pick their fruit and vegetables. The problem: Australia's international border closure has cut off their usual supply of cheap overseas labour. Is this just a short-term issue, or a sign of bigger problems facing the rural sector?
The worst affected farmers are those that depend on backpackers on Working Holiday visas where there is a requirement to work in a regional area for at least three months. The need for this labour is primarily during the fruit and vegetable harvesting season which, for most produce, is now kicking in.
It is therefore interesting to see this chart from the Department of Home Affairs that shows that the number of Working Holiday visas outstanding has reduced from around 135,000 in September of 2019 to 65,000 in September 2020 – a reduction of more than 50 per cent.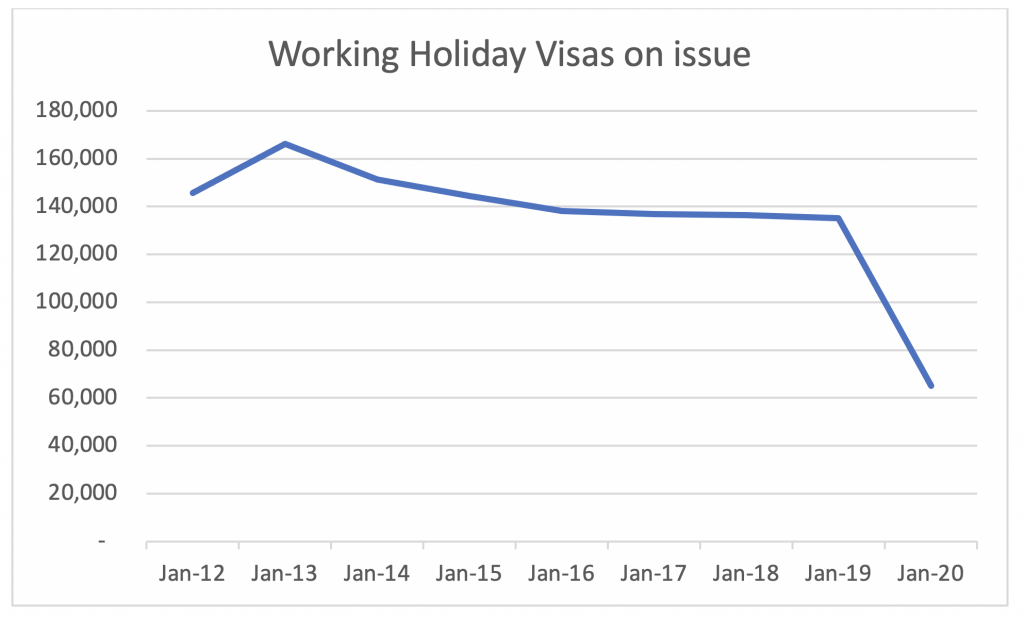 Given the industry's reliance on this workforce, this must have an impact, and this is shown in this video from Sky News.
One could imagine that normal supply and demand, especially at a time when other industries are impacted leading to high unemployment, should lead to local unemployed workers filling these jobs but as The New Daily in two very interesting articles (here and here) have detailed, farmers do not seem interested in employing local workers and are outright rejecting applications even if it means that their produce is not picked and goes to waste. The argument seems, according to the articles, to be that backpackers are harder workers and that they are significantly cheaper than Australian workers. There are some allegations in these articles that are quite disturbing.
Apart from the moral/ethical implications of this implied attitude of (some) farmers, it could have some broader economic and investment implications. Some of these that I can think of are:
Significantly lower production if produce goes unpicked, which could lead to increased prices for shoppers and be an inflation driver. At a time of very low wage growth, this is not good for consumer spending power and could impact the rest of the retail industry as food is something people will cut spending as an absolute last resort.
An industry that relies heavily on cheap foreign labour is probably not sustainable longer term and there is a risk that the overall supply chain that serves this industry needs to be restructured. This could have implications for companies like Elders, which supply to the industry.
It could also impact the supermarkets that are currently the strongest part in the supply chain and which may have to accept lower margins on some products if the production stage is not producing viable profit margins.
It also shows that the farming sector in Australia is unproductive and needs to significantly increase its productivity through investments in automation as has been the case in many other developed nations. A technology transition is never easy and will likely lead to reduced profitability in the sector for a while before productivity improvements kick in.
Feel free to leave a comment below if you are aware of other implications of our reliance on Working Holiday labour.