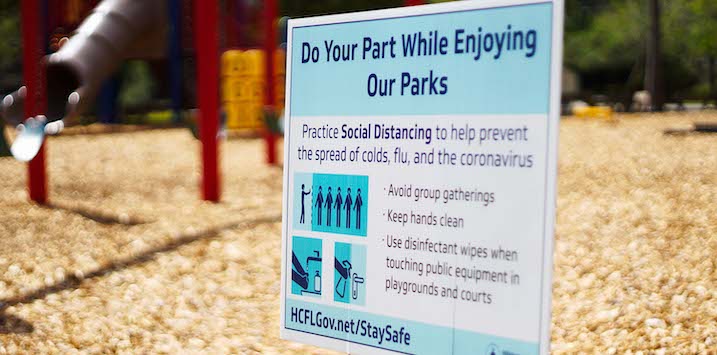 Why COVID-19 could deliver more pain for investors
With markets bouncing off their recent lows, it seems many investors are taking comfort from news that China's COVID-19 outbreak appears to be ending. But I'd advise readers to treat this news with a bit of skepticism. Because, looking at the data, there's a high chance of more bad news to come.
Investors are also using the China experience – and reports that, after a two-month shutdown, the economy is starting up again – to help inform their own models about when the infection might peak in the US and Australia. For example, most recently, my friend and fellow fund manager, Chris Joye, suggested a mid-April peak.
We're not so comfortable and think investors should apply caution, especially surrounding the idea that it's time to go 'all-in'.
Here's why we reckon it may be prudent to be ready to take advantage of another leg lower in the market.
First, there are no guarantees that, in the absence of a vaccine, a return to work will not result in a reinfection surge.
Second, it is becoming clearer that we should not take much comfort from apparent Chinese success. Reports are emerging of the various ways in which (China lies) the case data is being 'managed'. For example, a report from the Washington Post in the last couple of days points to:
A suspension of testing in Wuhan to coincide with Xi's visit and facilitate the symbolically important "zero new cases";
The non-reporting of asymptomatic cases that have tested positive. This effectively means that a positive test result is not a case unless the Party says it is, and is a critical reporting shortfall given the ability of asymptomatic patients to spread the disease; and
Suggestions of "cover up" by local governments.
Typical. Why should we expect anything more?
We have been tracking a bounce in live case numbers outside Hubei (Figures 1&2). It shows up clearly in log scale but is not yet obvious in linear.
Figure 1. Live cases per capita – log scale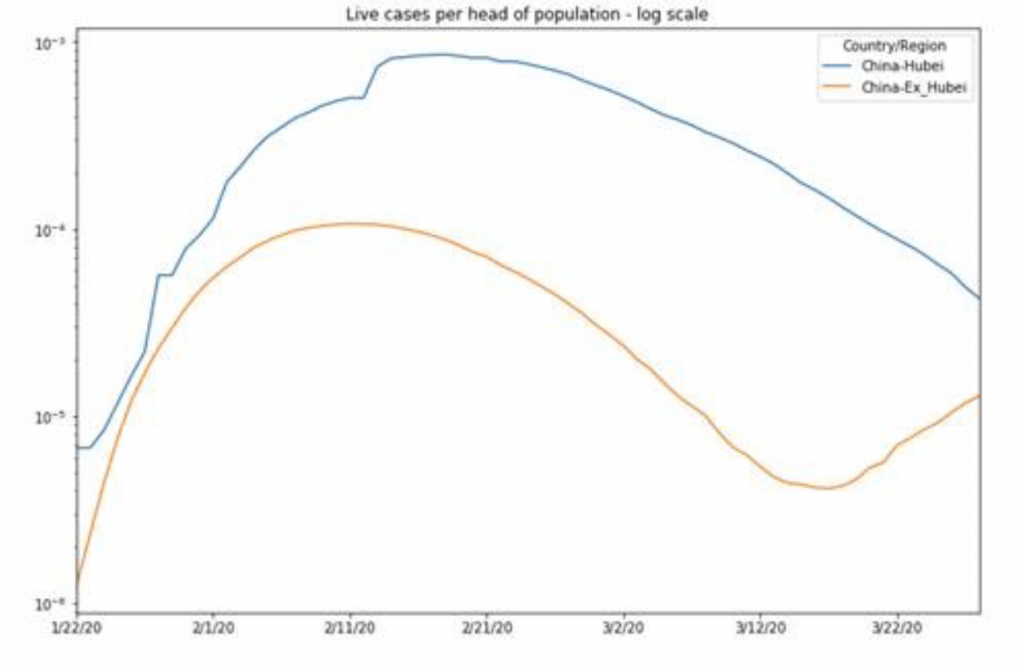 Figure 2. Live cases per capita – linear scale
In our client webinar two weeks ago we highlighted the following chart (Figure 3), which plots fatality rates against resolved cases, and showed that the entire data set from China looked suspicious (China is suspiciously over on the right, while the rest of the world is on the left).
Figure 3.  Resolved Cases (death + recovery) v Case Fatality Rates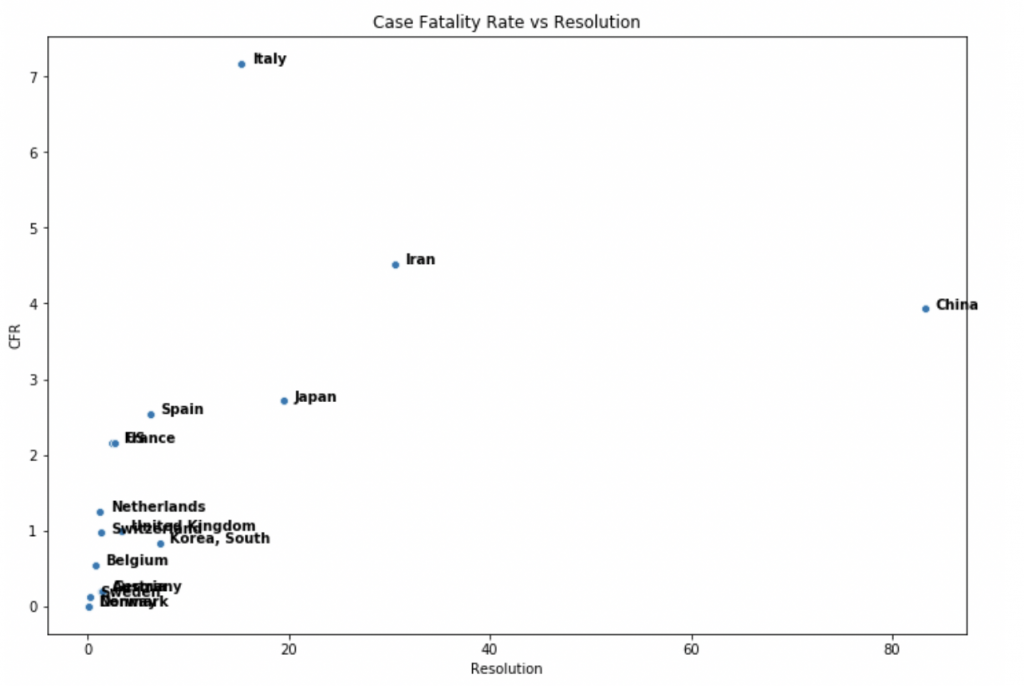 During that webinar we also suggested that any resurgence in China would trigger one of two official responses:
A resurgence in positive cases wouldn't be reported at all, or
A resurgence, and any associated slowing of the economy, would be blamed on the rest of the world.
Meanwhile, we perhaps shouldn't be too optimistic about America – the land of the free.
First, you might recall we reported that America was only testing an average of 40 people per day in January and only 92 people per day in February.  Our investment thesis was they were going to be shocked when they started testing and markets would crack. That happened. Now have a look at the amount of testing they are conducting (Figure 4.). They still haven't ramped up as quickly as we have (and we started pretty late).
Figure 4.  Tests per capita. You only find when you look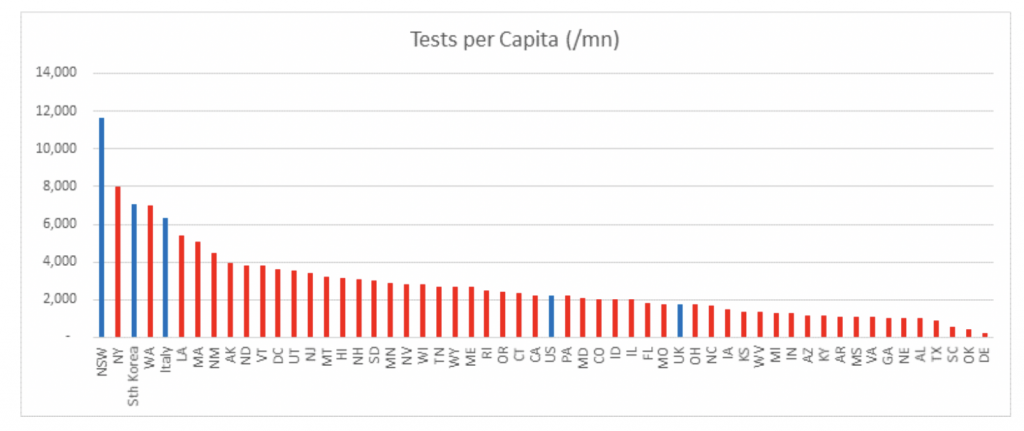 Source:  The COVID Tracking Project, Montgomery
And because the US started so late, even their relatively immature testing rates are already showing a high proportion of cases (see New York in Figure 6). The case detection rate in NY makes Italy look like it has everything under control.
Figure 6.  Detection rate shock in the US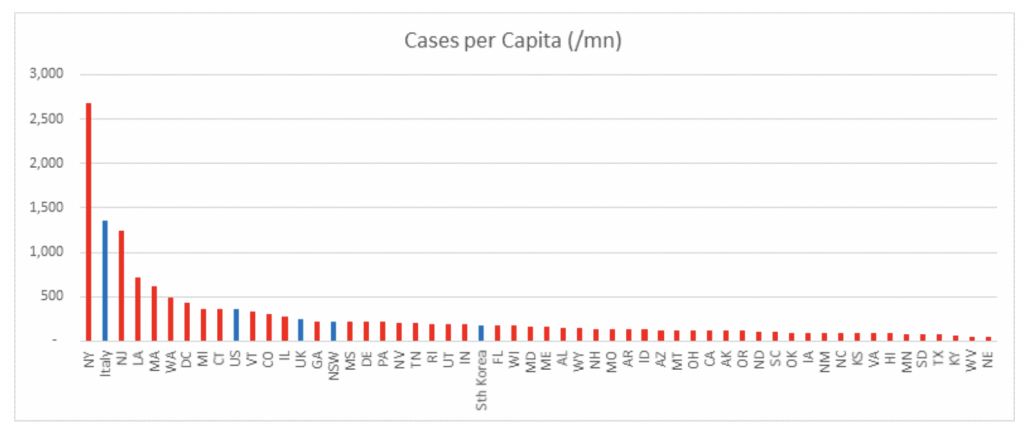 Source:  The COVID Tracking Project, Montgomery
As we warned here at the blog and also in The Australian, western liberal democracies cannot be as effective as totalitarian dictatorships at locking down their citizens. A lack of control of the population will mean the virus penetrates more deeply into the population and the problem will take longer to resolve.
And here's the evidence: Over the weekend, Trump told reporters, "We'd like to see NY quarantined because it's a hotspot, New York, New Jersey, maybe one or two other places, certain parts of Connecticut quarantined."
But unfortunately, and predictably, the plan was immediately criticised by the 56th Governor of New York State, Andrew M. Cuomo, who said it was a "preposterous" idea and counter-productive toward the president's goals of restarting the economy.  On CNN, Cuomo added: "It would be chaos and mayhem," and "If you start walling off areas all across the country, it would just be totally bizarre, counterproductive, anti-American, antisocial."
There you go, Americans should be free to get infected if they want to.
With the above in mind, we believe it could be premature to believe case peaks are just around the corner and, even if they are, a surprise resurgence could produce another leg lower in equity markets.  We'll continue to keep you up to date here at the blog with our latest thoughts and insights, so be sure to subscribe.