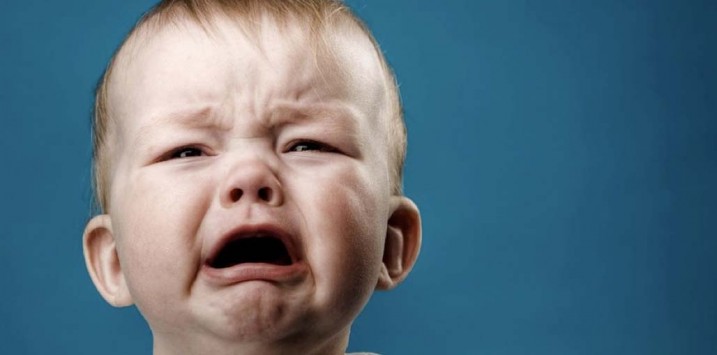 Where for art thou Retailer?
Are the structural challenges being faced by retailers continuing? Or are they now increasing? The challenges are now only increasing with the structural pressures from the immigration of large and well-resourced foreign discounters such as Zara, Uniqlo, Aldi, H&M and Amazon, meeting the twin cyclical pressures from an end to the construction boom and rising interest rates.

We have been warning investors about the structural challenges being faced by retailers since the damaging revelation in 2014 here that DJ's and Myer were bringing forward their Christmas sales.
These factors are being reflected in the declining share prices of the likes of MYER (– 30%), JB Hi-Fi (-15%), Super Retail Group (-21%) and Harvey Norman (- 30%).  Others such as share price of Nick Scali remain close to record highs.
While some retailers, such as Myer, are actually blaming the weather (again), we agree with our friends at Morgan Stanley who note that the re-prising of bank SVR (standard variable rate) mortgages in March of 23-38 basis points is impacting on discretionary spending.  That would make sense given the record high levels of mortgage and credit card debt and the fact that circa 40% of the domestic housing loan book is interest only.
The implementation of the bank levy, and APRA's mortgage risk weights, as well as the blacklisting of more than 140 suburbs by AMP and some regional banks (making it harder for anyone trying to sell and get out of their mortgage obligations), will mean the storm clouds for retailers aren't going away anytime soon.
The following charts of retail sales growth paint a gloomy picture because even though growth rates have previously bounced from current levels, the past experience was influenced by declining interest rates and expanding household debt.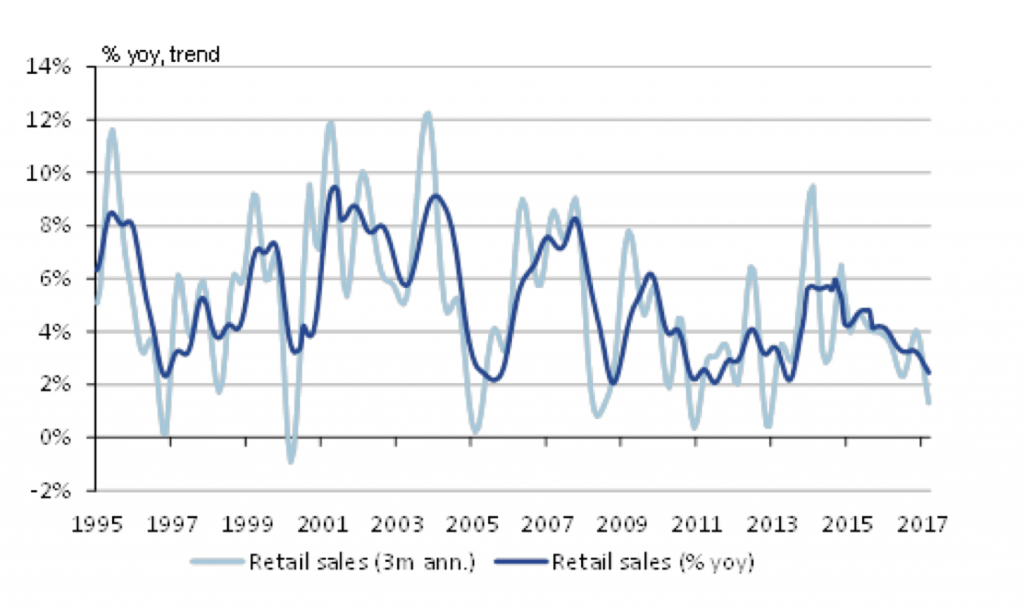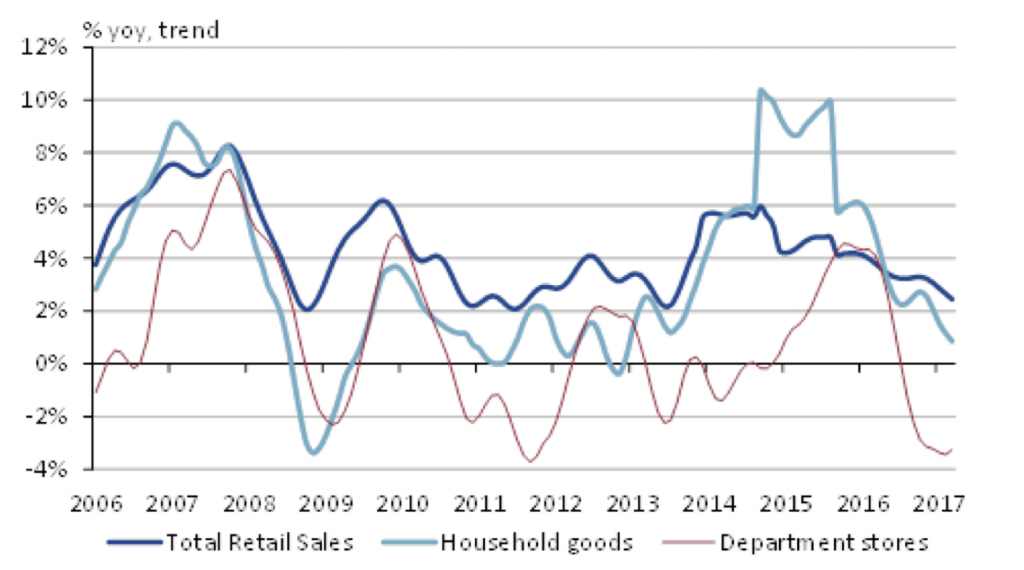 The following list highlights the US and Australian retailers' experiences. It seems when the US sneezes, Australia still catches a cold.
AUSTRALIA (with thanks to our friends at Morgan Stanley)
Australia March Retail Sales -0.1% M/M; Est. 0.3% Rise.
New car sales- in April down 1 %m, down – 2.8 per cent year-to-date.
SUL update- LFL sales growth slowing ( Sports 1.5% in the first 17 weeks of H2, circa 4.5% YTD to 29 April 2017. Auto LFL sales growth circa 2.5% in the first 17 weeks of H2, circa 3.0% YTD to 29 April 2017)
MYR result- sales growth -3.3%, LFL sales growth -2% 'reflects challenging trading conditions which were compounded by severe weather impacts in QLD and Northern NSW associated with Cyclone Debbie'.
TRS downgrade- Underlying customer numbers continue to be below the same time as last year, resulting in negative underlying comparable sales of approximately 4% for the half year to date.
Westfield trading update- Slowing sales (specialty sales in last 12 months 3.3% vs last 3 months 2.7% in flagship.. Regional sales 0.3% and last 3 months -2.1%).
Vicinity Centres REIT slowing trend- Retail sales fundamentals remain sluggish with just 1.3% overall sales growth and 2.2% specialty sales growth across the portfolio.
Department stores recorded their ninth consecutive monthly decline with March (-5.6%). Specialty clothing (+0.4%) and footwear (+7.3%) delivered a mixed performance.
Oroton group in trading halt pending announcement saying April Earnings Down on a Year Ago.
For what its worth here is a different broker's take on HVN…
"We expect that Harvey Norman is approaching peak-cycle sales and earnings growth as the tailwinds from a prolonged housing cycle begin to moderate. The company also faces substantial competitive headwinds as Amazon prepares to launch in the Australian market…"
And JBH…
"Whilst near-term earnings are likely to surprise on the upside, we think that structural and competitive changes in the Australian electronics industry, particularly from Amazon, will put pressure on long-term earnings. Whilst we expect JB Hi-Fi could extract greater synergies from its purchase of The Good Guys, it is likely that EBIT margins will remain under pressure."
UNITED STATES
While the "zombie mall" experience of the US is far less likely here – cheap labour and even cheaper rents incentivised US retailers to roll out too many stores and malls – the impact of Amazon on domestic bricks & mortar retailers could be precisely the same.
*Here's a brief list highlighting the US retail Armageddon experience in 2017 thus far:
Michigan Sporting Goods Distributors liquidate its 68 stores and sacks all 1,300 staff.
Bob's Stores and Eastern Mountain Sports owner Eastern Outfitters, files for bankruptcy.
Teen retailer Wet Seal closes all its stores.
Limited stores, closes all 250 stores.
American Apparel, is sacking 2,400 staff closing all operations and 110 stores.
Sears said in its annual report that it had "substantial doubt" about operating as a "going concern" having lost in excess of US$10 billion in recent years. Expected to file for Bankruptcy after July 8, 2017, so as not fall foul of the US bankruptcy code's two-year look-back period.
Gordmans Stores, files for bankruptcy, closing 100 stores. Post script: Stage Stores offers to buy at least 50 stores.
Gander Mountain, files for bankruptcy closing 160 stores.
RadioShack, files for bankruptcy closing 200 stores and evaluating options for the remaining 1,300.
Appliance and electronics retailer HHGreg files for bankruptcy.
Fashion retailer BCBG Max Azria with 570 boutiques globally files for bankruptcy.
Fashion retailer Bebe Stores closes all its 180 stores and may file for bankruptcy to get out of the store leases. It will only sell online.
44-store Luxury fashion chain Neiman Marcus/Bergdorf Goodman, announces it will not pay interest on a $600 million in 8.75% bond issue in cash, but "in kind." The company is owned by Ares Management and the Canada Pension Plan Investment Board.
Wall Street Journal reports Marsh Supermarkets was preparing to file for Bankruptcy.
Debtwire reports Furniture designer and Retailer Arhaus appointed a "chief restructuring officer, two sources close to the situation said".
At the time of writing, another teen fashion brand Rue21 with over 1,000 stores has missed principal and interest payments on its debt and is in talks with lenders ahead of a possible bankruptcy filing.
Discount shoe retailer Payless Inc with almost 22,000 employees and over 4,000 stores in 30 countries, files for Chapter 11 bankruptcy.
And here is a chart of Nick Scali's share price (at all time highs) to read alongside the above retail sales growth chart household goods (slumping).