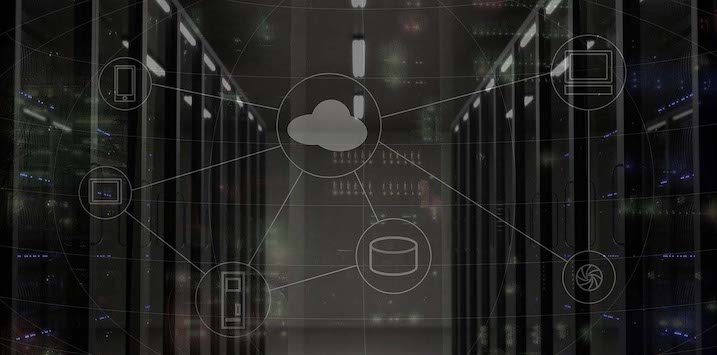 When will cloud computing crest?
It certainly seems "cloud computing" has been around for a very long time hence we must be close to approaching its crest before the "next big thing" takes its place. In reality however, the cloud has barely scratched the surface of its potential.
Over the last decade or two, the way corporations utilise technology has been revolutionized by the cloud, with businesses no longer needing to make major investments in equipment, train staff or perform ongoing maintenance in order to have access to an "on-demand" and virtually unlimited pool of compute power, network speed, storage capacity and all of it accessible anywhere via the internet (the essence of "cloud computing").
Not only is the cloud generally cheaper, more reliable and convenient for enterprises than running private infrastructure, the benefits of it have never been more in focus as they are in the wake of COVID-19. Cloud is one of the industries that will be a "beneficiary" of COVID-19 as it was undergoing solid adoption growth prior to the crisis and we have witnessed an acceleration of this "s-curve" subsequent to it. As companies race to relieve difficulties of managing company owned-and-run IT infrastructure ("on-premise"), the cloud is setting itself apart as an immediate-term solution.
Now more than ever, the case against on-premise solutions is abundantly clear, they require an on-site labour force to manage servers, outages and cannot quickly scale up/down to accommodate usage. In the wake of COVID-19, industries were unevenly affected with some seeing surge demand (i.e. Teams, Zoom, Netflix, etc) and others coming to a screeching halt and desperate to cut expenses as demand fell away (i.e. airlines, cruises, hotels, restaurants, etc). Regardless of whether the industry was positively or negatively impacted following COVID-19, having a cloud solution would have been very useful and as businesses look to the future, this has become a core consideration for corporate capital allocation going forward.
Not only is cloud useful, it addresses an unfathomably large market. There is an estimated $642 billion (2019) worth of on-premises IT infrastructure that could find a home in the cloud currently, with a much smaller piece ($74 billion) already there, implying that the cloud has only penetrated around 10 per cent of its opportunity so far (i.e. data centres, infrastructure software, IT hardware, etc). In all, the total enterprise IT market opportunity for cloud is around $716 billion (2019) which is approximately 20 per cent ($3.7 trillion) of current annual global enterprise IT spend. Furthermore, cloud's penetration is expected to double (10 per cent to 20 per cent) over the coming 3-4 years (through 2023) in a market that is expected to be around 5-20 per cent larger ($716 billion to  $837 billion).
Cloud remains significantly under penetrated; estimated to grow from ~10 per cent (2019) to ~20 per cent (2023) in a ~15-20 per cent larger market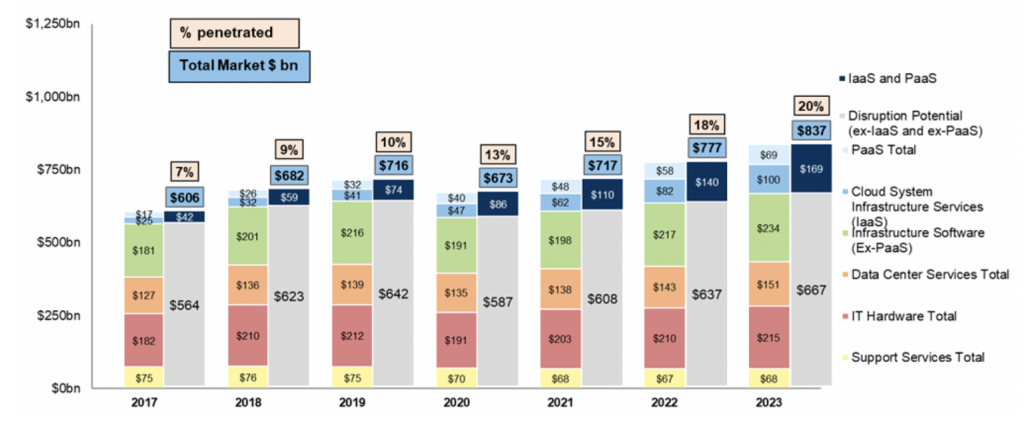 Source: Gartner, GSGIR
As the structural digitalisation of the enterprise accelerates on its multi-decade journey, it is expected workload migrations, transformations, and full code re-writes will now be prioritized at an ever increasing rate, as businesses look to emerge stronger or simply survive the shifting landscape after COVID-19. Montaka Global holds several positions which we benefit will from this powerful, secular theme, including holdings in Microsoft (MSFT), Alphabet (GOOGL), Alibaba (BABA) and Amazon (AMZN).
Public Cloud Market Share (FY2019)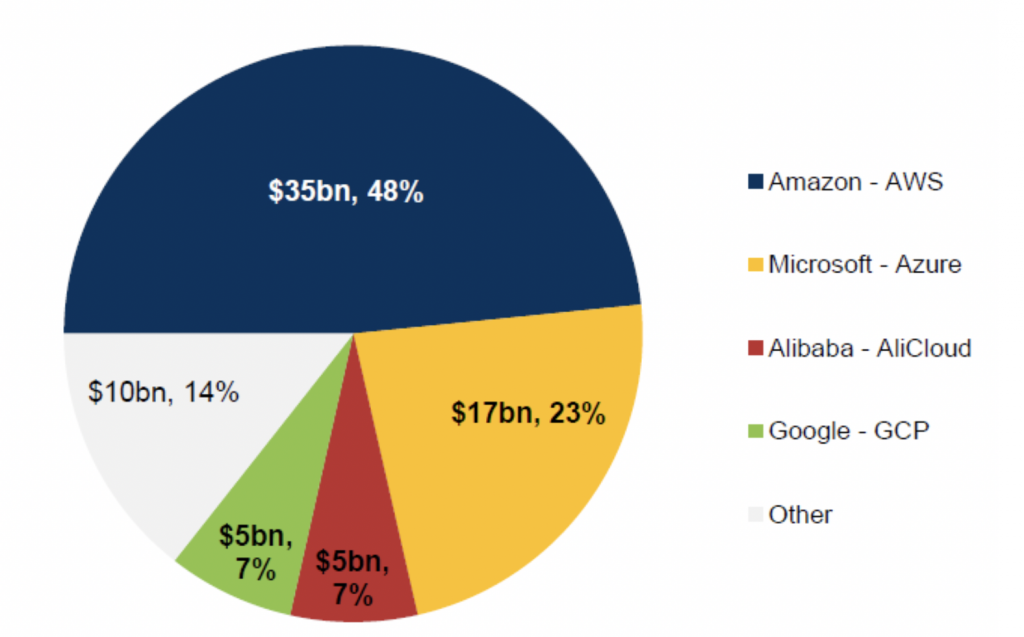 Source: Gartner, GSGIR
The Montgomery Global Funds and Montaka own shares inMicrosoft, Alphabet, Alibaba and Amazon. This article was prepared 29 July with the information we have today, and our view may change. It does not constitute formal advice or professional investment advice. If you wish to trade these companies you should seek financial advice.