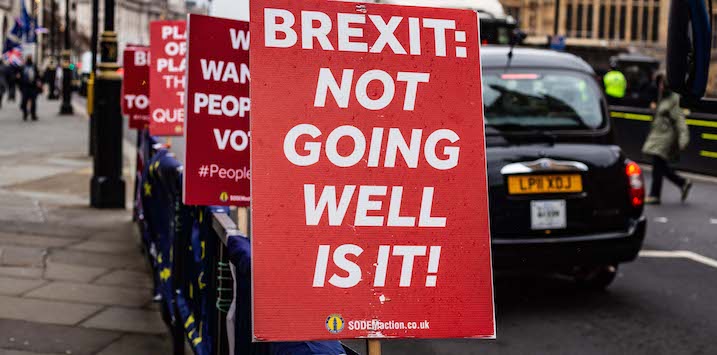 What's Next for Brexit
Following Theresa May's resignation as Prime Minister, an already chaotic Brexit has been thrown into a state of further uncertainty. How does that affect the probability of a 'no deal' Brexit? The worst-case scenario for most businesses exposed to Britain is still on the table, and now depends on who May's Conservative Party chooses to be her successor.
After years attempting to deliver the result of the 2016 referendum, May's final plans to get her Brexit deal through parliament were again met with disapproval and frustration from members of both her own party and the opposition. Unlike the realities of Brexit, May's resignation speech was as simple as the hard line Brexiteers had promised leaving the EU would be. "It is a matter of deep regret that I have not delivered Brexit. My successor must find consensus in parliament." Evidently this is easier said than done.
Boris Johnson is favoured by betting markets to take over the leadership, with a 48 per cent probability. He is one of the most polarising names in British politics. One of the loudest voices pushing for Brexit, Johnson has even been an advocate of a hard-line exit without a deal. He was especially opposed to May's deal, quitting his role as foreign secretary last summer in protest. Despite the divergent opinions of Johnson nationally, he appears most popular within the Conservative Party.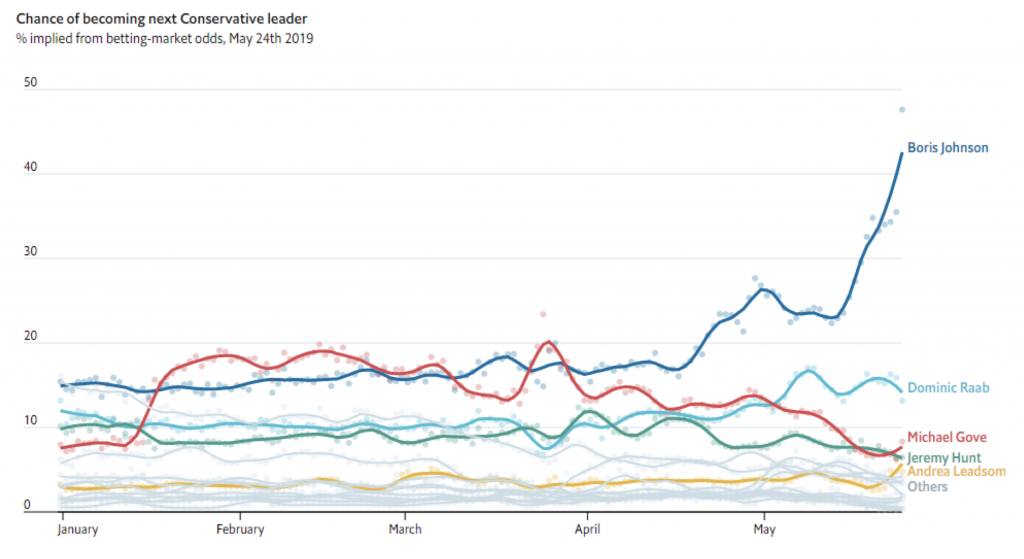 Source: The Economist 
The leading alternative to Johnson is Former Brexit Secretary Dominic Raab, also an avid Brexiteer. He likewise did not believe May's deal was appropriate and quit his post after only four months. Also in the running are Environment Secretary Michael Gove and Foreign Secretary Jeremy Hunt.
If we have learnt anything from the Trump election, Brexit referendum and more recently Scott Morrison's Liberal election victory, it's that market implied probabilities are very uncertain. Betting markets going into the Australian Federal election had a Labor win at 77 per cent probability, and the media translated that into the 'unlosable election.'  Of course, if you win 77 per cent of the time, you still lose 23 in every 100, which is hardly certain.
Despite May's resignation, the complexity of Brexit processes is ongoing. With Brexit delayed until October 31, there is enough time to renegotiate proceedings. However, a completely new deal with the EU is far less likely with such limited time, and May's original proposal would therefore remain the backbone of any approved deal. Alternative possibilities include a referendum to cancel Brexit, a no confidence vote on the government resulting in a general election, or the lingering threat of a no deal Brexit.
Whilst I find it hard to believe that whoever is elected leader can seriously understand the economic ramifications of a hard Brexit and still be an advocate for it, it would not be the first major surprise of this Brexit process. One thing we do know for sure is that the ambiguous cloud hanging over Brexit has grown, and it would be foolish to assume anything as confirmed. We await the results of the Conservative leadership vote for a greater sense of clarity.
Despite May's resignation, the complexity of Brexit processes is ongoing. With Brexit delayed until October 31, there is enough time to renegotiate proceedings. So what's next?
Click To Tweet