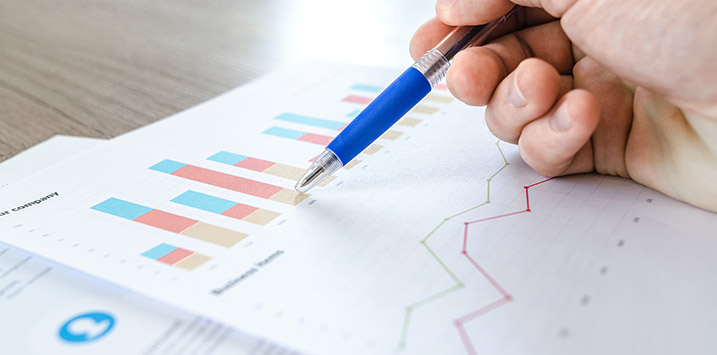 What we learned from reporting season
Another reporting season has come and gone.  In all, 345 ASX listed businesses reported their FY21 results, which kept market analysts busy assessing the 'beats' and 'misses', earnings revisions, macro trends and warning signals.  Here are the chief take-outs from the analysts at investment banks Macquarie and JP Morgan.

While I personally believe there is generally limited use in reviewing aggregate earnings outcomes given disparities across the different sectors (even more so given the effects of COVID), they can sometimes create a narrative which can influence sector and stock rotation.
It can also help in providing some insight into broader macro forces which may help support and detract from more micro-level investment theses.
How did earnings fare relative to expectations?
For both JP Morgan and Macquarie, ASX companies under their coverage generally registered a beat versus expectations. The consumer discretionary sector led the charge in both instances, adding to the narrative of "lockdown" spending. Interestingly, a number of "re-opener" trades also reside in this GICs sector (Flight Centre (ASX:FLT), Webjet (ASX:WEB), Corporate Travel Management (ASX:CTD), IDP Education (ASX:IEL), Star Entertainment Group (ASX:SGR)  and SKYCITY Entertainment Group (ASX:SKC) – in some of these cases the earnings beat would more likely depend more on the level of cost out.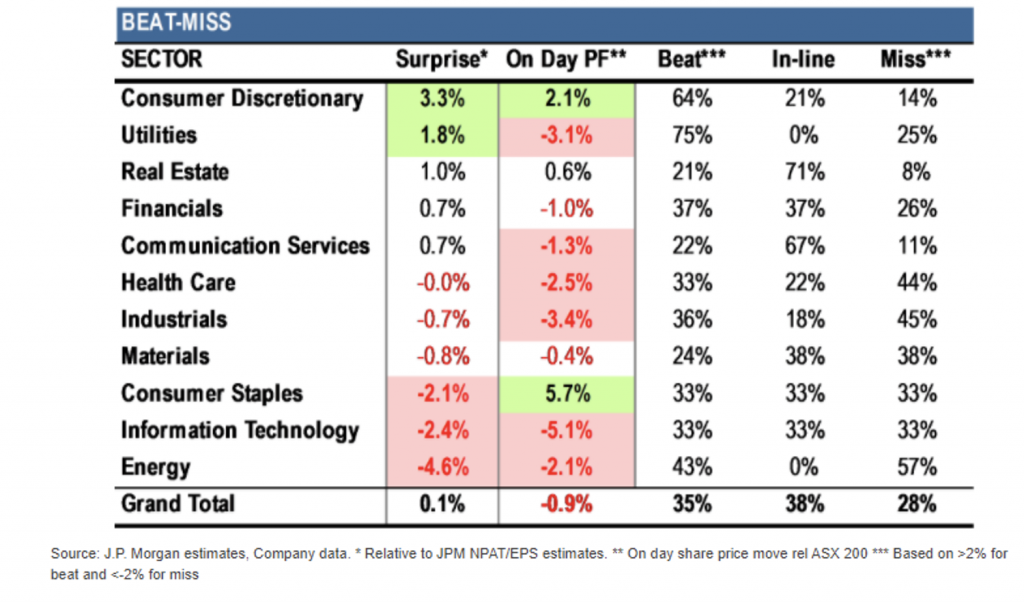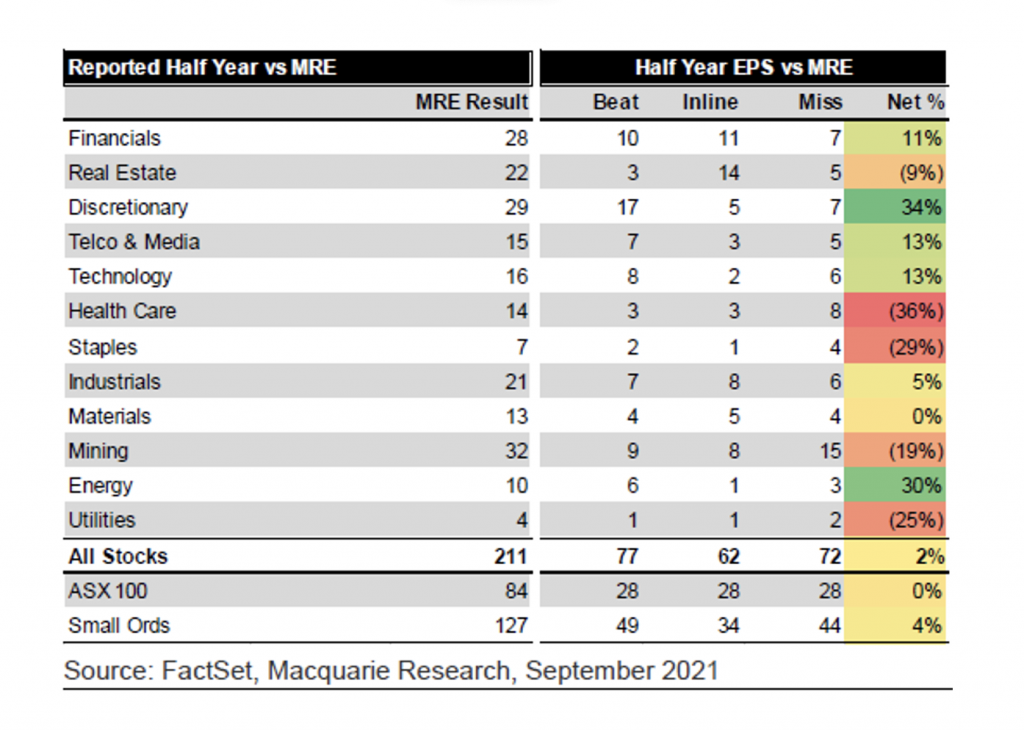 What about earnings revisions?
Both Investment Banks noted significant negative earnings revisions – which appears to be a function of consensus lagging the disruptive impacts of COVID-19 in terms of recent lockdowns across Australia. This was most pronounced in the industrials sector, which bore the brunt of negative earnings per share (EPS) revisions for both JP Morgan and Macquarie (function of the transportation sub-sector).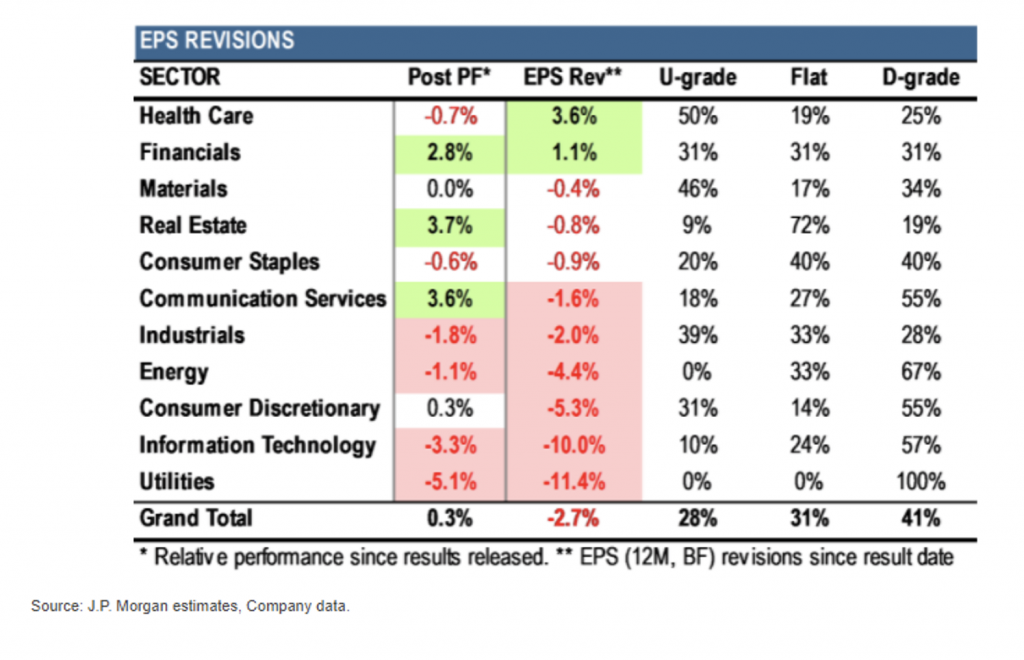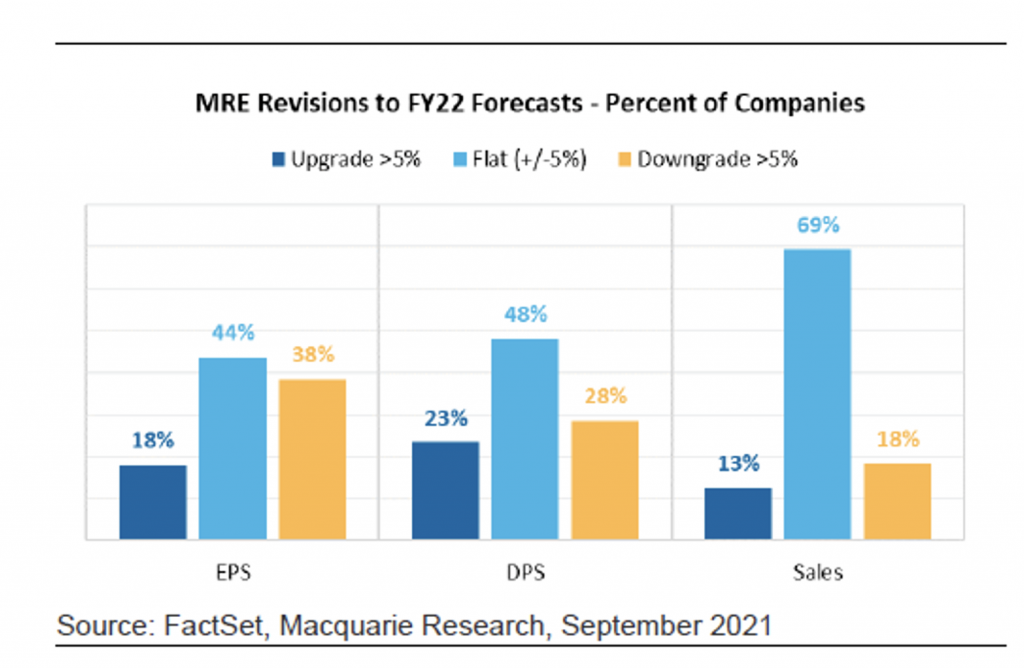 Additionally, JP Morgan notes earnings revisions have turned negative for the first time since August last year, which likely coincides with renewed Melbourne lockdowns – prior to the vaccine developments in November. The earnings revisions highlight just how disruptive Delta has been to subsectors of the Australian economy, which has lagged many Western peers in vaccination roll-outs given its prior success in combating less virulent strains.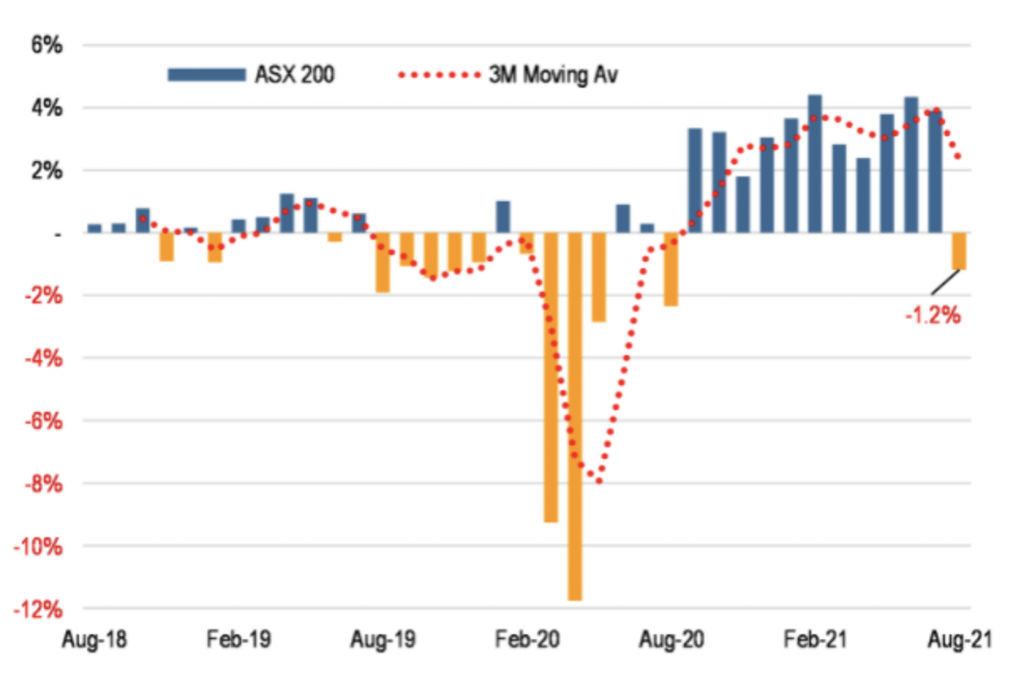 Source: J.P Morgan
Where to from here?
While earnings revisions have historically been a negative lead indicator, most investors will likely look beyond short-term disruptions wrought by COVID-19 in December Half 2021 given the experience of countries more progressed in their vaccination programs.
In that sense, it is becoming increasingly clear the Delta variant has become less a factor in determining medium-term market direction. This has potential implications in terms of thematic investing that dominated returns in FY21, although consumption patterns have been anything but predictable (although obvious in hindsight!).
One thing does appear somewhat reliable – the shift to goods over services spending is likely to have been temporary, and we expect share of wallet to shift firmly back to services in a re-opening scenario.
Reporting Season Webinar
If you are interested in hearing our views on other company results, you can join me and the Montgomery Portfolio Managers on 20 September 2021 for the Montgomery Reporting Season Review, click to register.
The Montgomery Small Companies Fund owns shares in Corporate Travel Management and Webjet. The Montgomery Funds owns shares in IDP Education. This article was prepared 07 September 2021 with the information we have today, and our view may change. It does not constitute formal advice or professional investment advice. If you wish to trade these companies you should seek financial advice.
This post was contributed by a representative of Montgomery Investment Management Pty Limited (AFSL No. 354564). The principal purpose of this post is to provide factual information and not provide financial product advice. Additionally, the information provided is not intended to provide any recommendation or opinion about any financial product. Any commentary and statements of opinion however may contain general advice only that is prepared without taking into account your personal objectives, financial circumstances or needs. Because of this, before acting on any of the information provided, you should always consider its appropriateness in light of your personal objectives, financial circumstances and needs and should consider seeking independent advice from a financial advisor if necessary before making any decisions. This post specifically excludes personal advice.
INVEST WITH MONTGOMERY