What do I think of McMillan Shakespeare Now?
It is not unusual for me to seem contrarian in my thoughts about stocks. And it is often the case that I am fond of companies out of favour at least temporarily. As prices rise I become less enthused rather than more so. Quite simply, the higher the price, the lower the return.
The last time I commented about McMillan Shakespeare was 27 May this year (MMS: $2.64). It was then that I stated that if that nothing came out of the Ken Henry Tax Review that permanently impacted MMS' profitability, the shares were worth $6.01 – you can find me making those comments here.
With the benefit of hindsight, we now know that the legislative concerns surrounding the business failed to eventuate (well not yet – they await the next Government), and the shares have traded as high as $6.45 since.
But since MMS has released its annual results, you may be wondering if and how my thoughts have changed since May. Please keep in mind, as I have said many times before, I am under no obligation to continue analysing a business or updating my comments.
If you watch the interview above, clearly I was happy with the quality of MMS and its valuation being materially above its price. Indeed it was one of my A1's at the time – so let me fill in the gaps.
As you would be well aware from Value.able, you should not focus on the share price but on the business itself. It's a simple truth that if the underlying business does well then the share price tends to look after itself. While I am impressed about the price currently trading close to my valuation, am I still happy with MMS as an investment candidate? In short, no.
Things can change pretty quickly in business. One minute you are staring down the barrel of a major financial review with the threat of having half of your business taken away over night, and the next you are on the front foot and announcing a major acquisition. It's the latter than concerns me.
Three days after my TV interview, MMS management announced the acquisition of Interleasing (Australia) Limited (ILA) in a 34 page information memorandum and 9 days later completed the purchase.
In that IM was a detailed breakdown of the purchase. I had suspected for a long time that management where keenly looking for an acquisition given it was producing so much free cash flow.
Up until this point, MMS had been an A1 every year since 2006. Given my stringent A1 rules, to achieve this rating four years in a row is an excellent achievement by founder Anthony Podesta. But with new management come new ideas, and this time the idea was to take a debt free business and fund the ILA acquisition with $25m of existing cash, $41.3m from the sale of ILA's novated lease receivables and debt totalling $141.7m. A total purchase price (not value) of $208m.
The impact can be seen on the business's balance sheet;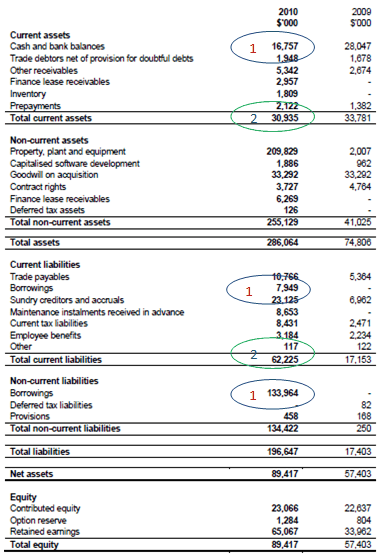 Source: MMS 2010 Annual Report
If you tally the circles labelled "1" you will discover that the business now has net debt (total debt less cash and bank balances) of $125.156m. If you then look at the final line of the balance sheet "equity" which stands at $89,417 we can calculate that MMS (which was completely debt free last year) now has a gearing level of 139.97%. This in anyone's book is a high level of gearing and a material change on the conservative financials in prior years.
If we now look at the circles labelled '2", you will note that the business's current liabilities (items which generally require repayment within the next 12 months) exceed by more than double the level of current assets (the liquid assets available to meet obligations due within the next 12 months).
In analyst speak; a current ratio of just 0.4972 is generally poor. In contrast the ratio last year was a healthy 1.9694.
While the uplift in earnings per share has been a boon for shareholders, as you can see, there has been a huge price to pay. In summary, the quality of the business has fallen from what I considered to be an A1 business to a B3.
Many will argue that MMS generates huge cashflows and that it still produces excellent (albeit highly geared) returns on equity and it should therefore have no concerns in meeting its interest expenses and maintaining its current capital structure for the foreseeable future. While this is all true, I always prefer to reduce risk in my portfolio by owning extraordinary businesses.
My investment process prevents me from investing in anything but the highest quality companies; one of the characteristics that I look for is little or no debt.
Also, when management start saying "key requirements of this funding" are that our "dividend payout ratio not to exceed 65%", "interest and debt cover covenants" I have to wonder; are management controlling the business or is the bank?
Posted by Roger Montgomery, 26 August 2010.