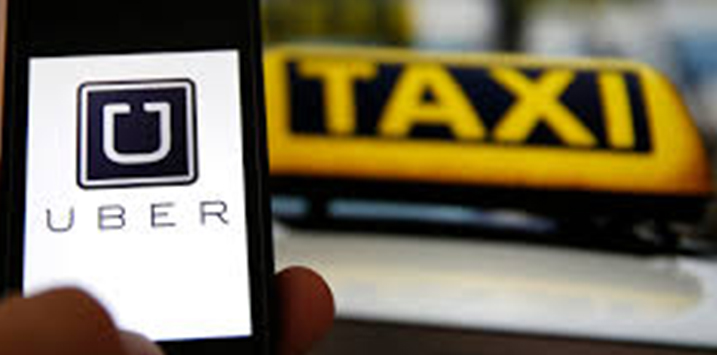 Watch out for the market disruptors
In our globalised, high-tech world, market disruptors – like Aldi, Amazon and artificial intelligence – are coming faster than ever before. Disruptors can have a massive impact – positive and negative – on holdings in your portfolio. Which is why, as investors, it's essential to stay tuned to what could be next.
When investing long-term, it's important to not only look at the present state of competition, but also potential changes to the status quo. To remain profitable, incumbents must focus on their current market share (whether growing, protecting or reducing churn) as well as their margins (and with that costs). Usually market share shifts are at the margin with existing market players, but occasionally they are seismic when a new technology or competitor comes along. Disruptors can affect any industry. They can be a new technology, a change in cost structure, or an international competitor.
One clear example of a disruptive mover is Uber on Cabcharge. A clear inflection point in revenues and EPS is seen in CAB reported earnings from when Uber enters the Australian market in April 2014 (vertical line at first impacted result). Prior to Uber, Cabcharge enjoyed lucrative margins that it was able to sustain due to its dominant market position (charging 10% for payments vs 2-3% for retail stores). When Uber entered the market, this pricing model was undercut (particularly by UberX) and allowed a disruptive gain in market share that is apparent immediately in Cabcharge's topline.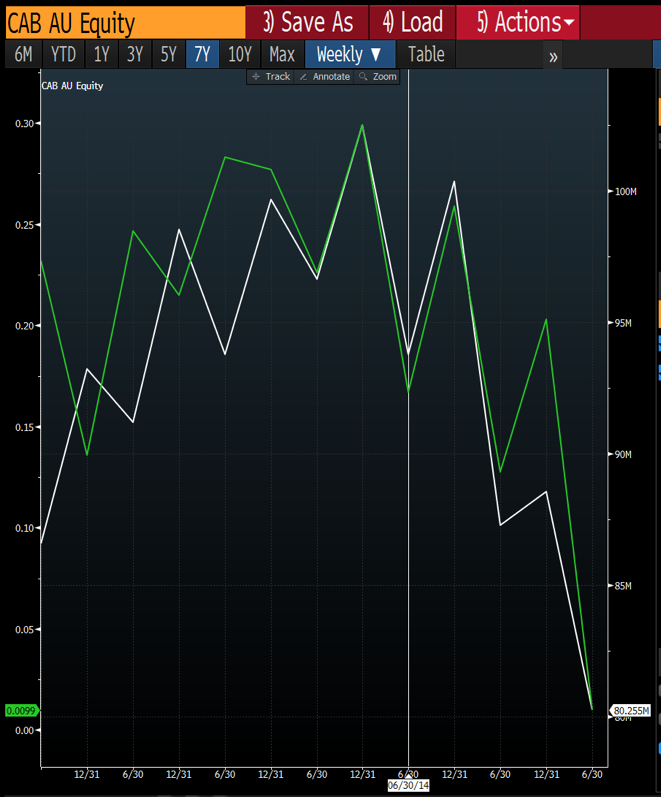 Another clear example of disruption was the entry of low-cost grocery store Aldi into the Australian market. Unlike Uber, this took longer to play out. Aldi opened its first Australian store in 2001 and now has 457 stores country-wide. You can see a clear impact on the share prices of both WOW and WES from 2014.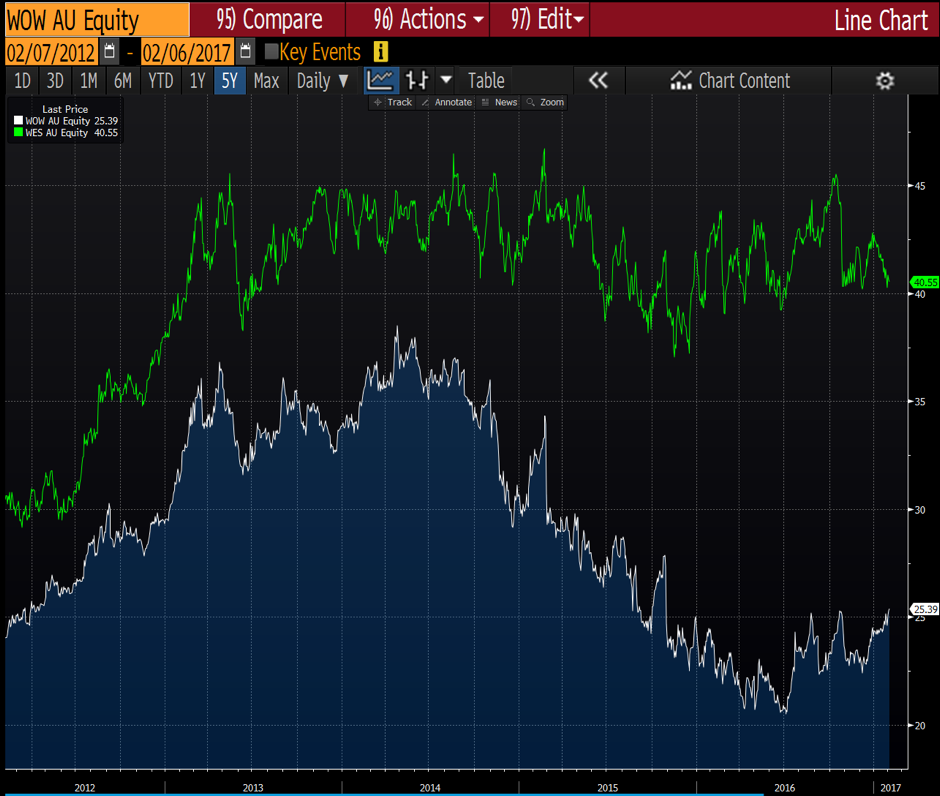 Disrupters have both positive and negative effects. A positive disruptive influence can be seen in the outdoor media space. OML, APO and QMS all successfully took market share from television ad spend (the flip side of this impact is seen in the free-to-air TV names below). This is similar to the changes to print profitability.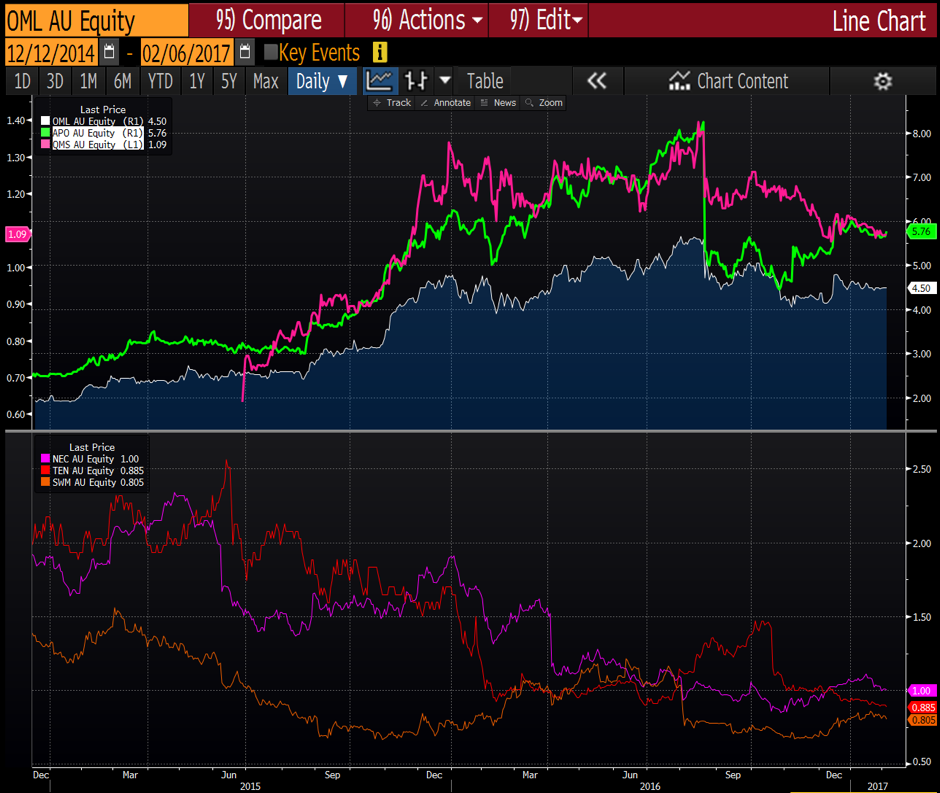 Disrupters are notoriously hard to predict, but can impact any industry. Whilst they come into play rarely – their impact is transformative and thus as investors it is critical to keep an eye out for what could be next. What will Amazon go mean for retailers? Will big data lead to more driverless than human-ridden cars? What will the impact of AI be on investing? Will Blockchain displace the current state of the finance industry? These are just some of the trends to watch in the coming weeks, months and years.
This post was contributed by a representative of Montgomery Investment Management Pty Limited (AFSL No. 354564). The principal purpose of this post is to provide factual information and not provide financial product advice. Additionally, the information provided is not intended to provide any recommendation or opinion about any financial product. Any commentary and statements of opinion however may contain general advice only that is prepared without taking into account your personal objectives, financial circumstances or needs. Because of this, before acting on any of the information provided, you should always consider its appropriateness in light of your personal objectives, financial circumstances and needs and should consider seeking independent advice from a financial advisor if necessary before making any decisions. This post specifically excludes personal advice.
INVEST WITH MONTGOMERY