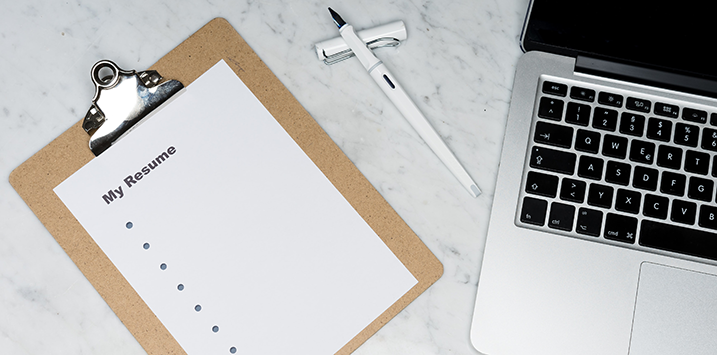 Unemployment figures surprise negatively
On Thursday 11 of November, the monthly unemployment numbers from ABS were released and disappointed the market by increasing by 0.6 percentage points from 4.6 per cent in October to 5.2 per cent. The consensus amongst forecasters was a slight increase to 4.8 per cent so we can understand that the market took this negatively as it is quite a large variation and also a sharp reversal of the trend of falling unemployment that we have seen since the peak at the initial phase of the pandemic.
For this to coincide with the easing of lockdown conditions in NSW and VIC is definitely worrying and not really what the market likes to see: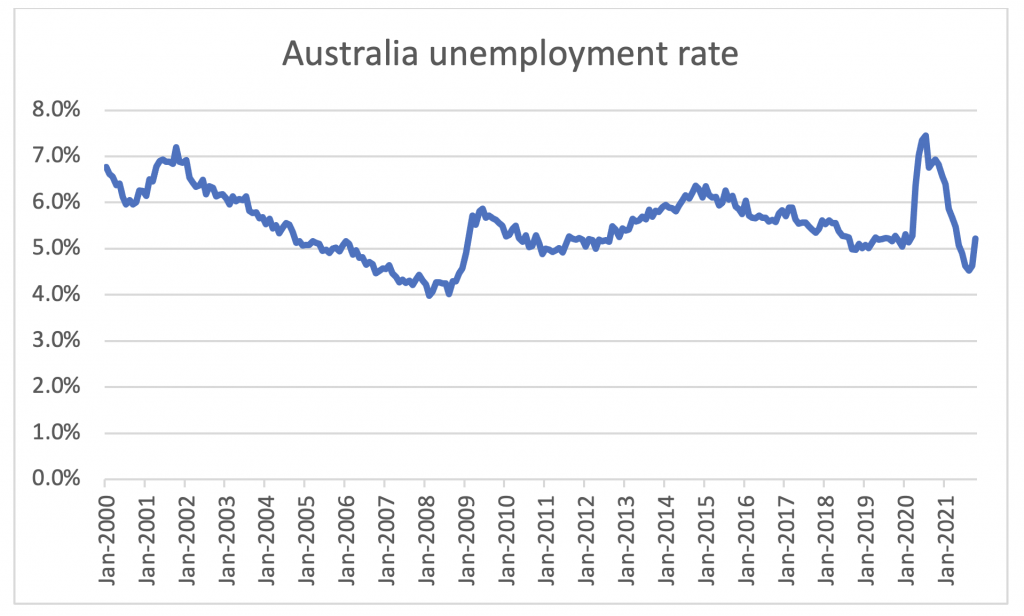 Source:ABS
Given that there are many moving factors that go into the unemployment headline numbers and that it is not actually always the most useful number, I think it is worth dissecting this a bit more to see what is happening.
If we first look at the total number of people who had jobs, we can see that this declined by 0.4 per cent so this accounts for the majority of the increase in unemployment: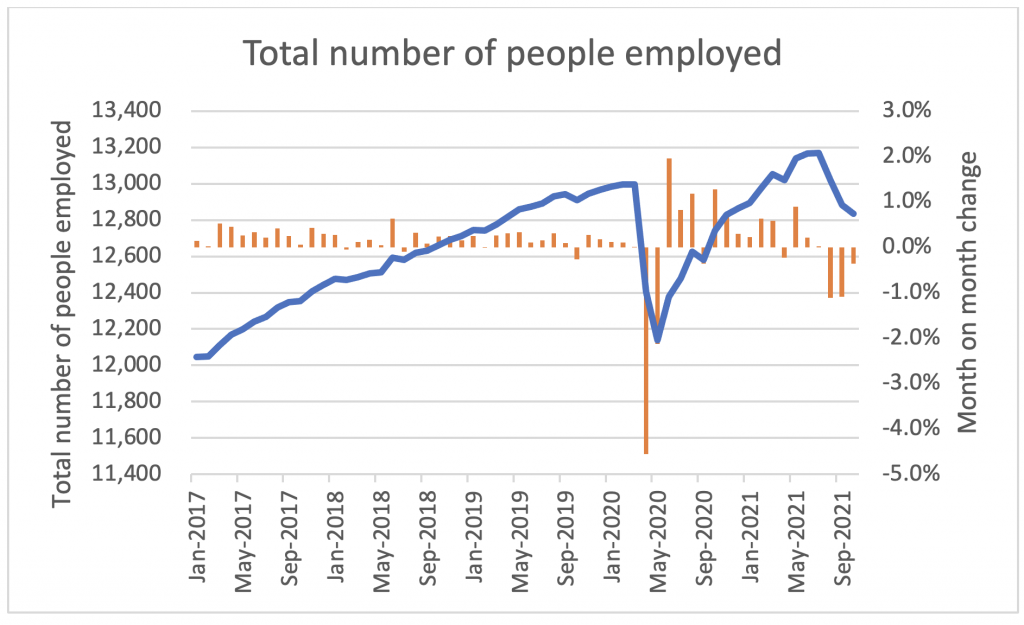 Source:ABS
The remainder of the change was made up by an increase in participation rate of 0.2 per cent as we can see from this chart: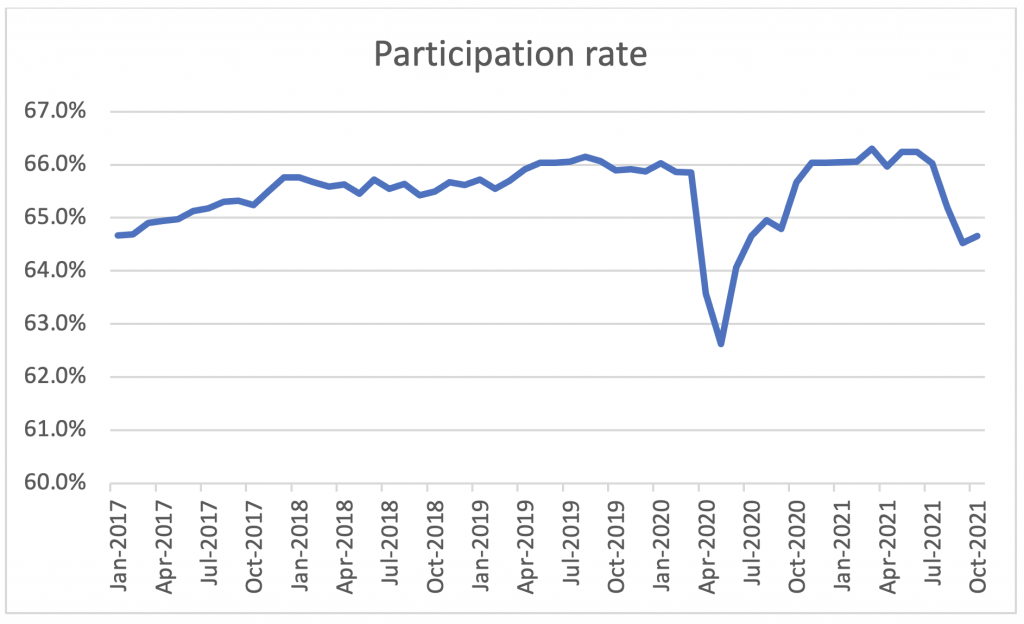 Source: ABS
We can though see that the participation rate is still significantly below the levels we saw just before the recent NSW and VIC lockdowns and if the participation rate had been as high as then, we would expect unemployment numbers that are about 1.5 percentage points higher than officially reported or around 6.7 per cent which as we can see from the first chart above would be towards the very top of the historical range.
If we look at the trend between full and part time employees, we can see that the number of full-time employees are now higher than the pre COVID-19 levels while the number of part time employees are still quite significantly lower than the pre-COVID-19 levels which can be expected as a lot of service and hospitality jobs have been impacted by the lockdowns: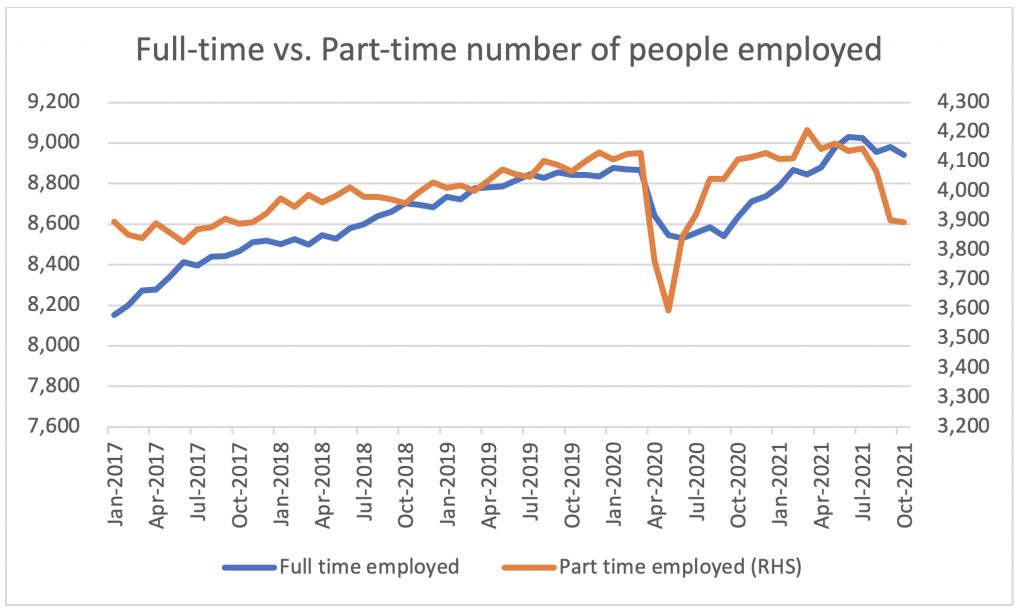 Source:ABS
If we drill down even further and look at what is happening with people in the age group 15-24, we can see even further indications that this is the case as people in this age group are much more likely to work part-time and in service and hospitality industries: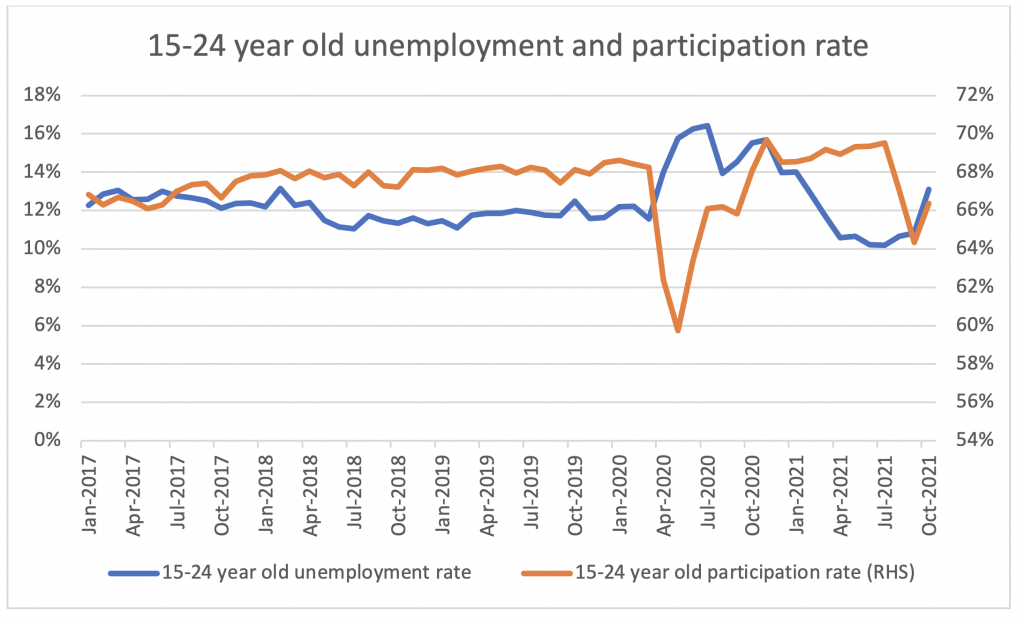 Source:ABS
We can see that post the restrictions easing, we have seen a sharp increase in both participation rates and unemployment rates as young people are again trying to enter the work force. This age group is pretty different from older people in that they are much more likely to swing between participating in the work force and not as they are more likely to have the alternative to study and continue to live off their parents if there are no jobs available.
I do not think we should draw to definite conclusions based on one month's worth of numbers as this can be volatile but I am a bit worried that we are seeing this steep increase in unemployment at the same time as VIC and NSW are easing their lockdown restrictions which should naturally lead to increased economic activity so definitely something worth watching.